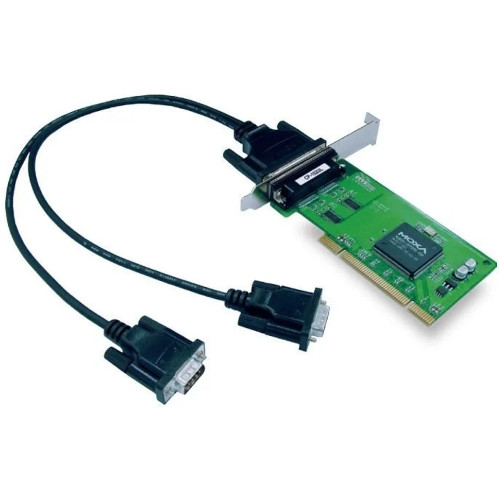 CP-102UL-DB9M
2 port RS-232 board(cable included), Universal PCI bus, Low Profile, 921.6 Kbps, embedded surge protection 15KV ESD
Features and Benefits
Excellent data throughput at over 800kbps
Superb data transmission baudrate of up to 921.6kbps
128-byte FIFO and on-chip H/W, S/W flow control
Compatible with 3.3/5V PCI and PCI-X
Drivers provided for a broad selection of operating systems, including the latest Windows and Linux
15 kV ESD on-board protection
MD1 low profile form factor (CP-102UL) fits compact PCs
Wide temperature model available for -40 to 85°C environments
Introduction
The CP-102U and CP-102UL are 2-port universal PCI boards designed for POS and ATM applications. They are designed especially for industrial automation engineers and system integrators to support many different operating systems, including Windows, Linux, and even Unix. In addition, each RS-232 serial port supports up to 921.6 kbps baudrate. The CP-102U and CP-102UL implements full modem control signals to ensure compatibility with a wide range of serial peripherals, and they work with both 3.3V and 5V PCI buses, allowing the boards to be installed in virtually any PC. The CP-102UL is a low profile board requiring a 5 VDC power supply. It is compatible with both a 3.3V and 5V PCI bus, allowing the CP-102UL to be tucked inside compact PCs. With 20-plus years of experience in serial board design, Moxa is now concentrating on a new high performance serial data transmission chip. The Turbo Serial Engine™ chip provides serial boards with a 128-byte FIFO, on-chip hardware and software flow control, and burst data mode. With Turbo Serial Engine™, Moxa is able to offer advanced smart serial boards with unbeatable transmission performance. Moxa continues to support a wide variety of operating systems, and the CP-102U/UL boards are no exception. Reliable Windows COM and Linux/Unix TTY drivers are provided for all Moxa boards, with support for many operating systems, including WEPOS, for embedded integration.
Hardware
Comm. Controller: MU860 (16C550C compatible)
Bus: 32-bit Universal PCI
Connectors:
CP-102U: DB9 male x 2
CP-102UL: DB25 female
Serial Interface
Number of Ports: 2 (only one IRQ required)
Serial Standards: RS-232
Max. No. of Boards per PC: 4
Serial Line Protection
ESD Protection: 15 kV on the board
Performance
Baudrate: 50 bps to 921.6 kbps
Serial Communication Parameters
Data Bits: 5, 6, 7, 8
Stop Bits: 1, 1.5, 2
Parity: None, Even, Odd, Space, Mark
Flow Control: RTS/CTS, XON/XOFF
I/O Address: Assigned by BIOS
IRQ: Assigned by BIOS
Serial Signals
RS-232: TxD, RxD, RTS, CTS, DTR, DSR, DCD, GND
Operating Systems
Windows Real COM Drivers: Windows 95/98/ME/NT/2000, Windows XP/2003/Vista/2008/7/8/8.1 (x86/x64), Windows 2008 R2/2012/2012 R2 (x64), DOS, Windows Embedded CE 5.0/6.0, Windows XP Embedded
Fixed TTY Drivers: QNX 6, SCO OpenServer, UnixWare 7, Solaris 10, FreeBSD
Linux Real TTY Drivers: Linux 2.4.x, 2.6.x
Physical Characteristics
Dimensions:
CP-102U: 80 x 120 mm (3.15 x 4.72 in)
CP-102UL: 64.5 x 120 mm (2.53 x 4.72 in)
Environmental Limits
Operating Temperature:
Standard Models: 0 to 55°C (32 to 131°F)
Wide Temp. Models: -40 to 85°C (-40 to 185°F)
Storage Temperature: -40 to 85°C (-40 to 185°F)
Ambient Relative Humidity: 5 to 95% (non-condensing)
Altitude: Up to 2000 m
Standards and Certifications
EMC: CE, FCC
EMI: EN 55022, FCC Part 15 Subpart B Class B
EMS: EN 55024, IEC 61000-4-2, IEC 61000-4-3
Green Product: RoHS, CRoHS, WEEE
MTBF (mean time between failures)
Time: 219,971 hrs
Database: Telcordia (Bellcore), GB
Power Requirements
Power Consumption: 93 mA @ +5 V
Warranty
Warranty Period: 5 years
Le immagini e le caratteristiche dei prodotti presenti sul sito sono di proprietà di MOXA Inc. E' espressamente vietata la riproduzione dei contenuti del sito in qualsiasi modo ed a qualsiasi scopo senza la preventiva autorizzazione scritta da parte di Lastella Trade o MOXA Inc. Le immagini presenti sono a puro titolo esplicativo, in alcuni casi sono foto di gruppo e potrebbero subire variazioni senza preavviso, per le caratteristiche del prodotto fa fede la descrizione prodotto.