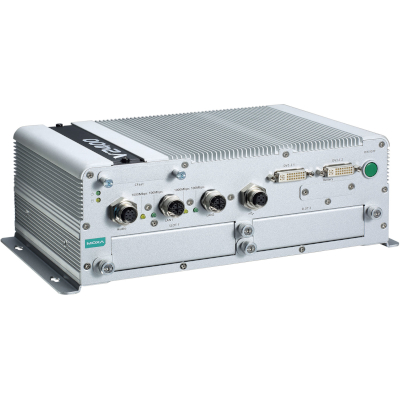 V2426A-C7-T-W7E
Core i7-3517UE, 2 DVIs, 2 LANs, 4 Serial Ports, 6 DIs, 2 DOs, 3 USB2.0, 1 CFast Socket, 2 Expansion Slots, TX, W7E
Features and Benefits
Intel Celeron/Core i7 processor
2 peripheral expansion slots for various I/O, WLAN, mini-PCIe expansion module cards
Dual independent DVI-I displays
2 Gigabit Ethernet ports with M12 X-coded connectors
1 SATA connector and 1 CFast socket for storage expansion
M12 A-coded power connector
Compliant with EN 50121-4
Complies with all EN 50155 mandatory test items
Ready-to-run Debian 7, Windows Embedded Standard 7, and Windows 10 Embedded IoT Enterprise 2016 LTSB platforms
-40 to 70°C wide-temperature models available
Supports SNMP-based system configuration, control, and monitoring (Windows only)
Introduction
The V2426A Series embedded computers are based on the Intel 3rd Gen processor, and feature 4 RS-232/422/485 serial ports, dual LAN ports, 3 USB 2.0 hosts, and dual DVI-I outputs. In addition, the V2426A Series computers comply with the mandatory test items of the EN 50155 standard, making them suitable for a variety of industrial applications.

The dual megabit/Gigabit Ethernet ports with M12 X-coded connectors offer a reliable solution for network redundancy, promising continuous operation for data communication and management. As an added convenience, the V2426A computers have 6 DIs and 2 DOs for connecting digital input/output devices. In addition, the CFast socket, SATA connector, and USB sockets provide the V2426A computers with the reliability needed for industrial applications that require data buffering and storage expansion.

Moreover, the V2426A computers come with 2 peripheral expansion slots for inserting different communication modules (2-port CAN module, or HSDPA, GPS, or WLAN module), an 8+8-port digital input/output module, and a 2-port serial module, giving greater flexibility for setting up different industrial applications at field sites.

Preinstalled with Linux Debian 7 or Windows Embedded Standard 7, the V2426A Series provides programmers with a friendly environment for developing sophisticated, bug-free application software at a low cost. Wide-temperature models of the V2426A Series that operate reliably in a -40 to 70°C operating temperature range are also available, offering an optimal solution for applications subjected to harsh environments.


Specifications
Computer
CPU: Intel® Core™ i7-3517UE Processor (4 M cache, up to 2.80 GHz)
System Memory Pre-installed: 4 GB DDR3
System Memory Slot: SODIMM DDR3/DDR3L slot x 1
Supported OS: Linux Debian 7
Windows Embedded Standard 7 (WS7E) 32-bit
Windows Embedded Standard 7 (WS7E) 64-bit

Storage Slot: 2.5-inch HDD/SSD slots x 1
CFast slot x 2

Computer Interface
Ethernet Ports: Auto-sensing 10/100/1000 Mbps ports (M12 X-coded) x 2
Serial Ports: RS-232/422/485 ports x 4, software selectable (DB9 male)
USB 2.0: USB 2.0 hosts x 1, M12 D-coded connector
USB 2.0 hosts x 2, type-A connectors

Audio Input/Output: Line in x 1, Line out x 1, M12 D-coded
Digital Input: DIs x 6
Digital Output: DOs x 2
Video Output: DVI-I x 2, 29-pin DVI-I connectors (female)
Expansion Slots: 2 peripheral expansion slots

Digital Inputs
Isolation: 3k VDC
Connector: Screw-fastened Euroblock terminal
Dry Contact On: short to GND
Off: open

I/O Mode: DI
Sensor Type: Dry contact
Wet Contact (NPN or PNP)

Wet Contact: (DI to COM) On: 10 to 30 VDC
Off: 0 to 3 VDC

Digital Outputs
Connector: Screw-fastened Euroblock terminal
Current Rating: 200 mA per channel
I/O Type: Sink
Voltage: 24 to 30 VDC

LED Indicators
System: Power x 1
Storage x 1

LAN: 2 per port (10/100/1000 Mbps)
Serial: 2 per port (Tx, Rx)

Serial Interface
Baudrate: 50 bps to 921.6 kbps
Flow Control: RTS/CTS, XON/XOFF, ADDC® (automatic data direction control) for RS-485, RTS Toggle (RS-232 only)
Isolation: N/A
Parity: None, Even, Odd, Space, Mark
Data Bits: 5, 6, 7, 8
Stop Bits: 1, 1.5, 2

Serial Signals
RS-232: TxD, RxD, RTS, CTS, DTR, DSR, DCD, GND
RS-422: Tx+, Tx-, Rx+, Rx-, GND
RS-485-2w: Data+, Data-, GND
RS-485-4w: Tx+, Tx-, Rx+, Rx-, GND

Power Parameters
Input Voltage: 12 to 48 VDC
Power Connector: M12 A-coded male connector
Power Consumption: 3.78 A @ 12 VDC
0.96 A @ 48 VDC

Power Consumption (Max.): 47 W (max.)

Physical Characteristics
Housing: Aluminum
IP Rating: IP30
Dimensions (with ears): 275 x 92 x 154 mm (10.83 x 3.62 x 6.06 in)
Dimensions (without ears): 250 x 86 x 154 mm (9.84 x 3.38 x 6.06 in)
Weight: 3,000 g (6.67 lb)
Installation: DIN-rail mounting (optional), Wall mounting (standard)

Environmental Limits
Operating Temperature: -40 to 70°C (-40 to 158°F)
Storage Temperature (package included): -40 to 85°C (-40 to 185°F)
Ambient Relative Humidity: 5 to 95% (non-condensing)

Standards and Certifications
EMC: EN 55032/24
EMI: CISPR 32, FCC Part 15B Class A
EMS: IEC 61000-4-2 ESD: Contact: 6 kV; Air: 8 kV
IEC 61000-4-3 RS: 80 MHz to 1 GHz: 20 V/m
IEC 61000-4-4 EFT: Power: 2 kV; Signal: 2 kV
IEC 61000-4-5 Surge: Power: 2 kV
IEC 61000-4-6 CS: 10 V
IEC 61000-4-8 PFMF

Railway: EN 50121-4, IEC 60571
Railway Fire Protection: EN 45545-2
Safety: EN 60950-1, UL 60950-1
Shock: IEC 60068-2-27, IEC 61373, EN 50155
Vibration: IEC 60068-2-64, IEC 61373, EN 50155

Declaration
Green Product: RoHS, CRoHS, WEEE

MTBF
Time: 304,998 hrs
Standards: Telcordia (Bellcore), GB

Warranty
Warranty Period: 3 years


Le immagini e le caratteristiche dei prodotti presenti sul sito sono di proprietà di MOXA Inc. E' espressamente vietata la riproduzione dei contenuti del sito in qualsiasi modo ed a qualsiasi scopo senza la preventiva autorizzazione scritta da parte di Lastella Trade o MOXA Inc. Le immagini presenti sono a puro titolo esplicativo, in alcuni casi sono foto di gruppo e potrebbero subire variazioni senza preavviso, per le caratteristiche del prodotto fa fede la descrizione prodotto.