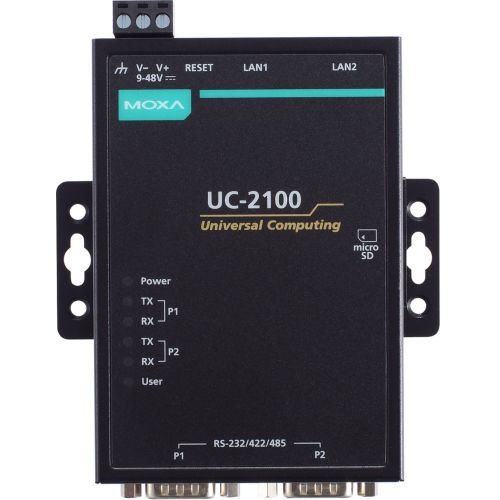 UC-2112-LX
Compact RISC-based embedded computer with 1GHz processor, 2 serial ports, 2 LAN ports (1 Gb Ethernet), and micro SD card socket.
Prodotti Correlati
LTE Stick antenna that covers ...
1+ pezzi: € 30,54
LTE stick antenna that covers ...
1+ pezzi: € 51,68
Multi-band antenna that covers 700-2700 MHz. ...
1+ pezzi: € 71,25
1.8/1.8 dBi, RP-SMA (male) antenna with 1 ...
1+ pezzi: € 10,18
DIN Rail Mounting Kit 35mm, for DE-311/211, ...
1+ pezzi: € 3,50
POWER CORD 10A 250V 1.8M GE BK
1+ pezzi: € 7,83
Features and Benefits
Armv7 Cortex-A8 600-1000 MHz processor
Palm-sized form factor, 50 x 80 x 28 mm
Moxa Industrial Linux with 10-year superior long-term support
MXview support for centralized monitoring of devices and computing status
1 or 2 auto-sensing 10/100 Mbps Ethernet ports
Gigabit Ethernet supported (UC-2112)
Up to 2 software-selectable RS-232/422/485 ports supporting all signals
Mini PCIe socket for Wi-Fi/cellular module (UC-2104)
-40 to 75°C wide-temperature model available with hazardous locations certification
Introduction
The UC-2100 Series computing platform is designed for embedded data acquisition and processing applications. The computer comes with up to two software selectable RS-232/422/485 full-signal serial ports and single or dual Ethernet ports. This palm-sized series of Arm-based computing platforms includes a variety of models for a wide range of interface requirements, such as single or dual serial and Ethernet ports, Gigabit Ethernet, and wireless connections. These versatile communication capabilities allow users to efficiently adapt the UC‑2100 for a variety of complex communications solutions.


Specifications
Computer
CPU: Armv7 Cortex-A8 1 GHz
DRAM: 512 MB DDR3
Pre-installed OS: Moxa Industrial Linux (Debian 9, Kernel 4.4)
Storage Pre-installed: 8 GB eMMC
Storage Slot: Micro SD slots x 1


Computer Interface
Ethernet Ports: Auto-sensing 10/100 Mbps ports (RJ45 connector) x 1, Auto-sensing 10/100/1000 Mbps ports (RJ45 connector) x 1
Serial Ports: RS-232/422/485 ports x 2, software selectable (DB9 male)
Console Port: RS-232 (TxD, RxD, GND), 4-pin header output (115200, n, 8, 1)
Buttons: Reset button, DIP switch for serial port configuration


Ethernet Interface
Magnetic Isolation Protection: 1.5 kV (built-in)


Serial Interface
Data Bits: 5, 6, 7, 8
Stop Bits: 1, 1.5, 2
Parity: None, Even, Odd, Space, Mark
Flow Control: RTS/CTS, XON/XOFF, ADDC® (automatic data direction control) for RS-485, RTS Toggle (RS-232 only)
Baudrate: 50 bps to 921.6 kbps
Pull High/Low Resistor for RS-485: 1 kilo-ohm, 150 kilo-ohms
ESD Protection: 4 kV, for all signals


Serial Signals
RS-232: TxD, RxD, RTS, CTS, DTR, DSR, DCD, GND
RS-422: Tx+, Tx-, Rx+, Rx-, GND
RS-485-4w: Tx+, Tx-, Rx+, Rx-, GND
RS-485-2w: Data+, Data-, GND


LED Indicators
System: Power x 1
LAN: 2 per port (10/100 Mbps)
2 per port (10/100/1000 Mbps)
Serial: 2 per port (Tx, Rx)
User Programmable: User x 1


Physical Characteristics
Housing: Metal
Installation: Wall mounting, DIN-rail mounting (with optional kit)
Weight: 290 g (0.64 lb)
Dimensions (with ears): 99 x 111 x 25.5 mm (3.90 x 4.37 x 1.00 in)
Dimensions (without ears): 77 x 111 x 25.5 mm (3.03 x 4.37 x 1.00 in)


Environmental Limits
Operating Temperature: -10 to 60°C (14 to 140°F)
Storage Temperature: -20 to 70°C (-4 to 158°F)
Ambient Relative Humidity: 5 to 95% (non-condensing)
Shock: IEC 60068-2-27
Vibration: 2 Grms @ IEC 60068-2-64, random wave, 5-500 Hz, 1 hr per axis (without USB devices attached)


Power Parameters
Input Voltage: 9 to 48 VDC
Input Current: 0.45 A @ 9 VDC, 0.084 A @ 48 VDC
Power Consumption: 4 W


MTBF
Time: 982,882 hrs
Standards: Telcordia (Bellcore) Standard TR/SR


Reliability
Alert Tools: External RTC (real-time clock)
Automatic Reboot Trigger: External WDT (watchdog timer)


Standards and Certifications
Safety: IEC 60950-1, UL 60950-1
EMC: EN 55032/24
EMI: CISPR 32, FCC Part 15B Class A
EMS:
IEC 61000-4-2 ESD: Contact: 4 kV; Air: 8 kV
IEC 61000-4-3 RS: 80 MHz to 1 GHz: 3 V/m
IEC 61000-4-4 EFT: Power: 1 kV; Signal: 0.5 kV
IEC 61000-4-5 Surge: Power: 0.5 kV; Signal: 1 kV
IEC 61000-4-6 CS: 3 V
IEC 61000-4-8 PFMF
Green Product: RoHS, CRoHS, WEEE


Warranty
Warranty Period: 5 years
Le immagini e le caratteristiche dei prodotti presenti sul sito sono di proprietà di MOXA Inc. E' espressamente vietata la riproduzione dei contenuti del sito in qualsiasi modo ed a qualsiasi scopo senza la preventiva autorizzazione scritta da parte di Lastella Trade o MOXA Inc. Le immagini presenti sono a puro titolo esplicativo, in alcuni casi sono foto di gruppo e potrebbero subire variazioni senza preavviso, per le caratteristiche del prodotto fa fede la descrizione prodotto.