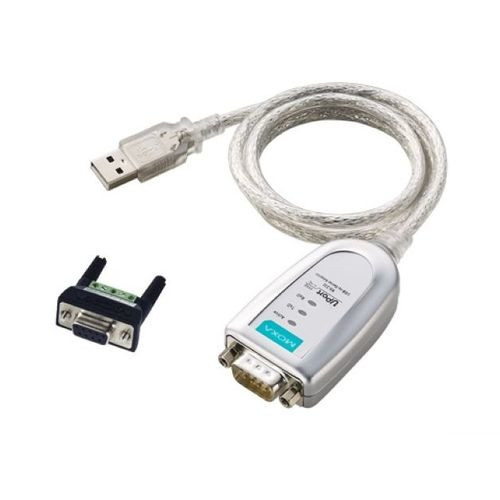 UPort 1150
Industriai Hub 1 port USB to Serial, RS232/RS422/RS485
Features and Benefits
Compatible with USB 2.0
12 Mbps USB data rate
Software selectable RS-232, RS-422, 4-wire RS-485, and 2-wire RS-485
Certified drivers provided for Windows (including Vista), WinCE 5.0, and Linux
15 KV ESD protection for all serial ports
Introduction
UPort 1150 USB to serial converter allow you to connect 1 RS 232/422/485 device to your laptop or workstation through the USB (Universal Serial Bus) port. These plug & play USB solutions are compatible with both new and legacy RS-232/422/485 devices, and are perfect for mobile, instrumentation, and point-of sale applications. USB plug & play makes serial port expansion easy, and does not require IRQ, DMA, or I/O address resources. Users no longer need to open the chassis or power down the system to add COM ports, saving on setup time and cost.
Specifications
USB Interface
Compliance: USB 1.0/1.1 compliant, USB 2.0 compatible
Connector: USB type A
Speed: 12 Mbps (Full-Speed USB)
Serial Interface
Number of Ports: 1
Serial Standards: RS-232/422/485
Connector: DB9 male
Serial Line Protection
ESD Protection: 15 kV embedded
Electrical Isolation: 2 kV (UPort 1150I only)
Performance
Baudrate: 50 bps to 921.6 kbps
Serial Communication Parameters
Data Bits: 5, 6, 7, 8
Stop Bits: 1, 1.5, 2
Parity: None, Even, Odd, Space, Mark
Flow Control: RTS/CTS, XON/XOFF
FIFO: 64 bytes
Serial Signals
RS-232: TxD, RxD, RTS, CTS, DTR, DSR, DCD, GND
RS-422: TxD+(B), TxD-(A), RxD+(B), RxD-(A), GND
RS-485-4w: TxD+(B), TxD-(A), RxD+(B), RxD-(A), GND
RS-485-2w: Data+(B), Data-(A), GND
RS-485 Data Direction: ADDC® (Automatic Data Direction Control)
Operating Systems
Windows Real COM Drivers: Windows 95/98/ME/NT/2000, Windows XP/2003/Vista/2008/7/8/8.1 (x86/x64), Windows 2012 (x64), Windows Embedded CE 5.0/6.0
Android Driver
Linux Real TTY Drivers: Linux 2.4.x, 2.6.x, 3.x
Physical Characteristics
Housing: ABS + PC
Weight:
Product only: 65 g (0.14 lb)
Packaged: 200 g (0.44 lb)
Dimensions: 38.4 x 60 x 20 mm (1.51 x 2.36 x 0.79 in)
Environmental Limits
Operating Temperature: 0 to 55°C (32 to 131°F)
Storage Temperature: -20 to 70°C (-4 to 158°F)
Ambient Relative Humidity: 5 to 95% (non-condensing)
Altitude: Up to 2000 m
Standards and Certifications
Safety: UL 60950-1
EMC: CE, FCC
EMI: EN 55022 Class B, EN 61000-3-2, EN 61000-3-3, FCC Part 15 Subpart B Class B
EMS: EN 55024, IEC 61000-4-2, IEC 61000-4-3, IEC 61000-4-4, IEC 61000-4-5, IEC-61000-4-6, IEC 61000-4-8, IEC-61000-4-11
Green Product: RoHS, CRoHS, WEEE
Power Requirements
Power Consumption:
UPort 1150: 77 mA @ 5 VDC
MTBF (mean time between failures)
Time: 1,949,025 hrs
Database: Telcordia (Bellcore), GB
Warranty
Warranty Period: 5 years
Le immagini e le caratteristiche dei prodotti presenti sul sito sono di proprietà di MOXA Inc. E' espressamente vietata la riproduzione dei contenuti del sito in qualsiasi modo ed a qualsiasi scopo senza la preventiva autorizzazione scritta da parte di Lastella Trade o MOXA Inc. Le immagini presenti sono a puro titolo esplicativo, in alcuni casi sono foto di gruppo e potrebbero subire variazioni senza preavviso, per le caratteristiche del prodotto fa fede la descrizione prodotto.