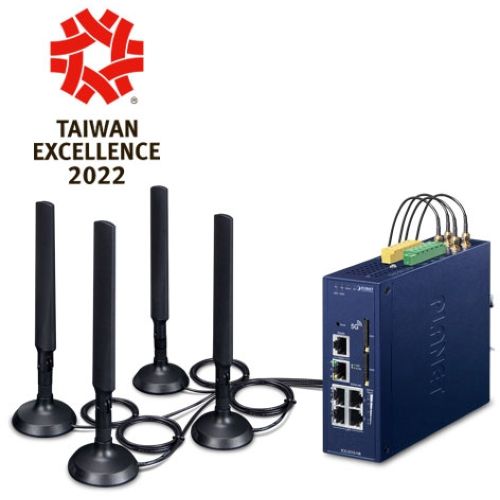 ICG-2515-NR
Industrial 5G NR Cellular Gateway with 5 port 10/100/1000T (Sub-6 5G NR Global Band, compatible with 4G LTE, 2 SIM Card Slots, 2 DI/DO, Dual DC 9~54V, -40~75 degrees C, Dual-WAN Failover and Load Balancing, High Availability, SSL VPN and robust hybrid VPN
Upgrade Industrial Network with 5G NR Cellular Gateway
PLANET ICG-2515-NR is an industrial-grade cellular gateway for demanding mobile applications, M2M (machine-to-machine) and IoT deployments. Upgraded to the latest cellular technology of 5G NR (new radio), the ICG-2515-NR is able to provide ultra-fast broadband access with 5G cellular network. The ICG-2515-NR also features five Ethernet ports (4 LANs and 1 WAN), serial port (RS485), DI and DO interfaces, and VPN technology bundled in a compact yet rugged metal case. It establishes a fast cellular connection between Ethernet and serial port equipped devices. The ICG-2515-NR is particularly ideal for industrial automation, digital factory and other industrial applications.


Applications
5G NR Cellular Communication Solution
PLANET ICG-2515-NR adopts 5G NR cellular technology and thus breaks the 100m limitation of RJ45 transmission. To avoid data loss affected by an unexpected breakdown connection on the part of ISP, the ICG-2515-NR provides dual SIM card slots, failover, load balance functions and advanced features like VLAN, VPN, Modbus, and network management to cover more applications.


Features and Benefits
Highlights
Global 5G NR (NSA/SA)/4G LTE network with dual SIM design for cellular network redundancy
Automatic failover between 5G NR and Gigabit WAN
2 x DI/DO and 1 serial port (RS485) for Modbus applications*
SSL VPN and robust hybrid VPN (IPSec/PPTP/L2TP over IPSec)
Stateful packet inspection (SPI) firewall and content filtering
Blocks DoS/DDOS attack, port range forwarding
High Availability, AP Controller, Captive Portal and RADIUS
Planet NMS controller system and CloudViewer app supported
-45 to 75 degrees C operating temperature; DIN-rail and fanless designs
Hardware Specifications
Copper Ports:
5 10/100/1000BASE-T RJ45 Ethernet ports including
3 LAN ports (Ports 1 to 3)
1 LAN/WAN port (Port 4)
1 WAN port (Port 5)
Serial Interface: RJ45 serial port
SIM Interface: 2 SIM card slots with mini SIM card tray
Cellular Antenna: 5 dBi external antennas with SMA connectors for 5G-NR
DI & DO Interfaces:
2 Digital Input (DI):
Level 0: -24V~2.1V (±0.1V)
Level 1: 2.1V~24V (±0.1V)
Input Load to 24V DC, 10mA max.

2 Digital Output (DO):
Open collector to 24V DC, 100mA max.
Connector: Removable 6-pin terminal block for power input
Pin 1/2 for Power 1, Pin 3/4 for fault alarm, Pin 5/6 for Power 2
Reset Button:
< 5 sec: System reboot
> 5 sec: Factory default
Enclosure: IP30 metal case
Installation: DIN rail, desktop, wall-mounting
LED Indicators:
System:
P1 (Green)
P2 (Green)
Alarm (Red)
I/O (Red)

Ethernet Interfaces (Port1-4 and WAN Port):
1000 LNK/ACT (Green)
10/100 LNK/ACT (Amber)

Cellular SIM:
SIM1 and SIM2 (Green)

Cellular signal:
4 levels (Green)
Dimensions (W x D x H): 50 x 135 x 135 mm
Weight: 0.8 kg
Power Requirements – DC: 9~54V DC, 1.5A max.
Power Consumption: 7 W / 23.9 BTU