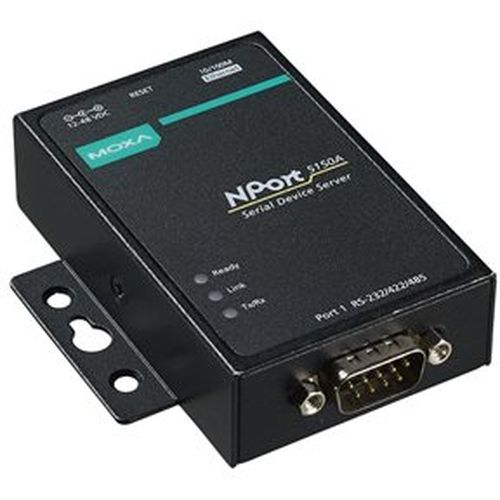 NPort 5150A
1 port device server, 10/100M Ethernet, RS-232/422/485, DB9 male, 15KV ESD, 0,5KV serial surge, 12-48VDC, 0-60°C
Prodotti Correlati
Industrial Serial Device Server 1 Port ...
1+ pezzi: € 141,57
Connettore alimentazione maschio con ...
1+ pezzi: € 2,00
Connettore alimentazione femmina con ...
1+ pezzi: € 2,00
1+ pezzi: € 7,66
DIN Rail Mounting Kit 35mm, for DE-311/211, ...
1+ pezzi: € 3,50
mini DB9 Female to Terminal Block
1+ pezzi: € 9,80
1 port Serial device server, 10/100M ...
1+ pezzi: € 69,36
Features and Benefits
Only 1 W power consumption
Speedy 3-step web-based configuration
Surge protection for serial, Ethernet, and power lines
COM port grouping and UDP multicast applications
Screw connectors for secure installation
Real COM/TTY drivers for Windows and Linux
Standard TCP/IP interface and versatile TCP and UDP operation modes
Connect up to 8 TCP hosts
Introduction
The NPort® 5100A device servers are designed to make serial devices network-ready in an instant and give your PC software direct access to serial devices from anywhere on the network. The NPort® 5100A device servers are ultra lean, ruggedized, and user friendly, making simple and reliable serial to Ethernet solutions possible. The Moxa MiiNe is a small but powerful ARM-based serial-to-Ethernet SoC with RAM and Flash embedded. With the MiiNe inside, the NPort® 5110A series becomes the world's only device server with power consumption less than 1 W. The NPort® 5100A series saves at least 50% on power consumption compared to existing solutions on the market, helping engineers meet the tough environmental compliance challenges found in today's industrial environments. Surge, which is typically caused by high voltages that result from switching and lightning transients, is a common threat to all electrical devices. Moxa's leading-edge surge immunity solution, which is applied to the NPort® 5100A's serial, power, and Ethernet lines, is tested and proven compliant with IEC 61000-4-5. This state-of-the-art surge protection provides a robust serial-to-Ethernet solution that can protect electrical devices from voltage spikes and withstand electrically noisy environmental conditions. The NPort® 5100A's 3-step web-based configuration tool is straightforward and user-friendly. The NPort® 5100A's web console guides users through 3 simple configuration steps that are necessary to activate the serial-to-Ethernet application. With this speedy 3-step web-based configuration, a user only needs to spend an average of 30 seconds to complete the NPort® settings and enable the application, saving a great amount of time and effort. NPort® 5100A device servers support SNMP, which can be used to monitor all units over Ethernet. Each unit can be configured to send trap messages automatically to the SNMP manager when user-defined errors are encountered. For users who do not use SNMP manager, an e-mail alert can be sent instead. Users can define the trigger for the alerts using Moxa's Windows utility, or the web console. For example, alerts can be triggered by a warm start, a cold start, or a password change.
Ethernet Interface
Number of Ports: 1
Speed: 10/100 Mbps, auto MDI/MDIX
Connector: 8-pin RJ45
Magnetic Isolation Protection: 1.5 kV built-in
Serial Interface
Number of Ports: 1
Serial Standards:
NPort 5110A: RS-232
NPort 5130A: RS-422/485
NPort 5150A: RS-232/422/485
Connector: DB9 male
Serial Line Protection: 15 kV ESD protection for all signals, Level 1 Surge, EN61000-4-5
RS-485 Data Direction Control: ADDC® (automatic data direction control)
Pull High/Low Resistor for RS-485: 1 kΩ, 150 kΩ
Serial Communication Parameters
Data Bits: 5, 6, 7, 8
Stop Bits: 1, 1.5, 2
Parity: None, Even, Odd, Space, Mark
Flow Control: RTS/CTS and DTR/DSR (RS-232 only), XON/XOFF
Baudrate: 50 bps to 921.6 kbps
Serial Signals
RS-232: TxD, RxD, RTS, CTS, DTR, DSR, DCD, GND
RS-422: Tx+, Tx-, Rx+, Rx-, GND
RS-485-4w: Tx+, Tx-, Rx+, Rx-, GND
RS-485-2w: Data+, Data-, GND
Software
Network Protocols: ICMP, IPv4, TCP, UDP, DHCP, BOOTP, Telnet, DNS, SNMP V1, HTTP, SMTP, IGMP V1/2
Configuration Options: Web Console (with new Quick Setup), Serial Console (NPort 5110A/5150A only), Telnet Console, Windows Utility
Windows Real COM Drivers: Windows 95/98/ME/NT/2000, Windows XP/2003/Vista/2008/7/8/8.1 (x86/x64), Windows 2008 R2/2012/2012 R2 (x64), Windows Embedded CE 5.0/6.0, Windows XP Embedded
Fixed TTY Drivers: SCO Unix, SCO OpenServer, UnixWare 7, QNX 4.25, QNX 6, Solaris 10, FreeBSD, AIX 5.x, HP-UX 11i, Mac OS X
Linux Real TTY Drivers: Linux 2.4.x, 2.6.x, 3.x
Physical Characteristics
Housing: Metal
Weight: 340 g
Dimensions:
Without ears: 52 x 80 x 22 mm (2.05 x 3.15 x 0.87 in)
With ears: 75.2 x 80 x 22 mm (2.96 x 3.15 x 0.87 in)
Environmental Limits
Operating Temperature:
Standard Models: 0 to 60°C (32 to 140°F)
Wide Temp. Models: -40 to 75°C (-40 to 167°F)
Storage Temperature: -40 to 75°C (-40 to 167°F)
Ambient Relative Humidity: 5 to 95% (non-condensing)
Altitude: Up to 2000 m
Power Requirements
Input Voltage: 12 to 48 VDC
Power Consumption:
NPort 5110A: 82.5 mA @ 12 V, 47.3 mA @ 24 V
NPort 5130A: 89.1 mA @ 12 V, 49.5 mA @ 24 V
NPort 5150A: 92.4 mA @ 12 V, 52.8 mA @ 24 V
Standards and Certifications
Safety: UL 60950-1, EN 60950-1
EMC: CE, FCC
EMI: EN 55022 Class A, FCC Part 15 Subpart B Class A
EMS: EN 55024
Power Line Protection:
EN 61000-4-4(EFT) Level 2,
EN 61000-4-5(Surge) Level 3
Reliability
Automatic Reboot Trigger: Built-in WDT (watchdog timer)
MTBF (mean time between failures): 2,231,530 hrs
Warranty
Warranty Period: 5 years
Le immagini e le caratteristiche dei prodotti presenti sul sito sono di proprietà di MOXA Inc. E' espressamente vietata la riproduzione dei contenuti del sito in qualsiasi modo ed a qualsiasi scopo senza la preventiva autorizzazione scritta da parte di Lastella Trade o MOXA Inc. Le immagini presenti sono a puro titolo esplicativo, in alcuni casi sono foto di gruppo e potrebbero subire variazioni senza preavviso, per le caratteristiche del prodotto fa fede la descrizione prodotto.