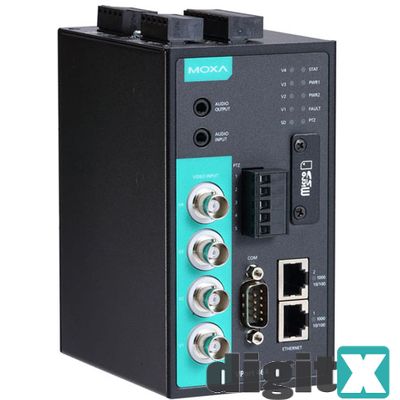 VPort 464
PSample, 4-channel H.264/MJPEG Industrial Video Encoder, 2 10/100/1000BaseT(X) Ethernet port, 0 to 60°C
Features
Each channel supports 2 D1 30 fps streams simultaneously, or merge 1 quad stream 30 fps image into 4 channels
Video latency under 200 ms
2 Ethernet ports for Cascading or Ethernet port redundancy
Moxa DynaStream™ function support for network efficiency
ONVIF support for standardization and interoperability
Local storage capability with microSD card slot
Industrial design with -40 to 75°C operating temperature
Introduction
The VPort 464 4-channel industrial video encoder uses the H.264 video compression algorithm to provide the best video quality on the market, but with a smaller bandwidth requirement than other video compression standards. In addition, to meet various requirements, each channel of the VPort 464 can support 2 video streams simultaneously or you can merge all 4 channels into 1 quad view stream using H.264 and MJPEG compression formats, providing greater flexibility for a variety of uses, including viewing, recording, and analysis. The rugged industrial design, which includes a -40 to 75°C operating temperature, IP30 protection, and industrial certifications, make the VPort 464 suitable for harsh environments.
The VPort 464 comes with two gigabit Ethernet ports and supports cascade mode and network redundancy. In addition, Moxa's innovative DynaStream™ technology lets you change the video frame rate automatically, allowing you to control your network bandwidth budget and simplify network system management. The CBR Pro™ function guarantees the lowest packet loss for limited bandwidth transmissions to ensure that images will not exhibit the mosaic effect.
Video
Video Compression: H.264 (MPEG4 part 10, AVC) or MJPEG
Video Inputs: 4, BNC connector (1.0 Vpp, 75 ohm)
Video Output: Via Ethernet
Video Streams: Dual streams for each channel, or 1 quad stream
NTSC/PAL: Auto-sensing or manual
Video Viewing
DynaStream™ support for changing the video frame rate automatically
On-screen display: Text lines, Graphical image (BMP, GIF, or JPEG)
CBR Pro™: Support for accurate streaming bit rate control
Maximum of 5 simultaneous unicast connections, and 50 multicast clients
Image tuning to control brightness, contrast, saturation, hue, sharpness, and noise reduction
Audio
Audio Inputs: 1, Line-in 3.5 mm phone jack connector
Audio Outputs: 1, Line-out 3.5 mm phone jack connector
Audio Format: Mono, PCM (G.711)
Network
Protocols: IPv4/v6, TCP, UDP, HTTP, SMTP, FTP, NTP, DNS, DHCP, UPnP, RTP, RTSP, ICMP, IGMPv3, QoS (ToS), SNMP V3, DDNS, Modbus/TCP, 802.1X, SSH/HTTPS, NTCIP
Ethernet: 2 10/100/1000BaseT(X) Ethernet ports, RJ45 connectors
Serial Port
PTZ Ports: 1 RS-232 or RS-422/485 port, terminal block connector or DB9 male connector, 115.2 kbps
Console Port: 1, RS-232 RJ45 port
GPIO
Digital Inputs: 4, max. 8 mAHigh: +13 V to +30 V; Low: -30 V to +3 V
Relay Outputs: 2, max. 24 VDC @ 1 A
LED Indicators
STAT: System status
PWR1: Power 1
PWR2: Power 2
FAULT: Can be configured to correspond to system alarm, power failure, or disconnected network
PTZ: Indicates if PTZ or COM port data is being transmitted
SD: Indicates if microSD card mounting or unmounting is successful
V1, V2, V3, V4: Video input signal activity for channels 1 to 4
Power Requirements
Input Voltage: 2 redundant power inputs, 12 to 32 VDC or 18 to 30 VAC, terminal block connector
Input Current: 12 to 32 VDC, 1.0 A (max.) or 18 to 30 VAC, 1.0 A (max.)
Power Consumption: 12 W (max.)
Physical Characteristics
Housing: Metal, IP30 protection
Dimensions: 80.2 x 135 x 105 mm (3.16 x 5.31 x 4.13 in)
Weight: 1.13 kg (2.49 lb)
Installation: DIN-rail mounting (standard), wall mounting (optional)
Alarms
Video Motion Detection: Each channel has 3 independently configurable motion areas
Intelligent Video Surveillance: Camera tampering detection
Scheduling: Daily repeat timing schedule
Imaging JPEG snapshots for pre/trigger/post alarm images
Custom Alarms: HTTP event servers and CGI events for setting customized alarm actions
Email/FTP Messaging: Automatic transfer of stored images via email or FTP with event-triggered actions
PTZ (Pan/Tilt/Zoom)
PTZ Camera Control: Via RS-232/422/485 PTZ port
PTZ Control Functions. Pan, tilt, zoom, focus, moving speed, preset position (max. 128 positions)
PTZ Function Updates: Driver upload supported
Supported Device Protocols: Pelco D, Pelco P, Custom Camera
Security
Password: User level password protection
Filtering: By IP address
Authentication: 802.1X
Encryption: HTTPS, SSH
Environmental Limits
Operating Temperature:
Standard Models: -25 to 60°C (-13 to 140°F)
Wide Temp. Models: -40 to 75°C (-40 to 167°F)
Storage Temperature: -40 to 85°C (-40 to 185°F)
Ambient Relative Humidity: 5 to 95% (non-condensing)
Vibration:
IEC 60068-2-6, 2 to 13.2 Hz: 2 mm (peak-peak); 13.2 to 100 Hz: 0.7g;
1.50 hrs/axis
IEC 60068-2-6, 3 to 9 Hz: 7 mm (peak-peak); 9 to 150 Hz: 1.0g;
1.86 hrs/axis
Shock: IEC 60068-2-27, 20g/11ms
Altitude: 2000 m
Ingress Protection: IEC 60529, IP30
Standards and Certifications
Safety: UL 60950-1
EMI: CISPR 22, FCC Part 15B Class A
EMS:
EC 61000-4-2 ESD: Contact: 6 kV; Air: 8 kV
IEC 61000-4-3 RS: 80 MHz to 1 GHz: 10 V/m
IEC 61000-4-4 EFT: Power: 2 kV; Signal: 1 kV
IEC 61000-4-5 Surge: Power: 2 kV; Signal: 2 kV
IEC 61000-4-6 CS: 10 V
IEC 61000-4-8
MTBF (mean time between failures)
Time: 569,152 hrs
Standard: Telcordia SR332
Minimum Viewing System Requirements
CPU: Intel Core i5, 2.4 GHz or above
Memory: 1 GB memory or above
OS: Windows 7
Browser: Internet Explorer 9.x or above
Software Development
VPort SDK PLUS: Includes CGI commands, ActiveX Control, and API library for customized applications or system integration for third-party developers (the latest version of SDK is available for download from Moxa's website).
Standards: ONVIF, Profile S


Le immagini e le caratteristiche dei prodotti presenti sul sito sono di proprietà di MOXA Inc. E' espressamente vietata la riproduzione dei contenuti del sito in qualsiasi modo ed a qualsiasi scopo senza la preventiva autorizzazione scritta da parte di Lastella Trade o MOXA Inc. Le immagini presenti sono a puro titolo esplicativo, in alcuni casi sono foto di gruppo e potrebbero subire variazioni senza preavviso, per le caratteristiche del prodotto fa fede la descrizione prodotto.