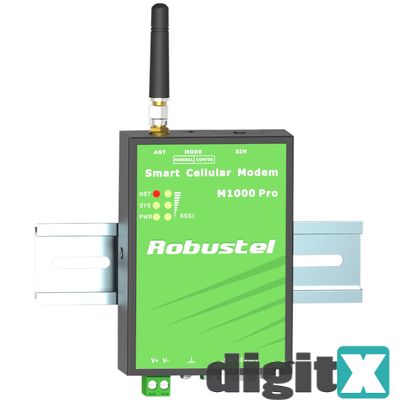 A001070
M1000-PUMTSB - Gateway, metal housing, dual SIM, 1-port RS232/RS485 UMTS 850/900/1900/2100 MHz, Huawei MU609
GoRugged M1000 Pro V2
Dual SIM Industrial Serial to Cellular Gateway
for GSM/GPRS/EDGE/UMTS Networks
Robustel GoRugged M1000 Pro V2 is a rugged serial to cellular gateway with dual SIM offering state-of-the-art 2G/3G connectivity for machine to machine (M2M) applications.


Key Features
Dual SIM redundancy for continuous cellular connection.
Various SIM backup polices: PING/Monthly data traffic/Roaming.
Auto GPRS/UMTS connection (no AT commands required).
Support CSD communication (only receive CSD call).
Transparent TCP and UDP socket connections.
Supports Virtual COM (COM port redirector).
Supports ICMP, DDNS, Telnet.
Supports RobustLink (Centralized M2M management platform).
Supports Modbus gateway (Modbus RTU to Modbus TCP).
Supports Modbus master polling, collects data at preset interval and sends to RobustLink.
Various reboot policies: SMS/Caller ID/Timing.
Various dial-up policies: Always Online/Connect On Demand.
Remote configuration via RobustLink/TCP/SMS.
Remote firmware upgrade via RobustLink/TCP.
RS232/RS485 selectable by software.
Six LED indicators provide signal strength and running status.
Watchdog for reliable communications.
Wide range input voltages from 9 to 36 VDC and extreme operating temperature.
The metal enclosure can be mounted on a DIN-rail or on the wall, also with extra ground screw.


Applications
Automatic Meter Reading
PLC Remote Management
Vending Machine Remote Management
LED Signage Publication
POS Connectivity Backup


Specifications
Cellular Interface
Standards: GSM/GPRS/EDGE/UMTS
GPRS: max. 86 kbps (DL & UL), class 10
EDGE: max. 236.8 kbps (DL & UL), class 12
UMTS: max. 384 kbps (DL & UL)
Frequency: 850/900/1800/1900 MHz for GPRS/EDGE, 850/900/1800/1900/2100 MHz for UMTS/HSPA+
CSD: Up to 14.4 kbps
SIM: 2 x (3V & 1.8V)
Antenna Interface: SMA Female


Serial Interface
Number of Ports: 1 x DB9 Female
Serial Standards: RS232 and RS485
ESD Protection: ±15KV
Baudrate: 1200bps to 115200bps
RS-232: TxD, RxD, RTS, CTS, GND
RS-485: Data+ (A), Data- (B), GND


System
LED Indicators: PWR, RUN, NET and 3 level RSSI
Real Time Clock: Built-in RTC with button battery
Watchdog and Timer: Built-in watchdog and timer


Software
IP protocols: PPP, TCP, UDP, ICMP, DDNS, Telnet
Serial Port: TCP client/server, UDP, Modbus RTU to Modbus TCP, Virtual COM (COM port redirector)
RobustLink: Centralized M2M management platform


Power Supply and Consumption
Power Supply Interface: 2-pin 5mm pluggable terminal block
Input Voltage: 9 to 36 VDC
Power Consumption: Idle: 50-60 mA@12 V
Data Link: 100 to 200 mA (peak)@12 V


Physical Characteristics
Housing & Weight: Metal, 300g
Dimension(L x W x H): 102 x 71 x 29 mm
Installation: 35mm Din-Rail or wall mounting or desktop


Regulatory and Type Approvals
Approval and Detective: CE , R&TTE, A-Tick, RoHS, WEEE
EMC: EN 61000-4-2 (ESD) Level 4, EN 61000-4-3 (RS) Level 4
EN 61000-4-4 (EFT) Level 4, EN 61000-4-5 (Surge) Level 3
EN 61000-4-6 (CS) Level 3, EN 61000-4-8, EN 61000-4-12
Note: 3G version does not support auto reboot via SMS/Caller ID when GPRS/UMTS is online.