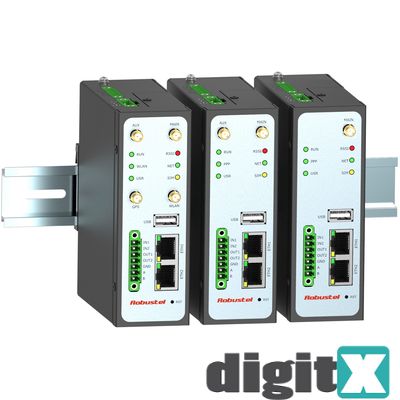 A003075
R3000-4L - Router, 802.11b/g/n, dual SIM, 2xEth, FDD LTE 800/900/1800/2100/2600, Sierra MC7304
GoRugged R3000
Dual SIM Industrial Cellular VPN Router for GPRS/EDGE/UMTS/HSPA/EVDO/4G LTE Networks Robustel GoRugged R3000 is a rugged cellular router offering state-of-the-art mobile connectivity for machine to machine (M2M) applications.


Key Features
Dual SIM redundancy for continuous cellular connections, supports 2G/3G/4G.
WAN link management: cellular WAN/Ethernet WAN/WLAN WAN backup.
VPN tunnel: IPSec/OpenVPN/PPTP/L2TP/GRE.
Supports Modbus gateway (Modbus RTU/ASCII to Modbus TCP).
Supports GPS (optional), provides real time location and tracking.
Supports 802.11 b/g/n Wi-Fi (optional), AP and client mode.
Supports SDK, provides user programmatic interface.
Supports 802.1Q VLAN tagging.
Supports IP Pass-through.
Auto reboot via SMS/Caller ID/Timing.
Supports RobustLink (Centralized M2M management platform).
Flexible Management methods: Web/CLI/SNMP/RobustLink.
Firmware upgrade via Web/CLI/USB/SMS/RobustLink.
Various interfaces: RS232/RS485/Console/DI/DO/USB/Ethernet.
Wide range input voltages from 9 to 60 VDC and extreme operating temperature.
The metal enclosure can be mounted on a DIN-rail or on the wall, also with extra ground screw.


Applications
ATM/Vending Machine Connectivity
Solar/Wind Energy Monitor
Distribution Automation
Automatic Meter Reading
Industrial Automation
IP Video Surveillance
Remote Devices


Specifications
Cellular Interface
Standards: GSM/GPRS/EDGE/UMTS/HSPA/EVDO/FDD LTE
GPRS/EDGE: 850/900/1800/1900 MHz
HSUPA: 900/2100 or 850/1900 MHz optional, DL/UL 7.2/5.76 Mbps, fallback to 2G
HSPA+: 850/900/1900/2100 MHz, DL/UL 21/5.76 Mbps, fallback to 2G
FDD LTE: 800/900/1800/2100/2600 MHz, DL/UL 100/50 Mbps, fallback to 3G/2G
EVDO: 450 or 800/1900 MHz, Rev A/B
SIM: 2 x (3V & 1.8V)
Antenna Interface: SMA Female


Ethernet Interface
Number of Ports: 2 x 10/100 Mbps, 2 LANs or 1 LAN 1 WAN
Magnet Isolation Protection: 1.5KV


WLAN Interface
Standards: 802.11b/g/n up to 65 Mbps, AP and Client mode
Frequency Band: 2.400 - 2.500 GHz (2.4 GHz ISM band)
Security: Open ,WPA, WPA2
Encryption: AES, TKIP
Antenna Interface: SMA Female
Transmission Power: 802.11b: 17dBm, 802.11g/n: 15dBm
Reception Sensibility: 1M: -97dBm, 2M: -93dBm, 6M: -91dBm, 11M: -89dBm, 54M: -75dBm, 65M: -72dBm
Serial Interface
Number of Ports: 1 x RS-232, 1 x RS-485 or 2 x RS232 or 2 x RS485
ESD Protection: ±15KV
Parameters: 8E1, 8O1, 8N1, 8N2, 7E2, 7O2, 7N2, 7E1
Baud Rate: 300bps to 230400bps
RS-232: TxD, RxD, RTS, CTS, GND
RS-485: Data+ (A), Data- (B), GND
Interface: 3.5mm terminal block with lock
Digital Input
Type: 2 x DI, Dry Contact
Dry Contact: On: open, Off: short to GND
Isolation: 3K VDC or 2K Vrms
Digital Filtering Time Interval: Software selectable
Interface: 3.5mm terminal block with lock
Digital Output
Type: 2 x DO, Sink
Isolation: 3K VDC or 2K Vrms
Interface: 3.5mm terminal block with lock
System
LED Indicators: RUN, PPP/WLAN, USR, RSSI, NET, SIM
Built-in RTC, Watchdog, Timer
Expansion: 1 x USB 2.0 host up to 480 Mbps
Storage: 1 x MicroSD
Software
Network protocols: PPP, PPPoE, TCP, UDP, DHCP, ICMP, NAT, DMZ, RIP v1/v2, OSPF, DDNS, VRRP, HTTP, HTTPs, DNS, ARP, QoS, SNTP, Telnet, VLAN, etc
VPN tunnel: IPSec/OpenVPN/PPTP/L2TP/GRE
Firewall: SPI, anti-DoS, Filter, Access Control
Management: Web, CLI, SNMP v1/v2/v3, SMS, RobustLink
Serial Port: TCP client/server, UDP, Modbus RTU/ASCII to Modbus TCP, Virtual COM (COM port redirector)
RobustLink: Centralized M2M management platform
Power Supply and Consumption
Power Supply Interface: 5mm terminal block with lock
Input Voltage: 9 to 60 VDC
Power Consumption: Idle: 100 mA @ 12 V
Data Link: 400 mA (peak) @ 12 V
Physical Characteristics
Housing & Weight: Metal, 500g
Dimension: (L x W x H): 125 x 108 x 45 mm
Installation: 35mm Din-Rail or wall mounting or desktop
Regulatory and Type Approvals
Approval & Detective: CE, R&TTE, FCC, PTCRB, AT&T, RCM, GCF, E-Mark, CB, RoHS, WEEE
EMC: EN 61000-4-2 (ESD) Level 4, EN 61000-4-3 (RS) Level 4
EN 61000-4-4 (EFT) Level 4, EN 61000-4-5 (Surge) Level 3
EN 61000-4-6 (CS) Level 4, EN 61000-4-8, EN 61000-4-12