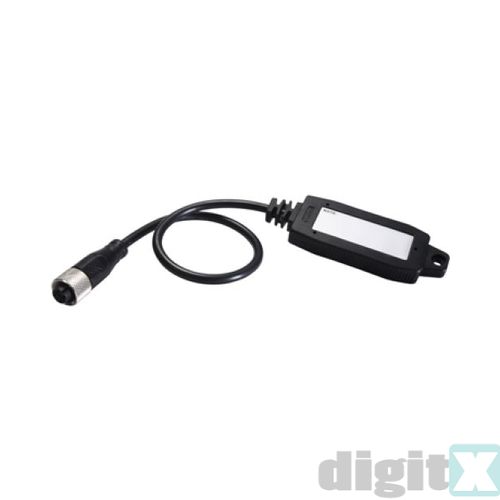 ABC-01-M12
Configuration backup and restoration tool with M12 Connection
Features
ABC-01 series with RS-232/M12 console port connection
Backup and restore switch configuration files
Load the system configuration automatically after system reboot
Portable low-power design (requires no power supply)
CE and FCC approved
Introduction
The ABC-01-M12 configuration backup and restoration tool is designed with M12 connector that can be used to save and load the configuration of Moxa's ToughNet series EN50155 managed Ethernet switches through the switches' RS-232 console port. This simple yet powerful tool makes it much easier to back up a switch's system parameters, or even replace an existing switch with a new switch. With the ABC-01, you can quickly re-install a substitute switch (of the same model) or recover the entire system configuration, including IP address, if a switch failure occurs.
Interface
Connectors: RS-232/M12 port
LED Indicators: None
Basic Operation
Storage Capacity: 128 KB Flash
Configuration: Use the web console of Moxa's managed switches
Power Requirements
Input Voltage: 3 to 5 VDC (through the RS-232 port's RTS signal)
Physical Characteristics
Housing: PVC molding, IP40 protection
Dimensions: 32.5 x 97 x 12 mm (1.28 x 3.82 x 0.47 in)
Weight: ABC-01-M12: 60 g
Mounting Method: M4 screws (< 4 mm)
Cable Length: 35 cm ±3 cm (including connector)
Environmental Limits
Operating Temperature: 0 to 60°C (32 to 140°F)
Storage Temperature: -20 to 70°C (-4 to 158°F)
Ambient Relative Humidity: 5 to 95 % (non-condensing)
Standards and Certifications
EMI: FCC Part 15 Subpart B Class A, EN 55022 Class A
EMS: EN 61000-4-2 (ESD) Level 2(ABC-01 Series), EN 61000-4-2 (ESD) Level 3(ABC-02 Series), EN 61000-4-3 (RS) Level 3, EN 61000-4-4 (EFT) Level 3, EN 61000-4-5 (Surge) Level 3, EN 61000-4-6 (CS) Level 3
Warranty
Warranty Period: 5 years
Le immagini e le caratteristiche dei prodotti presenti sul sito sono di proprietà di MOXA Inc. E' espressamente vietata la riproduzione dei contenuti del sito in qualsiasi modo ed a qualsiasi scopo senza la preventiva autorizzazione scritta da parte di Lastella Trade o MOXA Inc. Le immagini presenti sono a puro titolo esplicativo, in alcuni casi sono foto di gruppo e potrebbero subire variazioni senza preavviso, per le caratteristiche del prodotto fa fede la descrizione prodotto.