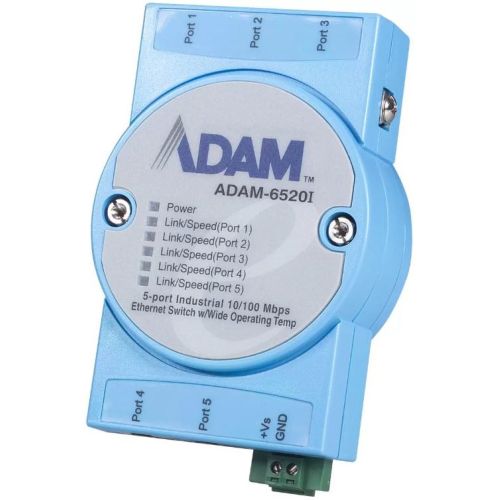 ADAM-6520I-AE
5-port 10/100 Mbps Industrial Unmanaged Ethernet Switch, Flexible mounting, -40~85° C
Features
Industrial Ethernet Solutions
Supports full/half duplex flow control
Supports MDI/MDI-X auto crossover
Embedded with a switch controller, supports auto-negotiation
Supports +10 ~ 30 VDC voltage power input
Provides surge (EFT) protection 3,000 V
DC for power line (ADAM-6520L not equipped)
Supports 4,000 VDC Ethernet ESD protection (ADAM-6520L not equipped)
Provides flexible mounting: DIN-rail, Wall, Stack
Supports wide operating temperature range: -40 ~ 85° C (ADAM-6520I)
Introduction
ADAM-6520 is a 5-port industrial-grade switch with Ethernet connectivity and from 10 to 100 Mbps transfer rates. (Auto-negotiation). Just like any other product in the ADAM family,
ADAM-6520 can bemounted in three different ways: DIN rail, Walland Stack. Solid industrial-grade design assuresreliable operation in common application areaslike:semi-conductor
factories, inventory control environments, assembly lines, manufacturing and many more.
All modules support a wide voltage range of +10 ~ 30 VDC over the terminal block, and 3,000 VDC surge (EFT) protection ensures that over-voltage is no concern. The wide operating
temperature of ADAM-6520 goes from -10 ~ 70°, while ADAM-6520I from -40 ~ 85°. This permits them to be functional in harsh environments.
The six inclusive LED indicators make troubleshooting of the modules easier. Each port has a pair of LEDs that indicate link status and port activities. This easily informs users of any
collisions, the link status, power failure and data receipts for immediate on-site diagnosis.


Specifications
Communications
Standard: IEEE 802.3, 802.3u, 802.3x
LAN: 10/100Base-TX
Transmission Distance: Up to 100 m
Transmission Speed: Up to 100Mbps


Interface
Connectors:
5 x RJ-45
2-pin removable screw terminal (power)
LED Indicators. Power, Link/Speed


Power
Power Consumption: Max. 2.4W
Power Input: 1 x Unregulated 10 ~ 30 VDC


Mechanism
Dimensions (W x H x D): 70 x 102 x 27 mm
Enclosure: IP30, ABS+PC with solid mounting kits
Mounting: DIN 35 rail, Wall, Stack


Protection
ESD (Ethernet): 4,000 VDC (ADAM-6520L not equipped)
Surge (EFT for power): 3,000 VDC (ADAM-6520L not equipped)


Environment
Operating Temperature: -40 ~ 85° C (-40 ~ 185° F), Stack: -40 ~ 75° C (-40 ~ 167° F)
Storage Temperature: -50 ~ 95° C (-58 ~ 203° F)
Operating Humidity: 20 ~ 95 % (non-condensing)
Storing Humidity: 0 ~ 95 % (non-condensing)
MTBF: 1,580,000 hrs