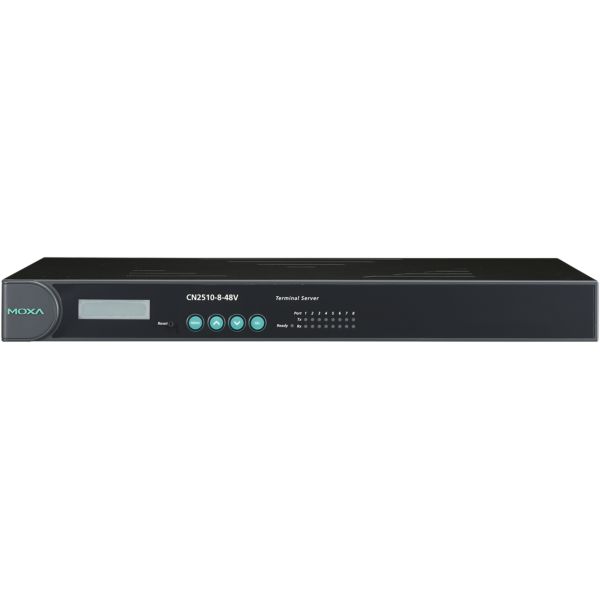 CN2510-8
8 port Async Server, 10/100Mbps Ethernet, RS-232 230.4 Kbps, RJ45, 15 KV ESD protection, EU, US, or UK plug
Features and Benefits
LCD control panel for easy on-site management
Supports up to 16 dial-in users when operating as a standalone remote access server
Supports PPP/SLIP with RADIUS authentication and RIP I/II routing protocols
Real COM and TTY drivers for Windows, Linux, and macOS
48 VDC for telecom applications (for CN2510-8/16-48V)
Introduction
For most companies, the performance of IT equipment is critical to daily operation. To keep a server, router, PBX, or leased-line modem working properly, it is important to minimize downtime and troubleshoot faulty devices quickly. KVM is commonly used for in-band management of devices that are equipped with a screen and keyboard. However, RS-232 console access is often used as a last resort for all devices.


Specifications
Ethernet Interface
10/100BaseT(X) Ports (RJ45 connector): 1


Ethernet Software Features
Management: Device Search Utility (DSU), DHCP Client, TCP/IP, UDP
MIB: MIB-II
Security: RADIUS
Unicast Routing: RIPV1/V2, Static Route
Windows Real COM Drivers: Windows 95/98/ME/NT/2000, Windows XP/2003/Vista/2008/7/8/8.1/10 (x86/x64), Windows 2008 R2/2012/2012 R2/2016/2019 (x64), Windows Embedded CE 5.0/6.0, Windows XP Embedded
Linux Real TTY Drivers: Kernel versions: 2.4.x, 2.6.x, 3.x, 4.x, and 5.x
Fixed TTY Drivers: SCO UNIX, SCO OpenServer, UnixWare 7, QNX 4.25, QNX 6, Solaris 10, FreeBSD, AIX 5.x, HP-UX 11i, Mac OS X, macOS 10.12, macOS 10.13, macOS 10.14, macOS 10.15


erial Interface
Connector: 8-pin RJ45
No. of Ports: 8
Serial Standards: RS-232
Operation Modes: Terminal mode
Baudrate: 50 bps to 921.6 kbps
Data Bits: 5, 6, 7, 8
Stop Bits: 1, 1.5, 2
Parity: None, Even, Odd, Space, Mark
Flow Control: None, RTS/CTS, XON/XOFF


Power Parameters
Input Current: 125 mA @ 110 VAC
Input Voltage: 100 to 240 VAC (47 to 63 Hz)


Physical Characteristics
Housing: Metal
Installation: 19-inch rack mounting
Dimensions: 440 x 198 x 45 mm (17.3 x 7.8 x 1.77 in)
Weight: 2,680 g (5.91 lb)


Environmental Limits
Operating Temperature: 0 to 55°C (32 to 131°F)
Storage Temperature (package included): -20 to 70°C (-4 to 158°F)
Ambient Relative Humidity: 5 to 95% (non-condensing)


Standards and Certifications
EMC: EN 55032/24
EMI: CISPR 32, FCC Part 15B Class A
EMS:
IEC 61000-4-2 ESD: Contact: 8 kV; Air: 15 kV
IEC 61000-4-3 RS: 80 MHz to 1 GHz: 10 V/m
IEC 61000-4-4 EFT: Power: 4 kV; Signal: 2 kV
IEC 61000-4-5 Surge: Power: 2.5 kV; Signal: 1 kV
IEC 61000-4-6 CS: 150 kHz to 80 MHz: 3 V/m; Signal: 3 V/m
IEC 61000-4-8 PFMF
Safety: EN 60950-1, UL 60950-1
MTBF
Time: 857,279 hrs
Standards: Telcordia (Bellcore) Standard TR/SR


Warranty
Warranty Period: 5 years



Le immagini e le caratteristiche dei prodotti presenti sul sito sono di proprietà di MOXA Inc. E' espressamente vietata la riproduzione dei contenuti del sito in qualsiasi modo ed a qualsiasi scopo senza la preventiva autorizzazione scritta da parte di Lastella Trade o MOXA Inc. Le immagini presenti sono a puro titolo esplicativo, in alcuni casi sono foto di gruppo e potrebbero subire variazioni senza preavviso, per le caratteristiche del prodotto fa fede la descrizione prodotto.