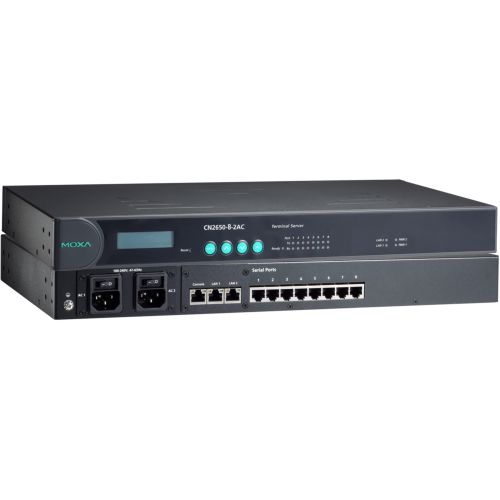 CN2650-8-2AC
8 ports RS-232/422/485 Terminal server with RJ45 connector, Dual 100-240VAC input with adapter
Features and Benefits
LCD panel for easy IP address configuration (excluding wide temperature models)
Dual-LAN cards with two independent MAC addresses and IP addresses
Redundant COM function available when both LANs are active
Dual-host redundancy can be used to add a backup PC to your system
Dual AC power inputs
Real COM/TTY drivers for Windows and Linux
Universal high-voltage range: 100 to 240 VAC or 88 to 300 VDC
Introduction
Redundancy is an important issue for industrial networks, and various types of solutions have been developed to provide alternative network paths when equipment or software failures occur. "Watchdog" hardware is installed to utilize redundant hardware-and a "Token"- switching software mechanism is applied. The CN2600 terminal server uses its built-in Dual-LAN ports to implement a "Redundant COM" mode that keeps your applications running uninterrupted. The CN2600 has two separate LAN ports that can be connected to separate LAN networks. Dual-LAN redundancy involves setting up two separate physical networks to connect the PC host with the CN2600 (the PC host also requires two LAN cards). If one connection fails, the PC host can still communicate with your serial devices over the alternative LAN connection. Moxa offers "Redundant COM", an easy-to-use application to provide an alternative solution for network redundancy. When the CN2600 receives a data packet from a connected device, two identical data packets are sent over two independent LAN connections to prevent lost data packets if one LAN connection becomes unavailable. The CN2600 software is programmed to automatically discard duplicate data packets. The CN2600's dual LAN cards can also be used to set up "dual-host" redundancy. In this case, both networks (LAN A and LAN B in the figure) are connected to two different hosts. If either of the two hosts shuts down unexpectedly, the other host will still be able to communicate with serial devices connected to the CN2600. Dual-power redundancy uses two power inputs and redundant internal power supplies to ensure that all of the CN2600's functions will be available, even in the event of power circuit failures.
Ethernet Interface
Number of Ports: 2 (2 IPs)
Speed: 10/100 Mbps, auto MDI/MDIX
Connector: 8-pin RJ45
Magnetic Isolation: 1.5 kV built-in
Serial Interface
Number of Ports: 8 or 16
Serial Standards:
CN2610: RS-232
CN2650/2650I: RS-232/422/485
Connector:
CN2610/2650: 8-pin RJ45
CN2650I: DB9 male
RS-485 Data Direction Control: ADDC® (Automatic Data Direction Control)
Serial Line Protection: 2 kV optical isolation (CN2650I)
Console Port: Dedicated RS-232 console port on rear panel (8-pin RJ45)
Serial Communication Parameters
Data Bits: 5, 6, 7, 8
Stop Bits: 1, 1.5, 2
Parity: None, Even, Odd, Space, Mark
Flow Control: RTS/CTS, DTR/DSR, XON/XOFF
Baudrate: 50 bps to 921.6 kbps
Pull High/Low Resistor for RS-485: 1 kΩ, 150 kΩ
Terminator for RS-485: 120 Ω
Serial Signals
RS-232: TxD, RxD, RTS, CTS, DTR, DSR, DCD, GND
RS-422: Tx+, Tx-, Rx+, Rx-, GND
RS-485-4w: Tx+, Tx-, Rx+, Rx-, GND
RS-485-2w: Data+, Data-, GND
Software
Network Protocols: ICMP, IPv4, TCP, UDP, DHCP, BOOTP, Telnet, DNS, SNMP, HTTP, SMTP, ARP, PPPoE, DDNS
Security Protocols: RADIUS, HTTPS, SSH, PAP, CHAP
Configuration Options: Web Console, Serial Console, Telnet Console, Windows Search Utility
Windows Real COM Drivers: Windows 95/98/ME/NT/2000, Windows XP/2003/Vista/2008/7/8/8.1 (x86/x64), Windows 2008 R2/2012/2012 R2 (x64), Windows Embedded CE 5.0/6.0, Windows XP Embedded
Fixed TTY Drivers: SCO Unix, SCO OpenServer, UnixWare 7, QNX 4.25, QNX 6, Solaris 10, FreeBSD, AIX 5.x, HP-UX 11i, Mac OS X
Linux Real TTY Drivers: Linux 2.4.x, 2.6.x, 3.x
Management: SNMP MIB-II
IP Routing: Static, RIP-I, RIP-II
Operation Modes
Standard: Real COM, TCP Server, TCP Client, UDP, RFC2217, Terminal, Reverse Telnet, PPP, DRDAS, Redundant COM, Disabled
Applications
Terminal Sessions: 8 sessions per port
Physical Characteristics
Housing: Metal
Weight:
CN2610-8-2AC: 3760 g
CN2610-16-2AC: 3810 g
CN2650-8: 3740 g
CN2650-16: 3790 g
CN2650-8-2AC: 3900 g
CN2650-16-2AC: 3980 g
CN2650I-8: 3666 g
CN2650I-16: 3776 g
CN2650I-8-2AC: 3932 g
CN2650I-16-2AC: 4022 g
CN2650I-8-HV: 3910 g
CN2650I-16-HV: 3930 g
Dimensions:
Without ears: 440 x 198 x 45.5 mm (17.32 x 7.80 x 1.77 in)
With ears: 480 x 198 x 45.5 mm (18.9 x 7.80 x 1.77 in)
Environmental Limits
Operating Temperature:
Standard Models: 0 to 55°C (32 to 131°F)
Wide Temp. Models: -40 to 75°C (-40 to 167°F)
High Voltage Wide Temp. Models: -40 to 85°C (-40 to 185°F)
Storage Temperature:
Standard Models: -40 to 75°C (-40 to 167°F)
Wide Temp. Models: -40 to 75°C (-40 to 167°F)
High Voltage Wide Temp. Models: -40 to 85°C (-40 to 185°F)
Ambient Relative Humidity: 5 to 95% (non-condensing)
Altitude: Up to 2000 m
Power Requirements
Input Voltage:
AC Models: 100 to 240 VAC, 47 to 63 Hz
DC Models: 110 VDC (88 to 300 VDC)
Power Consumption: CN2650 AC models: 235 mA @ 100 VAC, 145 mA @ 240 VAC
CN2650I HV models: 152 mA @ 88 VDC, 86 mA @ 300 VDC
Power Line Protection: 1 kV burst (EN 61000-4-4: EFT/B), 2 kV surge (EN 61000-4-5)
Standards and Certifications
EMI: EN 55022 Class A, FCC part 15 Subpart B Class A
EMS:
EN 61000-4-2 ESD: contact 4 kV; air 8 kV
EN 61000-4-3 RS: 3 V/m (80 MHz to 1 GHz)
EN 61000-4-4 EFT: Power 4 kV; Signal 2 kV
EN 61000-4-5 Surge: AC 1 kV (AC models); DC 2 kV (HV models); Signal 1 kV
EN 61000-4-6 CS: 3 V
EN 61000-4-8
EN 61000-4-11: AC m
Safety: UL 60950-1, EN 60950-1
EMC: 55022/24
Freefall: IEC-68-2-34, IEC-68-2-32
Vibration: IEC-68-2-6
Green Product: RoHS, CRoHS, WEEE
Reliability
Alert Tools: 1Built-in buzzer and RTC (real-time clock)
Automatic Reboot Trigger: Built-in WDT (watchdog timer)
MTBF (mean time between failures):
CN2650I AC models: 99,320 hrs
CN2650I-8-HV-T: 191,326 hrs
CN2650I-16-HV-T: 116,924 hrs
Warranty
Warranty Period: 5 years
Le immagini e le caratteristiche dei prodotti presenti sul sito sono di proprietà di MOXA Inc. E' espressamente vietata la riproduzione dei contenuti del sito in qualsiasi modo ed a qualsiasi scopo senza la preventiva autorizzazione scritta da parte di Lastella Trade o MOXA Inc. Le immagini presenti sono a puro titolo esplicativo, in alcuni casi sono foto di gruppo e potrebbero subire variazioni senza preavviso, per le caratteristiche del prodotto fa fede la descrizione prodotto.