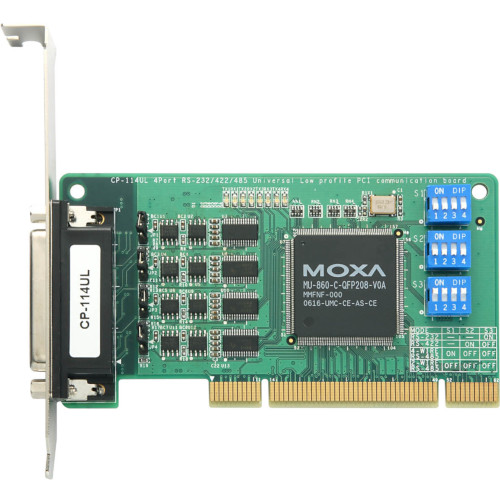 CP-114UL-DB25M
4 port RS-232/422/485 board (DB25 male cable included)*, Universal PCI bus, Low-Profile, 921.6 Kbps male DB44, embedded 15 KV ESD protection
Features and Benefits
Over 700 kbps data throughput for top performance
128-byte FIFO and on-chip H/W, S/W flow control
Universal PCI compatible with 3.3/5 V PCI and PCI-X
Serial communication speed up to 921.6 kbps
Drivers provided for a broad selection of operating systems, including the latest Windows and Linux
Easy maintenance with on-board LED display
On-board 15 kV ESD and 2 kV electrical isolation
Wide temperature model available for -40 to 85°C environments
Introduction
Moxa's CP-114UL/UL-I series of multiport serial boards are designed to be used by industrial automation system integrators for long distance, multi-point, PC-based data acquisition applications. On-chip Automatic Data Direction Control for precision RS-485 communication requires precise timing control to enable and disable the line driver. The Moxa Turbo Serial EngineTM chip that powers the CP-114UL/UL-I boards come with on-chip ADDC®, which makes RS-485 as easy to use as RS-232. In RS-485 mode, the serial port can connect up to 31 daisy-chained RS-485 devices within a range of 1.2 km. For long distance RS-485 communication, 2 kV electrical isolation protections are available to prevent equipment damage. Moxa continues to support a wide variety of operating systems, and the CP-114UL/UL-I boards are no exception. Reliable Windows COM and Linux/Unix TTY drivers are provided for all Moxa boards, and other operating systems, such as WEPOS, are also supported for embedded integration.
Hardware
Comm. Controller: MU860 (16C550C compatible)
Bus: 32-bit Universal PCI
Connector: DB44 female
Serial Interface
Number of Ports: 4
Serial Standards: RS-232/422/485
Max. No. of Boards per PC: 4
ESD Protection: 15 kV on the board
Electrical Isolation: 2 kV (CP-114UL-I only)
Performance
Baudrate: 50 bps to 921.6 kbps
Serial Communication Parameters
Data Bits: 5, 6, 7, 8
Stop Bits: 1, 1.5, 2
Parity: None, Even, Odd, Space, Mark
Flow Control: RTS/CTS, XON/XOFF
I/O Address: Assigned by BIOS
IRQ: Assigned by BIOS
Serial Signals
RS-232: TxD, RxD, RTS, CTS, DTR, DSR, DCD, GND
RS-422: TxD+(B), TxD-(A), RxD+(B), RxD-(A), GND
RS-485-4w: TxD+(B), TxD-(A), RxD+(B), RxD-(A), GND
RS-485-2w: Data+(B), Data-(A), GND
Operating Systems
Windows Real COM Drivers: Windows 95/98/ME/NT/2000, Windows XP/2003/Vista/2008/7/8/8.1 (x86/x64), Windows 2008 R2/2012/2012 R2 (x64), DOS, Windows Embedded CE 5.0/6.0, Windows XP Embedded
Fixed TTY Drivers: QNX 6, SCO OpenServer, UnixWare 7, Solaris 10, FreeBSD
Linux Real TTY Drivers: Linux 2.4.x, 2.6.x
Physical Characteristics
Dimensions:
CP-114UL: 64.4 x 120 mm (2.53 x 4.72 in)
CP-114UL-I: 64.4 x 130 mm (2.53 x 5.12 in)
Environmental Limits
Operating Temperature:
Standard Models: 0 to 55°C (32 to 131°F)
Wide Temp. Models: -40 to 85°C (-40 to 185°F)
Storage Temperature: -40 to 85°C (-40 to 185°F)
Ambient Relative Humidity: 5 to 95% (non-condensing)
Altitude: Up to 2000 m
Standards and Certifications
EMC: CE, FCC
EMI: EN 55022, FCC Part 15 Subpart B Class B
EMS: EN 55024, IEC 61000-4-2, IEC 61000-4-3
Green Product: RoHS, CRoHS, WEEE
MTBF (mean time between failures)
Time: 114,223 hrs
Database: Telcordia (Bellcore), GB
Power Requirements
Power Consumption:
CP-114UL: 320 mA @ 5 VDC
CP-114UL-I: 465 mA @ 5 VDC
Warranty
Warranty Period: 5 years
Le immagini e le caratteristiche dei prodotti presenti sul sito sono di proprietà di MOXA Inc. E' espressamente vietata la riproduzione dei contenuti del sito in qualsiasi modo ed a qualsiasi scopo senza la preventiva autorizzazione scritta da parte di Lastella Trade o MOXA Inc. Le immagini presenti sono a puro titolo esplicativo, in alcuni casi sono foto di gruppo e potrebbero subire variazioni senza preavviso, per le caratteristiche del prodotto fa fede la descrizione prodotto.