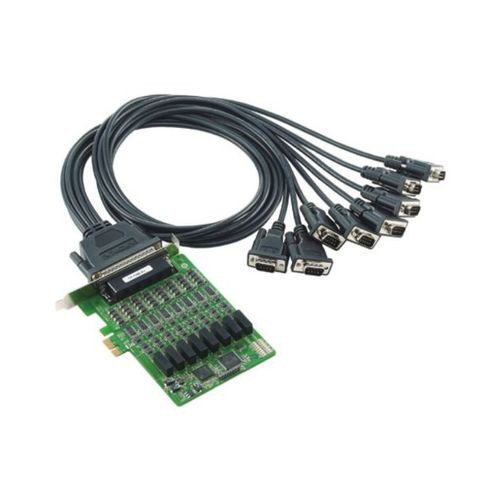 CP-118E-A-I w/o cable
8-port 3-in-1, RS-232/422/485 PCI Express board with 4 kV surge protection and 2 kV electrical Without Cable
Prodotti Correlati
DB78 male to 8-port DB25 male connection ...
1+ pezzi: € 64,97
DB78 male to 8-port DB9 male connection ...
1+ pezzi: € 62,48
Features and Benefits
PCI Express x1 compliant
Serial communication speed up to 921.6 kbps
128-byte FIFO and on-chip S/W flow control
Variety of connection cables and boxes available for RS-232/422/485
Drivers provided for the latest versions of Windows, Linux, and Unix
Easy maintenance with on-board LED display and management software
15 kV ESD, 4 kV surge, and 2 kV electrical isolation onboard
Introduction
The CP-118E-A-I and CP-138E-A-I are smart PCI Express multiport serial boards designed for POS and ATM applications, and for use by industrial automation system manufacturers and system integrators. The CP-118E-A-I and CP-138E-A-I are compatible with all popular operating systems, and each of their 8 serial ports supports data rates of up to 921.6 kbps, and provide full modem control signals, ensuring compatibility with a wide range of serial peripherals. In addition, the CP-118E-A-I and CP-138E-A-I work with PCI Express x1, allowing the boards to be installed in any PCI Express slot. Setting up an RS-485 network is relatively straightforward. The challenge comes when the power is turned on and the devices connected to the network start transmitting and receiving data. In most cases, engineers will need to further tune the system by configuring pull high/low resistors and terminators at strategic points along the network. Moxa's new Intelligent RS-485 technology supports two essential features to make it easy: (1) One-Click Installation automatically analyzes the network topology and then adjusts terminators and pull high/low resistors. (2) One-Click Troubleshooting tells you what to change to make a deficient network viable.
Hardware
Comm. Controller: 16C550C compatible
Bus: PCI Express x1
Connector: DB78 female
Serial Interface
Number of Ports: 8
Serial Standards:
CP-118E-A-I: RS-232/422/485
CP-138E-A-I: RS-422/485
Max. No. of Boards per PC: 4
Serial Line Protection
ESD Protection: 15 kV on the board
Surge Protection: 4 kV
Electrical Isolation: 2 kV
Performance
Baudrate: 50 bps to 921.6 kbps
Serial Communication Parameters
Data Bits: 5, 6, 7, 8
Stop Bits: 1, 1.5, 2
Parity: None, Even, Odd, Space, Mark
Flow Control: RTS/CTS, XON/XOFF
Serial Signals
RS-232: TxD, RxD, RTS, CTS, DTR, DSR, DCD, GND
RS-422: TxD+(B), TxD-(A), RxD+(B), RxD-(A), GND
RS-485-4w: TxD+(B), TxD-(A), RxD+(B), RxD-(A), GND
RS-485-2w: Data+(B), Data-(A), GND
Operating Systems
Windows Real COM Drivers: Windows 2000/XP/2003/Vista/2008/7/8/8.1 (x86/x64), Windows 2008 R2/2012/2012 R2 (x64)
Fixed TTY Drivers: QNX 6, SCO OpenServer, UnixWare 7, Solaris 10 (x86/x64)
Linux Real TTY Drivers: Linux 2.4.x, 2.6.x, 3.x
Physical Characteristics
Dimensions: 109.5 x 130 mm (4.31 x 5.11 in)
Environmental Limits
Operating Temperature: 0 to 55°C (32 to 131°F)
Storage Temperature: -20 to 85°C (-4 to 185°F)
Ambient Relative Humidity: 5 to 95% (non-condensing)
Altitude: Up to 2000 m
Standards and Certifications
EMC: CE, FCC
EMI: EN 55022, EN 61000-3-2, EN 61000-3-3, FCC Part 15 Subpart B Class B
EMS: EN 55024, IEC 61000-4-2, IEC 61000-4-3, IEC 61000-4-4, IEC 61000-4-5, IEC 61000-4-6, IEC 61000-4-8, IEC 61000-4-11 (DIPS)
Green Product: RoHS, CRoHS, WEEE
MTBF (mean time between failures)
Time:
CP-118E-A-I: 152,124 hrs
CP-138E-A-I: 221,331 hrs
Database: Telcordia (Bellcore), GB
Power Requirements
Power Consumption:
CP-118E-A-I: 2,356 mA @ 3.3 V
CP-138E-A-I: 2,356 mA @ 3.3 V
Warranty
Warranty Period: 5 years
Le immagini e le caratteristiche dei prodotti presenti sul sito sono di proprietà di MOXA Inc. E' espressamente vietata la riproduzione dei contenuti del sito in qualsiasi modo ed a qualsiasi scopo senza la preventiva autorizzazione scritta da parte di Lastella Trade o MOXA Inc. Le immagini presenti sono a puro titolo esplicativo, in alcuni casi sono foto di gruppo e potrebbero subire variazioni senza preavviso, per le caratteristiche del prodotto fa fede la descrizione prodotto.