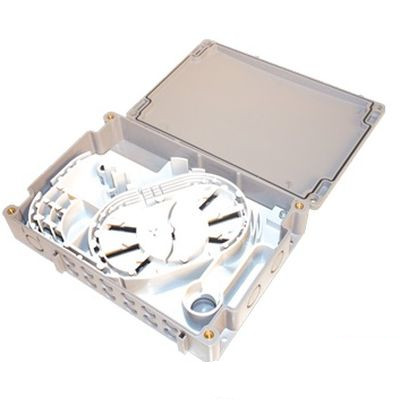 CSB05
Scatola di terminazione CSB05
Features
Tamperproof cover security screws available as an option (refer to optional items)
Rear cable entry/exit position allows pigtails or patchcords to enter the customer premise
Compact wall mounted unit typically used for residential and small business premises
Standard kit supplied complete with all components necessary to splice an external cable to four pigtails. For applications where 12 fibres are to be spliced (external to internal cable), extra splice protectors will be required
Cable interstices can be sealed against water/gas ingress at the entry/exit position if required using a quick set resin
All fibres are positively managed to 30mm minimum bend radius
Cable up to 13mm in diameter can be accommodated with a cable gland
Removable cover fitted with re-enterable seal. Water ingress protection to IP55
Unit manufactured from UV resistant material
Compatible with Blown Fibre products
Sealed to remain IP rated
Introduction
The termination box is designed for use on the external wall of residential or small business premises. The unit houses a single splice tray and allows fibres from externally fed cables (Blown Fibre or conventional), to be spliced to pigtails for connection to the optical network unit. Pigtail fibres or patch cords are routed through the external wall fabric via a rear entry/exit position and are protected by 25mm diameter conduit. The unit can also be used as a transition point between internal and external cable.
Specifications
Number of splice trays: 1
Maximum fibre capacity: 12 Fibres
Maximum cable diameter: 18 mm
IP rating: 55
Required space envelope: (w) 220 x (h) 150 x (d) 50 mm
Operating temperature: -20°C to + 50ºC (5 to 95% RH)
Material:
Wall Box: FR ABS Light Grey RAL 7035
Splice tray: FR ABS Light Grey RAL 7035
Packing dimensions: (w) 230 x (h) 160 x (d) 60 mm
Packed weight: 0.87 kg
Net weight: 0.57 kg
Testing:
Optical: Tested 1310nm,1550nm and 1625nm
Dry heat: BS EN 60068-2-2 Test Bb
Damp heat: IEC 60068-2-3: 1969
Change of temperature: IEC 60068-2-14: 1984
Vibration: IEC 60068-2-6: 1995
Shock: IEC 60068-2-27: 1987
Le immagini e le caratteristiche dei prodotti presenti sul sito sono di proprietà di FIBREFAB Inc. E' espressamente vietata la riproduzione dei contenuti del sito in qualsiasi modo ed a qualsiasi scopo senza la preventiva autorizzazione scritta da parte di Lastella Trade o FIBREFAB Inc. Le immagini presenti sono a puro titolo esplicativo, in alcuni casi sono foto di gruppo e potrebbero subire variazioni senza preavviso, per le caratteristiche del prodotto fa fede la descrizione prodotto.