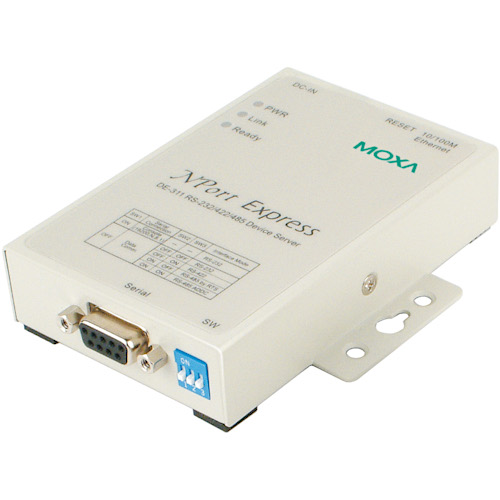 DE-311
1 port device server, 10/100M Ethernet, RS232/422/485, DB9 female, 230V or 110V, US, EU, or UK
Prodotti Correlati
DIN Rail Mounting Kit 35mm, for DE-311/211, ...
1+ pezzi: € 2,70
DIN Rail mountable Wiring Terminal w/DB9 ...
1+ pezzi: € 33,48
Features and Benefits
3-in-1 serial port: RS-232, RS-422, or RS-485
Versatile operation modes, including TCP Server, TCP Client, UDP, Ethernet Modem, and Pair Connection
Real COM/TTY drivers for Windows and Linux
2-wire RS-485 with patented Automatic Data Direction Control (ADDC®)
Built-in 15 kV ESD protection for all serial signals
Introduction
The NPort® DE-211 and DE-311 are 1-port serial device servers that support RS-232, RS-422, 4-wire RS-485, and 2-wire RS-485. The DE-211 supports 10 Mbps Ethernet connections and has a DB25 female connector for the serial port. The DE-311 supports 10/100 Mbps Ethernet connections and has a DB9 female connector for the serial port. Both device servers are ideal for applications that involve information display boards, PLCs, flow meters, gas meters, CNC machines, and biometric identification card readers.
Ethernet Interface
Number of Ports: 1
Speed: 10/100 Mbps, auto MDI/MDIX
Connector: 8-pin RJ45
Magnetic Isolation Protection: 1.5 kV built-in
Serial Interface
Number of Ports: 1
Serial Standards: RS-232/422/485 (selectable by DIP Switch)
Connector: DB9 female
Serial Line Protection: 15 kV ESD protection for all signals
RS-485 Data Direction Control: ADDC® (automatic data direction control)
Serial Communication Parameters
Data Bits: 5, 6, 7, 8
Stop Bits: 1, 1.5, 2
Parity: None, Even, Odd, Space, Mark
Flow Control: RTS/CTS, XON/XOFF
Baudrate: 150 bps to 230.4 kbps
Serial Signals
RS-232: TxD, RxD, RTS, CTS, DTR, DSR, DCD, GND
RS-422: Tx+, Tx-, Rx+, Rx-, RTS+, RTS-, CTS+, CTS-, GND
RS-485-2w: Data+, Data-, GND
Software
Network Protocols: DHCP, BOOTP, Telnet, TCP, UDP, IPv4, ICMP, ARP
Configuration Options: Serial Console, Telnet Console, Windows Utility
Windows Real COM Drivers: Windows 95/98/ME/NT/2000, Windows XP/2003/Vista/2008/7/8/8.1 (x86/x64), Windows 2008 R2/2012/2012 R2 (x64), Windows Embedded CE 5.0/6.0, Windows XP Embedded
Fixed TTY Drivers: SCO Unix, SCO OpenServer, UnixWare 7, QNX 4.25, QNX 6, Solaris 10, FreeBSD, AIX 5.x, HP-UX 11i, Mac OS X
Linux Real TTY Drivers: Linux 2.4.x, 2.6.x, 3.x
Physical Characteristics
Housing: Metal
Weight: 480 g
Dimensions:
Without ears: 67 x 100.4 x 22 mm (2.64 x 3.95 x 0.87 in)
With ears: 90.2 x 100.4 x 22 mm (3.55 x 3.95 x 0.87 in)
Environmental Limits
Operating Temperature: 0 to 55°C (32 to 131°F)
Storage Temperature: -40 to 75°C (-40 to 167°F)
Ambient Relative Humidity: 5 to 95% (non-condensing)
Altitude: Up to 2000 m
Power Requirements
Input Voltage: 9 to 30 VDC
Power Consumption: 300 mA @ 9 V, 150 mA @ 24 V
Standards and Certifications
Safety: UL 60950-1, EN 60950-1
EMC: CE, FCC
EMI: EN 55022 Class B, FCC Part 15 Subpart B Class A
EMS: EN 55024
Medical: EN 60601-1-2 Class B, EN 55011
Reliability
MTBF (mean time between failures): 225,529 hrs
Warranty
Warranty Period: 5 years
Le immagini e le caratteristiche dei prodotti presenti sul sito sono di proprietà di MOXA Inc. E' espressamente vietata la riproduzione dei contenuti del sito in qualsiasi modo ed a qualsiasi scopo senza la preventiva autorizzazione scritta da parte di Lastella Trade o MOXA Inc. Le immagini presenti sono a puro titolo esplicativo, in alcuni casi sono foto di gruppo e potrebbero subire variazioni senza preavviso, per le caratteristiche del prodotto fa fede la descrizione prodotto.