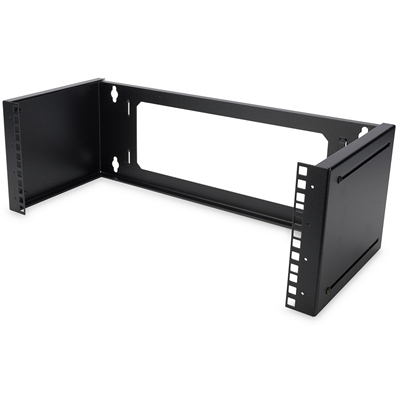 DN-19 PB-4U-SW
Wall mounting patch bracket
Caratteristiche tecniche
Staffa patch per il montaggio a parete4U, 195 x 505 x 250 mm profondità regolabile, impilabile, colore nero (RAL 9005)


profondità regolabile
impilabile (materiale per il fissaggio incluso)
fornitura compatta (confezione piegata)
estensibile con telaio da soffitto/pavimento (disponibile separatamente)
lato posteriore con forature per il cablaggio
indicatori di altezza e di profondità
La staffa patch per il montaggio a parete è utilizzata per montare i componenti da 483 mm (19"). In base alle singole esigenze di spazio, sono disponibili unità di altezza diverse. La profondità regolabile (da 225 mm a 399 mm) consente l'installazione anche di componenti più grandi. Una grande area perforata sulla parte posteriore può essere utilizzata per la gestione dei cavi, se questi ultimi, per esempio, escono direttamente dalla parete.


Dettagli tecnici
per installazione di componenti da 483 mm (19")
Lamiera robusta da 1,1 - 1,5, verniciata a polvere
profondità regolabile (min. 225 mm; max. 399 mm)
con quattro fori per il montaggio a parete
Parte posteriore con foratura ad esempio: per cablaggio
Colore: nero, RAL 9005
Unità: 4
Capacità di carico: 15 kg
Description
4U wall mounting patch bracket, 195x505x250 mm adjustable depth, stackable, black (RAL 9005)


adjustable depth
stackable (fixing brackets included)
Flat-pack delivery (folded)
extensible with top-/base chassis (available seperately)
rear side with cut-outs for cabling
height and depth indicators
The Wall Mounting Patch Brackets for 483 mm (19") installations are used for open mountings of 483 mm (19") components. They are available in several height units to suit to your individual needs of space. The brackets are adjustable in depth (from 225 mm up to 399 mm) which makes the installation of larger components possible. The rear side has a big cut-out area that can be used to guide cables which come directly from the wall.


Technical Details
for installation of 483 mm (19") components
1.1 - 1.5 strong sheet steel, powder coated
adjustable depth (min. 225 mm; max. 399 mm)
with four holes for wall mounting
rear side with cut-out e.g. for cabling
Colour: Black
Width: 505
Model: Other
Height: 195
Depth: 250
RAL-number: 9005
Number of doors: 0
Type of ventilation: None
Material: Steel
Number of height units: 2
With socket: no
Type of surface: With powder coating
Mounting level: Front side
Type of profile rail: L-shaped
With roof plate: no
With earthing: no
With front door: no
With backside door: no
With sidewall: no
Demountable: yes
Modular spacing: 482.6 mm (19 inch)