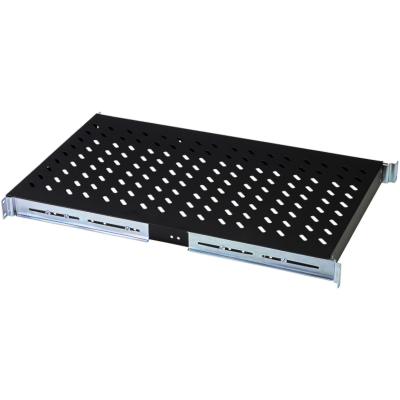 DN-19 TRAY-1-1000 SW
RIPIANO PER ARMADIO LINEA SERVER 19" 1 UNITA' PROFONDITA' 720 MM - COLORE NERO
Caratteristiche tecniche
1U fixed shelf for racks from 1000 mm depth 44x483x737 mm, up to 100 kg, black (RAL 9005)


Adatto per componenti installabili non da 483 mm (19")
Design sottile che richiede solo 1 unità in potenza
Montaggio o smontaggio facile e veloce
I ripiani per l'installazione permanente consentono una facile installazione delle guide anteriori da 483 mm (19") dei vostri armadi di rete o del server da 483 mm (19"). Grazie alla stabile lamiera perforata con un'elevata capacità di carico, sono la superficie ideale di supporto per i componenti installati non da 483 mm (19").


Dettagli tecnici
Installazione fissa
Lamiera perforata, stabile
Incl. materiale per il montaggio
Colore: nero, RAL 9005
Unità: 1
Capacità di carico: 100 kg
Adatto ad armadi profondi: ≥1000 mm
Tipo di installazione: Installazione fissa
Description
1U fixed shelf for racks from 1000 mm depth 44x483x737 mm, up to 100 kg, black (RAL 9005)


Perfect for storage of components which are not 483 mm (19") suitable
Slim design which takes space of 1 height unit
Easy and quick to mount or dismount
The shelves for fixed mounting can be installed easy on the two front 483 mm (19") profile rails of your 483 mm (19") network- or server cabinet. Due to their stable, perforated steel sheet with a high load capacity, they are the optimal surface for components which are not 483 mm (19") suitable.


Technical Details
Fixed installation
sturdy, perforated steel sheet
incl. fixing material
Colour: Black
Width: 483
Model: Shelf
Height: 45
Depth: 737
RAL-number: 9005
Suitable for enclosure building depth: 1000
Material: Other