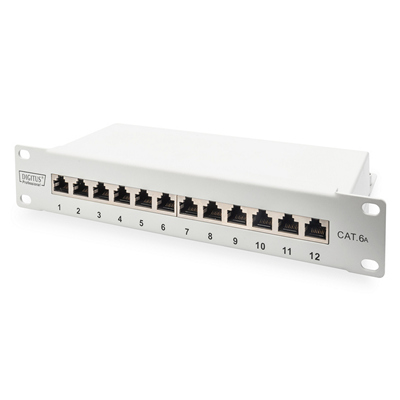 DN-91612S-EA-G
PANNELLO PATCH CATEGORIA 6A SCHERMATO 12 PORTE 10" GRIGIO 1U DIGITUS
Description
CAT 6A Patch Panel, shielded, 12-Port label field, 1U, 10" rack mount, grey RAL 7035

Future-orientated standards and high-end quality for your network.


Sturdy patch panel with metal housing
Complete shielding of housing and shield contact
Cable installation by IDC-strips
Central grounding connector
Dielectric strength up to 1500VDC
The CAT 6A patch panel is available in this 12 port version. It offers sturdy design by its 1.5mm galvanic cold rolled steel. Perfect for 10" cabinet mounting. The fully shielded RJ45 sockets provide an optimal stability for your cables with best performances. The patch panel applies to 802.3at/af PoE standard. It is shielded electromagnetically and offers lost and interruption free forwarding of your data in your network. The 360 degree shielding at the contact points makes sure every single point of consilidation is shielded perfectly.

Technical Details
Transmission properties: Category 6A, Class EA
Area of application: Up to 500 MHz, 10GBase-T
Norms: ISO/IEC 11801 2nd Ed., EN 50173-1, EIA/TIA 568-C, 802.3af, 802.3at PoE+
Suitable for surface mount installation
RJ45 female, 12P12C
Cable installation via IDC strips, color coded according to EIA/TIA 568 A & B
Cable fixing with cable ties
Central ground connection
360° shield coverage
Housing material: 1.5 mm galvanic cold rolled steel, acc. to EN1.4301, UNS S30400, AISI 304 and LMSAD110
RJ45 female material: ABS UL 94V-0
RJ45 female contact: Tinned phosphor bronze, 0.5 μ gold-plated contact
RJ45 shielding: Tinned bronze
IDC termination clamp: Krone IDC+, UL 94V-2, zinc plated phosphor bronze
Ground wire: Not included
Conductor plate: FR4, UL 94V-0
Insertion force: 30N max. (IEC 60603-7-5)
Retention strength: 7.7 kg between jack and plug
Operation temperature: -20° C to +70 °C (ISO/IEC 11801, EN 50173-1, ANSI/TIA/EIA 568 C)
Mating cycles female: > 750 acc. to ISO/IEC 11801, IEC 60603-7-5
Clamp: > 200 acc. to ISO/IEC 11801, IEC 60603-7-5
Insulation resistance: > 500 MOhm
Contact resistance: < 20 MilliOhm
Dielectric strength: 1000 VDC (Contact/Contact), 1500 VDC (Contact/Ground)
Color grey (RAL 7035)
Category: Cat.6A
Ports: 12
Units: 1
IDC wire size: 22 – 26 AWG solid and stranded conductor
Le immagini e le caratteristiche dei prodotti presenti sul sito sono di proprietà di DIGITUS Inc. E' espressamente vietata la riproduzione dei contenuti del sito in qualsiasi modo ed a qualsiasi scopo senza la preventiva autorizzazione scritta da parte di Lastella Trade o DIGITUS Inc. Le immagini presenti sono a puro titolo esplicativo, in alcuni casi sono foto di gruppo e potrebbero subire variazioni senza preavviso, per le caratteristiche del prodotto fa fede la descrizione prodotto.