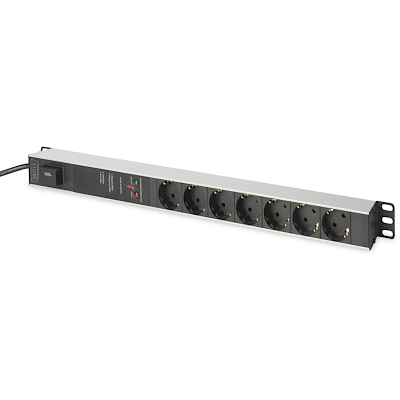 DN-95412
MULTIPRESA PROFESSIONALE FILTRATA IN ALLUMINIO CON PROTEZIONE SOVRACCARICO REMOVIBILE 7 PRESE SCHUKO
Multipresa in alluminio 1U DIGITUS 16A, 4000W, 250VAC 50/60Hz, 7x outlet CEE 7/7 cavo mt 2, CEE 7/7 plug

Alimentazione sicura e professionale in aree da 19"
Fonte di alimentazione ideale per il vostro alloggiamento da 19"
Sicurezza grazie alla doppia spina di sicurezza a terra
Le prese sono spostate di 35°, ciò offre una gestione ottimale dello spazio e un accesso veloce
I connettori femmina di DIGITUS® sono la soluzione perfetta per gli armadi di rete o server da 19". Per il montaggio su rack, le ciabatte di DIGITUS® sono ottimizzate per le migliori prestazioni con 220-240V a 50-60 Hz con un utilizzo appropriato. Il materiale incluso per il fissaggio da 19" garantisce un'installazione ottimale sulle guide profilate dell'armadio. Ogni spina può essere installata orizzontalmente e verticalmente e vi è la possibilità di installare secondo il tipo di armadio la ciabatta con la presa verso l'alto o verso il basso.

Technical Details
7 prese di sicurezza 250VAC 50/60Hz/16A/4000W
Profilo in alluminio
2 profili angolari per installazione su rack
Trasmissione 2 m H05VV-F 35 1,5 mm‹ con presa di sicurezza
Componenti in plastica ABS UL-94V-0
Massa sul profilo in alluminio
Prese di sicurezza ruotate di 35°
Corrente nominale: 16 A
Grado di protazione (IP): IP20
Description
Aluminium PDU, Rackmountable, frequency filter 16A, 4000W, 250VAC 50/60Hz, 7x safety outlet, 2m

Safe and professional power in the 19" range


Perfect power source for your 19" enclosure
Safety provided due to double earthed safety plug
Outlets are turned by 35° which ensures space management and easy access
The DIGITUS® power distribution units are the perfect solution for you 19" network- or server cabinet. Optimized for rack installation with 220-240V 50-60 Hz the DIGITUS® PDU offer you the best performance with qualified efficiency. The PDU can be mounted vertically and has the possibility, according to the cabinet, to be mounted faced up or down.

Technical Details
7x safety outlets 250VAC 50/60Hz / 16A / 4000W
Aluminum profile
2x angle profiles for cabinet mounting
2 m Cable H05VV-F 3G1,5 mm² with safety plug
Plastic components made by ABS UL-94V-0
Grounding on aluminium profile
35° turned safety outlets
Removable surge protection
Intergrated line filter
Integrated frequency filter
Nominal current: 16
Colour: Black
Core cross section: 16
Halogen free: yes
Housing shape: Rectangular
Surface protection: Anodised
On/Off switch: no
Length of power cord: 2
Number of socket outlets with protective contact: 7
Residual current circuit breaker (RCCB): no
Mains filter: yes
With cover: no
Material quality: Aluminium
Rotated central insert: yes
Over voltage protection: yes
Material: Metal
RAL-number (akin): 9005
Degree of protection (IP): IP20
Transparent: no
Type of surface: Matt
Number of CEE socket outlets: 0
Number of socket outlets with earth pin: 0
Number of other socket outlets: 0
Number of cold device socket outlets: 0
Number of Euro socket outlets: 0
Angle rotated central insert: 35°
Number of socket outlets type Bipasso (Italy): 0
Number of socket outlets Type P11 (Italy): 0
Number of NEMA-outlets: 0
Le immagini e le caratteristiche dei prodotti presenti sul sito sono di proprietà di DIGITUS Inc. E' espressamente vietata la riproduzione dei contenuti del sito in qualsiasi modo ed a qualsiasi scopo senza la preventiva autorizzazione scritta da parte di Lastella Trade o DIGITUS Inc. Le immagini presenti sono a puro titolo esplicativo, in alcuni casi sono foto di gruppo e potrebbero subire variazioni senza preavviso, per le caratteristiche del prodotto fa fede la descrizione prodotto.