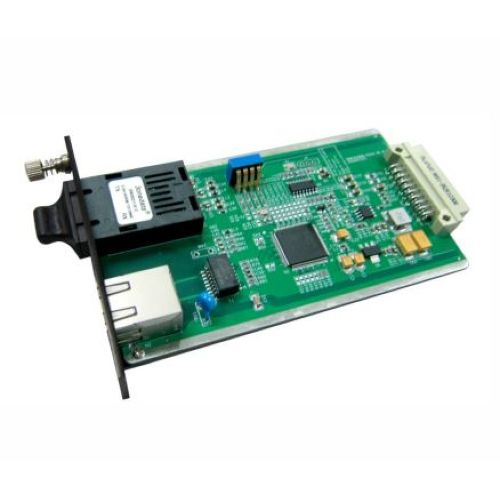 ECU101M-1F(S)
Card type and managed FE media converter, 1 port 10/100Base-T(X) + 1 port 100Base-FX( Single-mode, SC/ST/FC, 20KM)
Introducton
ECU100M Series are 100M/gigabit industrial fiber converter management daughter cards. The series include four types of products and provide 100M copper/fiber port, gigabit copper/fiber port and gigabit SFP slot. It adopts slide-in mounting. And the 100M fiber converter management daughter card could be used matching with the 100M fiber converter management card, fiber converter rack, 100M fiber converter. The gigabit fiber converter management daughter card could be used matching with the gigabit fiber converter management card, fiber converter rack and gigabit fiber converter. The series adopt industrial grade design and support IEEE802.3/802.3u/802.3x/802.3ab standard. Its copper port supports 10/100M or 10/100/1000M, full/half duplex, MDI/MDI-X self-adaption, store-and-forward and cut-through mode setting. The DIP switch could implement functions like remote control, cut-through and flow control. The 1 copper port + 1 fiber port products also support LFP. When the LFP function is turned on and the port has link failures, the LFP indicator would be bright to send alert, offering quick troubleshooting on the scene. Hardware adopts low power consumption, wide temperature and voltage design and has passed rigorous industrial standard tests, which can suit for the industrial scene environment with harsh requirements for EMC. It can be widely used in smart grid, railway transportation, smart city, safe city, new energy, aerospace, intelligent manufacturing, military project and other industrial fields.
Features
Support 1 100M copper port, 1 100M fiber port, 2 gigabit copper ports and 2 gigabit fiber ports at maximum
Input voltage: 12VDC
Support -40~75℃ wide temperature range operation
Specifications
Standard & Protocol
IEEE 802.3 for 10BaseT
IEEE 802.3u for 100BaseT(X) and 100BaseFX
IEEE 802.3z for 1000BaseSX
IEEE 802.3ab for 1000BaseTX
IEEE 802.3x for Flow Control
Interface
Copper port: 10/100Base-T(X) or 10/100/1000Base-T(X), RJ45, Automatic Flow Control, Full/half Duplex Mode, MDI/MDI-X Autotunning
Fiber port: 100Base-FX or 1000Base-FX
SFP slot: 1000Base-SFP
LED Indicator
Gigabit STA running Indicator, Port Indicator, 100M Power Supply Indicator, LFP Indicator(1 copper port 1 fiber port product only)
Exchange Attributes
Transmission mode: store-and-forward or cut-through
Switch time delay: <10μs
100M Products
MAC address: 1K
Cache size: 0.28M
Backplane bandwidth: 0.6G
Gigabit Products
MAC address: 8K
Cache size: 1M
Backplane bandwidth: 6G
Power Supply Input voltage: 12VDC
Power Consumption
No-load: ≤1.5W@12VDC
Full-load: ≤2.0W@12VDC
Operating Environment
Operating temperature range: -40~75℃
Storage temperature range:-40~85℃
Relative humidity: 5%~95% (no condensation)
Physical Characteristic
Installation: slide-in mounting
Weight: ≤80g
Dimension (W x H x D): 84.5mm×20.0mm×122.5mm
Industrial Standard
IEC 61000-4-2:2001
Air discharge: 8kv
Contact discharge: 6kv
IEC 61000-4-4:2004
Power supply 2kv
Signal 1kv
IEC 61000-4-5:2005
Power supply ,differential mode 1kv common mode 2kv
Signal , differential mode 1kv common mode 2kv
Certification
CE、FCC、RoHS certification
Warranty
Warranty period: 5 years
Le immagini e le caratteristiche dei prodotti presenti sul sito sono di proprietà di 3ONEDATA Inc. E' espressamente vietata la riproduzione dei contenuti del sito in qualsiasi modo ed a qualsiasi scopo senza la preventiva autorizzazione scritta da parte di Lastella Trade o 3ONEDATA Inc. Le immagini presenti sono a puro titolo esplicativo, in alcuni casi sono foto di gruppo e potrebbero subire variazioni senza preavviso, per le caratteristiche del prodotto fa fede la descrizione prodotto.