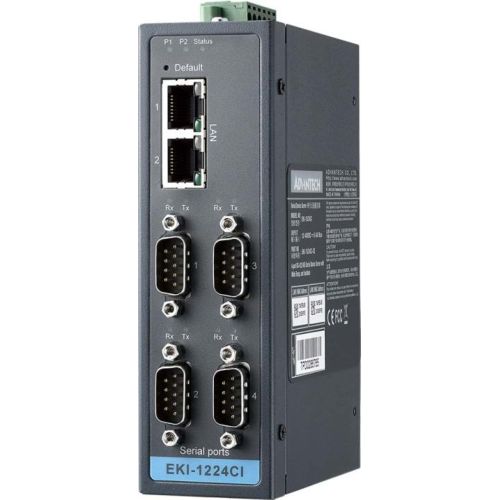 EKI-1224CI-CE
4-port rs422/485 Modbus Gateway with Wide Operation Temperature and Isolation
Features
2 x 10/100 Mbps Ethernet ports for LAN redundancy
Integrates Modbus TCP and Modbus RTU/ASCII networks
Supports up to 921.6 kbps and any baud rate setting
Supports up to 16 connections per serial port under Modbus master mode and 32 sessions under Modbus slave mode
Software-selectable RS-232/422/485 communication
Mountable via DIN rail and wall mount
Built-in 15 kV ESD protection for all serial signals
Automatic RS-485 data flow control
Supports surge protection for DC power ports with line-to-line (2 kV) and line-to-earth (4 kV) for signal ports with 4 kV
"I" models support a wide operating temperature
"CI" models support isolation and a wide operating temperature
Introduction
The EKI-1200 series Modbus gateways are bi-directional gateways for integrating new and existing Modbus/RTU and Modbus/ASCII serial devices to newer TCP/IP networked-based
devices. The EKI-1221/1222/1224 feature two independent Ethernet ports and MAC addresses to provide redundancy and reliability. They provide a simple and cost-effective way to
bring remote management and data accessibility to thousands of devices that cannot otherwise connect to a network. The EKI-1221/1222/1224 allow users to select master or slave
operation mode for each serial port. In addition to allowing an Ethernet master to control serial slaves, they also allow serial masters to control Ethernet slaves.


Specifications
Ethernet Communications
Compatibility: IEEE 802.3, IEEE 802.3u
Speed: 10/100 Mbps
No. of Ports: 2
Port Connector: 8-pin RJ45
Protection: Built-in 2.25 k VDC magnetic isolation


Serial Communications
Port Type: RS-422/485
No. of Ports: 4
Port Connector: DB9 male
Data Bits:5, 6, 7, 8
Stop Bits: 1, 2
Parity: None, Odd, Even, Space, Mark
Flow Control: XON/XOFF, RTS/CTS
Baud Rate: 50 bps ~ 921.6 kbps, any baud rate setting
Serial Signals:
RS-232: TxD, RxD, CTS, RTS, DCD, RI, GND
RS-422: TxD+, TxD-, RxD+, RxD-, GND
RS-485: Data+, Data-, GND
Protection: 2KV Isolation for RS-422/485 signals


Software
OS Support: 32-bit/64-bit Windows XP/Vista/7/8/8.1/10, Windows Server 2003/2008/2008 R2/2012/2012 R2
Utility Software: Advantech EKI Device Configuration Utility
Operation Modes: Modbus RTU Master/Slave mode Modbus ASCII Master/Slave mode
Configuration: Windows Utility, Telnet Console, Web Browser
Protocols: ICMP, IP, TCP, UDP, BOOTP, DHCP, Auto IP, SNMP, HTTP, DNS, SMTP, ARP, NTP


General
LED Indicators:
System: Power, System Status
LAN: Speed, Link/Active
Serial: Tx, Rx

Reboot Trigger: Built-in WDT (watchdog timer)


Mechanics
Dimensions (W x H x D): 42 x 140 x 95 mm (1.65" x 5.51" x 3.74")
Enclosure: Metal with solid mounting hardware
Mounting: DIN-rail, Wall
Weight: 0.555 Kg


Power Requirements
Power Input: 12 ~ 48 VDC, redundant dual inputs
Power Connector: Terminal block
Power Consumption: 4.1 W


Environment
Operating Temperature:: -40 ~ 70 °C (-40 ~ 158 °F)
Storage Temperature: -40 ~ 85 °C (-40 ~ 185 °F)
Operating Humidity: 5 ~ 95% RH