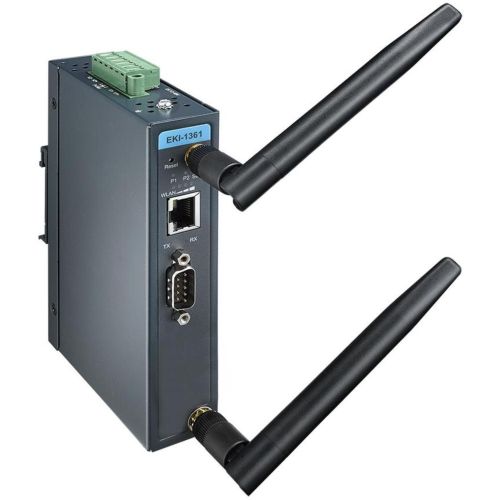 EKI-1361-BE
1-port Serial to 802.11b/g/n WLAN Device Server
Features
Link any serial device to an IEEE 802.11a/b/g/n network
Supports 802.11n MIMO 2T2R
WLAN transmission rates up to 300 Mbps
Supports secure access with WEP, WPA/WPA2-Personal, WPA/WPA2- Enterprise
Provides COM port redirection, TCP, UDP, and pair connection modes
Supports up to 921.6 kbps and any baud rate setting
Provides web-based configuration and Windows utility
Allows a maximum of five hosts to access one serial port
Modbus TCP and Modbus RTU support
Selective dual band 2.4 or 5 GHz
Introduction
The EKI-1361 and EKI-1362 wireless serial device servers bring RS-232/422/485 to wireless LAN. They allow nearly any device with a serial port to connect and share a wireless
LAN. The EKI-1361 and EKI-1362 provide a quick, simple, and cost-effective way to bring remote management and data accessibility to thousands of devices that cannot otherwise
connect to a network. With the EKI-1361 and EKI-1362, your existing serial devices can be used with the most common operating systems without the need to write special drivers.
Moreover, you can make serial devices communicate directly with other devices peer-to-peer, thus eliminating the need for intermediate host PCs and software programming. This
saves a considerable amount of cost and effort. Additionally, you can actively request data or issue commands from the RS-232/422/485 side or wireless LAN side with bilateral data
transmission. Thus, the EKI-1361 and EKI-1362 are especially suitable for remote monitoring environments such as security systems, factory automation, SCADA, transportation, and more.


Specifications
Ethernet Communications
Port Type: RJ45
No. of Ports: 1
Speed: 10/100/1000 Mbps


Wireless LAN Communications
Compatibility: IEEE 802.11a/b/g/n
Speed: Up to 300Mbps
Network Mode: Infrastructure
Antenna Connector: Reverse SMA
No. of Antenna: 2 (supports 2T2R)
Free Space Range: Open space 100 m
Wireless Security: WEP, WPA/WPA2-Personal, WPA/WPA2-Enterprise


Serial Communications
Port Type: RS-232/422/485, software selectable
No. of Ports: 1
Port Connector: DB9 male
Data Bits: 5, 6, 7, 8
Stop Bits: 1, 1.5, 2
Parity: None, Odd, Even, Space, Mark
Baud Rate: 50 bps ~ 921.6 kbps, any baud rate setting
Serial Signals:
RS-232: TxD, RxD, CTS, RTS, DTR, DSR, DCD, RI, GND
RS-422: TxD+, TxD-, RxD+, RxD-, GND
RS-485: Data+, Data-, GND

Protection: 15 KV ESD for all signals


Software
OS Support: 32-bit/64-bit Windows XP/Vista/7/8/8.1/10, Windows Server 2003/2008/2008 R2/2012/2012 R2 and Linux
Utility Software: Advantech EKI Device Configuration Utility
Operation Modes:
Access Point mode/Station mode
COM port redirection mode (Virtual COM)
TCP/UDP server (polling) mode
TCP/UDP client (event handling) mode
Configuration: Windows utility, Telnet console, Web Browser
Protocol: ARP, ICMP, IPv4, IPv6, TCP, UDP, BOOTP, DHCP Client, Auto IP, Telnet, DNS, SNMP, HTTP, SMTP, SNTP


Mechanics
Enclosure: Metal shell with solid mounting kits
Mounting: DIN-rail, Wall
Dimensions (W x H x D): 28.5 x 120 x 85.3 mm (1.12" x 4.72" x 3.36")
Weight: 0.5 Kg


General
LED Indicators:
System: Power, System Status
WLAN: Quality, Link/Active
LAN: Link/Active
Serial: Tx, Rx
Reboot Trigger: Built-in WDT (watchdog timer)


Power Requirements
Power Input: 12 ~ 48 VDC, redundant dual inputs
Power Connector: Terminal block
Power Consumption: 8W


Environment
Operating Temperature: -40 ~ 75°C (-40 ~ 166°F)
Storage Temperature: -40 ~ 80 °C (-40 ~ 176 °F)
Operating Humidity: 10 ~ 95% RH