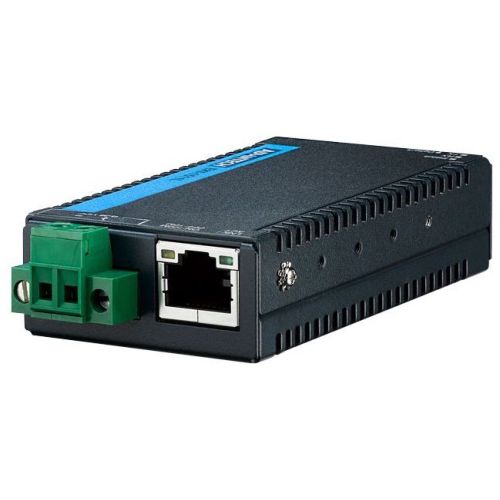 EKI-1511X-B
1-port entry level device server rs422/485
Features
1 x 10/100 Mbps Ethernet port
Provides COM port redirection (Virtual COM), TCP, and UDP operation modes
Baud rate: supports up to 230.4 Kbps
Maximum of five hosts can access one serial port
Maximum of 16 hosts accessed in TCP client mode
Built-in 8-kV ESD protection for all serial signals
Provides multiple configuration configuration methods including Windows utility, Telnet console, and web browser
Supports 32/64-bit Windows 2000/XP/Vista/7/8/8.1/10, Windows Server 2003/2008/2012, and Linux
"I" models support a wide operating temperature
Introduction
The EKI-1511 Series focus on the entry level device server market, providing an economic solution that is designed to connect RS-232 or RS-422/485 serial devices such as PLC,
meters, sensors, and barcode readers to an IP-based Ethernet LAN. This allows nearly any device with a serial port to connect and share an Ethernet network, while also providing
various operations such as COM port redirection (Virtual COMport), TCP server, TCP client, and UDP mode. With COM port redirection mode, standard serial operation calls are
transparently redirected to the servers, guaranteeing compatibility with legacy serial devices and enabling backward-compatibility with existing software. With TCP server, TCP client,
and UDP modes, the EKI-1511 Series ensure compatibility in network software using a standard network API. Serial devices can communicate with other devices via peer-to-peer,
thus eliminating the need for an intermediate host PC and software programming.


Specifications
Ethernet Communications
Compatibility: IEEE 802.3, IEEE 802.3u
Speed: 10/100 Mbps
No. of Ports: 1
Port Connector: 8-pin RJ45
Protection: Built-in 2.25 k VDC magnetic isolation


Serial Communications
Port Type: RS-422/485
No. of Ports: 1
Port Connector: DB9 male
Data Bits: 5, 6, 7, 8
Stop Bits: 1, 1.5, 2
Parity: None, Odd, Even, Space, Mark
Flow Control: XON/XOFF, RTS/CTS
Baud Rate: 300 bps ~ 230.4 kbps
Serial Signals:
RS-232: TxD, RxD, CTS, RTS, GND
RS-422: TxD+, TxD-, RxD+, RxD-, GND
RS-485 2-wire: Data+, Data-, GND
RS-485 4-wire: TxD+, TxD-, RxD+, RxD- GND

Protection: Built-in 8 KV ESD for all signals


Software
Driver Support: 32-bit/64-bit Windows 2000/XP/Vista/7/8/8.1/10, Windows Server 2003/2008/2012, and Linux
Operation Modes:
COM port redirection mode (Virtual COM)
TCP/UDP server (polling) mode
TCP/UDP client (event handling) mode
Pair connection (peer to peer) mode

Configuration: Windows utility, Telnet console, Web Browser
Management: SNMP MIB-II
Protocols: ICMP, IP, TCP, UDP, BOOTP, DHCP, Auto IP, SNMP, HTTP, DNS, SMTP, ARP, NTP


Mechanics
Dimensions (W x H x D): 46 x 85.1 x 21.2 mm (1.81" x 3.35' x 0.83')
Enclosure: Metal with solid mounting hardware
Mounting: DIN-rail, Wall
Weight: 0.127 kg


General
LED Indicators: System: Power, System Status/LAN: Speed, Link/Active
Serial: Tx, Rx


Power Requirements
Input: 9 ~ 36 VDC
Connector: Terminal block
Consumption: 1 W


Environment
Operating Temperature: -10 ~ 60 °C (14 ~ 140 °F)
Storage Temperature: -40 ~ 85 °C (-40 ~ 185 °F)
Operating Humidity: 10 ~ 95% RH


Le immagini e le caratteristiche dei prodotti presenti sul sito sono di proprietà di ADVANTECH Inc. E' espressamente vietata la riproduzione dei contenuti del sito in qualsiasi modo ed a qualsiasi scopo senza la preventiva autorizzazione scritta da parte di Lastella Trade o ADVANTECH Inc. Le immagini presenti sono a puro titolo esplicativo, in alcuni casi sono foto di gruppo e potrebbero subire variazioni senza preavviso, per le caratteristiche del prodotto fa fede la descrizione prodotto.