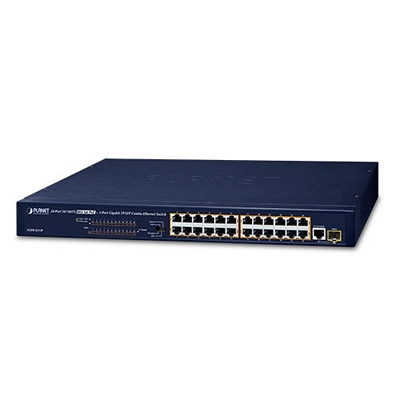 FGSW-2511P
24-Port 10/100BASE-TX 802.3at PoE + 1-Port Gigabit TP/SFP Combo Ethernet Switch
Prodotti Correlati
Prezzo: € 101,29
Prezzo: € 56,72
Prezzo: € 42,64
Centralized Power Distribution for HD IP Surveillance System
The FGSW-2511P, a new PLANET 802.3at PoE Fast Ethernet Switch, provides 24 10/100BASE-TX 802.3at PoE+ ports with a total of 190 watts of PoE budget, one 10/100/1000BASE-T uplink port, and one shared 1000BASE-X SFP slot. Its PoE power is more than enough for those network applications with Fast Ethernet speed transmission.
The 24 802.3at PoE+ ports feature PoE power injector function which is able to drive 24 IEEE 802.3at compliant powered devices. The FGSW-2511P also offers a simple, cost-effective and non-blocking wire-speed performance. It comes with a 19-inch metal housing, suitable for desktop deployment in SOHO office or department network application.


Distance Extended for Transmission of Power and Data
The built-in solid DIP switch provides "Standard", "VLAN", "QoS" and "Extend" operation modes.
In the "Standard" operation mode, the FGSW-2511P operates as a normal IEEE 802.3at PoE+ Switch.
The "VLAN" operation mode features port-based VLAN function that can help to prevent the IP camera's multicast or broadcast storm from influencing each other.
The "QoS" operation mode features port-based QoS function. Port 1 to Port 8 supports port priority; optimize port cache.
In the "Extend" operation mode, PoE Port-1 to Port-8 of the FGSW-2511P can support 25-watt PoE power output over a distance of up to 250 meters overcoming the 100m limit on Ethernet UTP cable.
With this brand-new feature, the FGSW-2511P provides an additional solution for 802.3af/at PoE distance extension, thus saving the cost of Ethernet cable installation. Its VLAN isolation function isolates each port so as to prevent broadcast storm and defend DHCP spoofing in the "VLAN" operation mode.


Gigabit Uplink Port
The FGSW-2511P comes with one combo uplink interface with a transfer rate of 1000Mbps to ensure high-speed data and video transmission, and reliable assurance for connection between the surveillance system and outside network where the eight PoE+ ports can be used to their full potential.


Fiber-Optic Link Capability Enables Extension of Network Deployment
The mini-GBIC slot built in the FGSW-2511P supports 1000BASE-SX/LX SFP (small form-factor pluggable) fiber-optic modules, meaning the administrator now can flexibly choose the suitable SFP transceiver based on the transmission distance or the transmission speed required to extend the network efficiently. The distance can be extended from 550 meters to 2 kilometers (multi-mode fiber) and 10/20/30/40/50/60/70/120 kilometers (single-mode fiber or WDM fiber). They are well suited for applications to uplink to backbone switch and monitoring center in long distance.


Robust Protection
The FGSW-2511P protects against the ESD 4kV surge to improve product stability and also protects users' networks from devastating ESD attacks, making sure the flow of operation does not fluctuate.


Easy Installation and Cable Connection
As data transfer and high PoE are transmitted over a cable, the FGSW-2511P is able to reduce the need of extended cables and electrical outlets on the wall, ceiling or any unreachable place. It helps to lower the installation costs and simplify the installation effort. All RJ45 copper interfaces of the FGSW-2511P support 10/100Mbps or 10/100/1000Mbps auto-negotiation for optimal speed detection through RJ45 Category 6, 5 or 5e cable. It also supports standard auto-MDI/MDI-X that can detect the type of connection to any Ethernet device without requiring special straight-through or crossover cables.


Applications
Perfectly Integrated Solution for IP PoE Camera and NVR System
Particularly designed for the growing popular IP Surveillance applications, the FGSW-2511P 802.3at PoE Switch is positioned as a Surveillance Switch for quick and easy PoE IP camera deployment with power feeding. The FGSW-2511P provides both 802.3at and 802.3af PoE functions along with 24 10/100BASE-TX ports featuring 30-watt 802.3at or 15.4-watt 802.3af PoE in RJ45 copper interfaces, and 1 extra Gigabit TP or Gigabit SFP uplink interface supporting high-speed transmission of surveillance images and videos.


IP Office Department/Workgroup PoE Switch
With the business office expansion, the additional telephones required can be installed with lower cost via the implementation of PoE IP telephony system than that of the traditional circuit wiring telephony system. The FGSW-2511P 802.3af/at PoE Switch helps enterprises to create an integrated data, voice, and powered network. The IEEE 802.3af compliant IP phones can be installed without an additional power cable because the power can be provided via the standard Ethernet cable from the connected FGSW-2511P.
The wireless AP group, PoE IP phones and analog telephony adapter work perfectly with the FGSW-2511P, which injects power through the Ethernet cables. With the FGSW-2511P, IP telephony deployment becomes more reliable and cost-effective, thus helping enterprises save tremendous costs when upgrading from the traditional telephony system to IP telephony communications infrastructure.


Features and Benefits
Physical Interface
24 10/100BASE-TX RJ45 copper ports
One 10/100/1000BASE-T Gigabit RJ45 copper port
One shared 1000BASE-X SFP interface
Hardware-based DIP switch for "Standard", "VLAN", "QoS" or "Extend" mode selection
Power over Ethernet
Complies with IEEE 802.3at Power over Ethernet Plus mid-span PSE
Up to 24 IEEE 802.3af/at devices powered
Supports PoE power up to 30 watts for each PoE port
190-watt PoE budget
Each PoE port supports 52V DC power to PoE powered device
Auto detects powered device (PD)
Circuit protection prevents power interference between ports
Remote power feeding up to 100m in standard mode
The "Extend" mode features 25-watt PoE transmit distance of 250m at speed of 10Mbps
Switching
Hardware-based 10/100Mbps and 10/100/1000Mbps auto-negotiation and auto MDI/MDI-X
Flow control for full duplex operation and back pressure for half duplex operation
Integrates address look-up engine, supporting 16K absolute MAC addresses
Automatic address learning and address aging
Solid DIP switch to isolate ports to prevent broadcast storm and defend DHCP spoofing
Hardware
19-inch rack-mount size, 1U height
LED indicators for PoE ready/activity and LINK/ACT
Internal AC power supply
Supports Energy-Efficient Ethernet (EEE) function (IEEE 802.3az)
Specifications
Hardware Specifications
10/100Mbps Ports: 24 10/100BASE-TX MDI/MDI-X RJ45 ports
Gigabit Ports: 1 10/100/1000BASE-T MDI/MDI-X RJ45 port
SFP Slot: 1 1000BASE-X SFP interface, shared with Gigabit RJ45 copper
PoE Inject Port: 24-port with 802.3at PoE injector function (Port-1 to Port-24)
LED Display: System:
 Power (Green)
10/100BASE-TX RJ45 Interface:
 LNK/ACT (Green, Port-1 to Port-24)
 PoE (Amber, Port-1 to Port-24)
10/100/1000BASE-T RJ45 and 1000BASE-X combo Interface:
 LNK/ACT (Green, Port 25)
DIP Switch: 4 operation modes:
Standard/QoS/VLAN/Extend
Switch Architecture: Store and Forward
MAC Address Table: 16K MAC address table with auto learning function
Switch Fabric: 6.8Gbps
Switch Throughput: 5.06Mpps @64bytes
Maximum Packet Size: 16K bytes
Flow Control: Back pressure for half duplex
IEEE 802.3x pause frame for full duplex
Power Requirements: AC 100~240V, 3A max.
Power Consumption: 205 watts, 699.5 BTU
Dimensions (W x D x H): 440 x 200 x 45 mm
Weight: 2419 g
ESD Protection: Contact discharge of ±6KV DC
Air discharge of ±8KV DC
Surge Immunity: ±4KV


Power over Ethernet
PoE Standard: IEEE 802.3at Power over Ethernet Plus/PSE
PoE Power Supply Type: Mid-span
Power Pin Assignment: 4/5 (+), 7/8(-)
PoE Power Output: Per Port 52V DC, 600mA. max. 30 watts (IEEE 802.3at)
Per Port 52V DC, 300mA. max. 15.4 watts (IEEE 802.3af)
PoE Power Budget: 190 watts
Number of PDs, 7 watts: 24
Number of PDs, 15 watts: 12
Number of PDs, 30 watts: 6


Standard Conformance
EMI Safety: CE, FCC
Standard Compliance:
IEEE 802.3 Ethernet
IEEE 802.3u Fast Ethernet
IEEE 802.3ab Gigabit 1000BASE-T
IEEE 802.3z Gigabit SX/LX
IEEE 802.3x Flow Control
IEEE 802.3af Power over Ethernet
IEEE 802.3at Power over Ethernet Plus
IEEE 802.3z Energy Efficient Ethernet


Environment
Operating Environment: 0 ~ 50 degrees C
Storage Environment: -10 ~ 70 degrees C
Operating Humidity: 5 ~ 95%, relative humidity, non-condensing
Storage Humidity: 5 ~ 95%, relative humidity, non-condensing