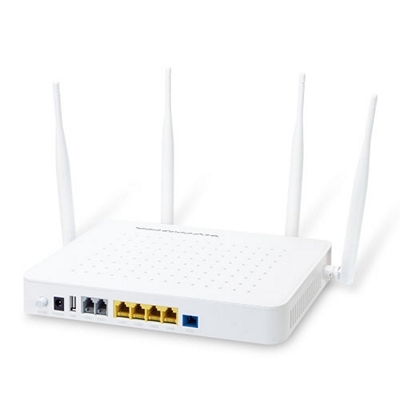 GPN-400ACV
GPON HGU with 4-Port GbE, 1200Mbps 802.11ac Wireless and 2-Port FXS (1 x USB)
Delivering High-Demand Service Connectivity for ISP / Triple Play Devices
PLANET GPN-400ACV is a GPON Wi-Fi ONU (Optical Network Unit) equipped with one GPON port, four 10/100/1000Mbps RJ45 LAN ports and two FXS RJ11 interfaces. It is also a high-end line with IEEE 802.11ac/n standard multi-terminal product. It provides residential and office users with the ideal solution for sharing an ultra high-speed fiber optic broadband connection. When functioning with PLANET GPON Optical Network Terminal (OLT) GPL-8000, the GPN-400ACV provides highly-effective GPON solutions for FTTH network.


Applications
High Scalability and Flexibility in Multiple Applications
PLANET GPN-400ACV provides ultra high-speed Internet connection with PLANET OLT (GPL-8000) via new GPON technology. The upstream and downstream transmission speed provided is up to 1.25Gbps and its maximum distance can be 20km. Through the PON technology, the GPN-400ACV can receive and deliver high-speed voice, data and video services. It offers competitive advantages including a long-term life expectancy of the fiber infrastructure, lower operating costs from the reduction of "active" components, easy Installation and maintenance, and most importantly, offering a much greater and more stable bandwidth. The GPN-400ACV is the perfect solution working with PLANET OLT GPL-8000 to offer benefits of cost-effectiveness, scalability and flexibility to network deployment.


Features and Benefits
GPON
1 x SC/UPC type GPON port
Up to 1.25Gbps upstream and 2.5Gbps downstream
Up to 20km
Supports 128-bit triple churning algorithm
Ethernet
Supports 802.1Q VLAN, QoS
Supports broadcast storm protection
Supports bandwidth control
Supports IGMP snooping/proxy
Supports IPv4/IPv6
Specifications
Hardware Specifications
Interfaces: [PON Port]
1 x GPON Port, SC/UPC

[Ethernet Port]
4 x 10/100/1000T RJ45

[FXS Port]
2 x RJ11 Port

[USB Port]
1 x USB 2.0 Port Type A, 5V 500mA
Antenna: Gain:
2.4GHz: 2 x 5dBi external antenna
5GHz: 2 x 5dBi external antenna
Button: 1 x Power ON/OFF button
1 x reset button (Press for about 10 seconds to reset the device to factory default.)
1 x WLAN enable/disable button
1 x LED on/off button
Dimensions (W x D x H): 230 x 140 x 34.9 mm
Weight: 400g
Power Input: 12V DC, 1.5A
Power Consumption: 15W


PON Specifications
Transmission Speed: Downstream: 2.5 Gbps
Upstream: 1.25 Gbps
Optic Wavelength: TX: 1310mm
RX:1490mm
Optical Receive Sensitivity: < -28 dBm
Optical Tx Power: 0.5~5 dBm


Wireless Interface Specifications
Standard: IEEE 802.11ac 5GHz
IEEE 802.11a/n 5GHz
IEEE 802.11b/g/n 2.4GHz
Frequency Band: Simultaneous 2.4GHz and 5GHz
Modulation Type: 802.11ac: OFDM (BPSK / QPSK / 16QAM / 64QAM / 256QAM)
802.11a/g/n: OFDM (BPSK / QPSK / 16QAM / 64QAM)
802.11b: DSSS (DBPSK / DQPSK / CCK)
Data Transmission Rates: 2.4GHz up to 300Mbps
5GHz up to 867Mbps
Channel: 2.4GHz:
FCC (America): 2.412~2.462GHz (11 Channels)
ETSI (Europe): 2.412~2.472GHz (13 Channels)
5GHz:
5.180-5.240GHz, 5.745-5.825GHz (up to 9 channels)

*The actual channels in application will vary depending on the regulation in different regions and countries.
Channel Width: 802.11ac: 20/40/80MHz
802.11n: 20/40MHz
Max. RF Power / EIRP: 2.4GHz: < 20dBm
5GHz: < 20dBm
Receive Sensitivity: [2.4GHz]
11g (54Mbps): -77dBm
11n (20M) mode: -74dBm
11n (40M) mode: -72dBm

[5GHz]
11a (6Mbps): -89dBm
11a (54Mbps): -79dBm
11n (20M) mode: -72dBm
11n (40M) mode: -71dBm
11ac (20M) mode: -71dBm
11ac (40M) mode: -66dBm
11ac (80M) mode: -63dBm


Wireless Management Features
Encryption Security: WEP (64/128-bit) encryption security
WPA-Personal / WPA2-Personal (TKIP/AES)
Mixed WPA / WPA2-PSK
Wireless Security: Provides wireless LAN ACL (Access Control List) filtering
Wireless URL filtering
Enables/Disables SSID broadcast
Wireless Advanced: WMM (Wi-Fi multimedia): 802.11e wireless QoS
Provides wireless statistics
Max. Supported Clients: 2.4GHz wireless: 32
5GHz wireless: 32


Router Features
Internet Connection Type: Shares data and Internet access for users, supporting the following Internet accesses:
DHCP
Static IP
PPPoE
Firewall: NAT/NAPT firewall, SPI firewall
Built-in NAT server which supports Port Forwarding and DMZ
Built-in firewall with URL filtering, and MAC address filtering
LAN: Built-in DHCP server supporting static IP address distribution
Supports packet statistics
USB Sharing: Samba
DLNA media server
System Management: Web-based (HTTP) management interface
Remote management (WAN Access Control)
Supports UPnP, DDNS
SNTP synchronization
System log


VoIP Protocols and Standard
Standard: SIP/H.248
T.38 (G.711 Fax pass-through)
Voice Codec: G.711A/G.711U/G.723/G.729
Voice Standard: VAD (Voice Activity Detection)
CNG (Comfort Noise Generation)


Environment Specifications
Temperature: Operating temperature: 0 ~ 45 degrees C
Storage temperature: -40 ~ 85 degrees C
Humidity: Operating Humidity: 10 ~ 85% non-condensing
Storage Humidity: 5 ~ 95% non-condensing


Standards Conformance
Standards Compliance: IEEE 802.3 10BASE-T
IEEE 802.3u 100BASE-TX
IEEE 802.3ab 1000BASE-T
IEEE 802.3x flow control and back pressure
IEEE 802.11ac (2T2R, up to 867Mbps)
IEEE 802.11n (2T2R, up to 300Mbps)
Le immagini e le caratteristiche dei prodotti presenti sul sito sono di proprietà di Planet Inc. E' espressamente vietata la riproduzione dei contenuti del sito in qualsiasi modo ed a qualsiasi scopo senza la preventiva autorizzazione scritta da parte di Lastella Trade o Planet Inc. Le immagini presenti sono a puro titolo esplicativo, in alcuni casi sono foto di gruppo e potrebbero subire variazioni senza preavviso, per le caratteristiche del prodotto fa fede la descrizione prodotto.