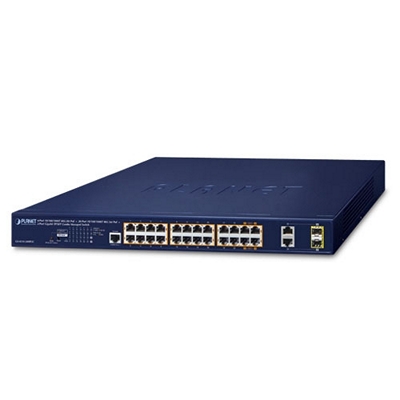 GS-4210-24HP2C
4-Port 10/100/1000T 802.3bt PoE + 20-Port 10/100/1000T 802.3at PoE + 2-Port Gigabit TP/SFP Combo Managed Switch
A New Generation IEEE 802.3bt PoE++ Managed Switch with Advanced L2/L4 Switching and Security
PLANET GS-4210-24HP2C is a cost-optimized, 1U, Gigabit IEEE 802.3bt PoE++ Managed Switch featuring PLANET intelligent PoE functions to improve the availability of critical business applications. It provides IPv6/IPv4 dual stack management and built-in L2/L4 Gigabit switching engine along with 4 10/100/1000BASE-T ports featuring 95-watt 802.3bt PoE++, 20 10/100/1000BASE-T ports featuring 36-watt 802.3at PoE+ and 2 additional Gigabit TP/SFP combo ports. With a total power budget of up to 515 watts for different kinds of PoE applications, the GS-4210-24HP2C provides a quick, safe and cost-effective 802.3bt PoE++ network solution for small businesses and enterprises.


Applications
90W 802.3bt PoE++ and 30W 802.3at PoE+ Hybrid PoE Networking Solution
PLANET GS-4210-24HP2C can easily build an 802.3bt PoE++ networking solution on the cyber security system for the enterprises. For instance, it can work with the POS system and thin client to perform comprehensive security protection for today's businesses. The GS-4210-24HP2C and 802.3bt PoE++ Splitter - POE-173S, operate as a pair to provide the easiest way to power your non-PoE devices such as laptops, thin client, POS system, PTZ (pan, tilt & zoom) IP cameras and other network devices at distance up to 100 meters.


Multiple Spanning Tree Protocol with PoE IP Office Solution for SMBs and Workgroups
The GS-4210-24HP2C features strong, rapid self-recovery capability to prevent interruptions and external intrusions. It incorporates Multiple Spanning Tree Protocol (802.1s MSTP) into customer's automation network to enhance system reliability and uptime. Applying the IEEE 802.3af/at/bt standard, the GS-4210-24HP2C can directly connect with any IEEE 802.3at/bt end nodes like speed dome cameras. The GS-4210-24HP2C can easily help enterprises with the available network infrastructure to build wireless AP, IP camera and VoIP systems where power can be centrally controlled.


Features and Benefits
Physical Port
24-port 10/100/1000BASE-T RJ45 copper with PoE injector function
2-port 10/100/1000BASE-T RJ45 copper
2 100/1000BASE-X mini-GBIC/SFP slots, shared with port-25 to port-26 compatible with 100BASE-FX SFP
RJ45 console interface for switch basic management and setup
Power over Ethernet
Complies with IEEE 802.3bt PoE++ and 802.3at PoE+ standard PSE
Backward compatible with IEEE 802.3af Power over Ethernet
Selectable PoE mode: End-span/Mid-span/802.3bt/UPoE/Legacy
Ports 1 to 20 support up to 36 watts
Ports 21 to 24 support up to 95 watts
Each PoE port supports 54V DC power to powered device
515-watt PoE budget
Auto detects powered device
Circuit protection prevents power interference between ports
Remote power feeding up to 100 meters in standard mode and 250m in extended mode
PoE management
Total PoE power budget control
Per port PoE function enable/disable
PoE port power feeding priority
Per PoE port power limitation
PD classification detection
PoE extension
Intelligent PoE features
PD alive check
PoE schedule
Scheduled power recycling
Specifications
Hardware Specifications
Copper Ports: 26 x 10/100/1000BASE-T RJ45 auto-MDI/MDI-X port
SFP Slots: 2 x 100/1000BASE-X SFP interface shared with port-25 to port-26
Supports 100/1000Mbps dual mode and DDM
PoE Injector Port: 20 ports with 802.3at PoE+ injector function with port-1 to port-20
4 ports with 802.3bt PoE++ injector function with port-21 to port-24
Switch Architecture: Store-and-Forward
Switch Fabric: 52Gbps/non-blocking
Switch Throughput@64Bytes: 38.69Mpps
Address Table: 8K entries
Shared Data Buffer: 4.1 megabits
Flow Control: IEEE 802.3x pause frame for full duplex
Back pressure for half duplex
Jumbo Frame: 10K bytes
Reset Button: < 5 sec: System reboot
> 5 sec: Factory default
LED Indicators: PWR, LNK/ACT, PoE-in-Use, LED Mode
Power Requirements: 100~240V AC, 50/60Hz, auto-sensing
Dimensions (W x D x H): 440 x 330 x 44 mm, 1U height
ESD Protection: Contact Discharge 6KV DC
Air Discharge 8KV DC
Enclosure: Metal
Weight: 4410g
Power Consumption/Dissipation: 590 watts (max.)/2013.2 BTU
Fan: 2 x smart fan
Supports fanless mode


Power over Ethernet
PoE Standard: IEEE 802.3af/at PoE+ PSE (Ports 1-20)
IEEE 802.3bt PoE++ PSE (Ports 21-24)
PoE Power Supply Type: End-span (Ports 1-20)
End-span/Mid-span/802.3bt/UPoE/Legacy (Ports 21-24)
PoE Power Output: Ports 1-20:
Per PoE+ port 54V DC, max. 36 watts
Ports 21-24
 802.3bt mode, maximum 90 watts
 UPoE mode, maximum 95 watts
 Force-mode, maximum 60 watts
 End-span mode: maximum 36 watts
 Mid-span mode: maximum 36 watts
Power Pin Assignment: End-span: 1/2 (-), 3/6 (+)
Mid-span: 4/5 (+), 7/8 (-)
802.3bt/UPoE: 1/2 (-), 3/6 (+), 4/5 (+), 7/8 (-)
PoE Power Budget: 515 watts with standard mode
180 watts with fanless mode
PoE Ability PD @ 12.5 watts: 24 units with standard mode
14 units with fanless mode
PoE Ability PD @ 25 watts: 17 units with standard mode
7 units with fanless mode
PoE Ability PD @ 51 watts: 4 units with standard mode
3 units with fanless mode
PoE Ability PD @ 71 watts: 4 units with standard mode
2 units with fanless mode


PoE Management Functions
Active PoE Device Detection: Yes
PoE Power Recycle: Yes, daily or predefined schedule
PoE Schedule: 4 schedule profiles
PoE Extend Mode: Yes, max. up to 250 meters
PoE Port Management:  Port Enable/Disable/Schedule
 PoE mode control
 802.3bt
 UPoE
 802.3at End-span
 802.3at Mid-span
 Force mode
 Port Priority


Layer 2 Functions
Port Mirroring: TX/RX/both
Many-to-1 monitor
Up to 4 sessions
VLAN: 802.1Q tagged-based VLAN
Up to 256 VLAN groups, out of 4094 VLAN IDs
802.1ad Q-in-Q tunneling
Voice VLAN
Protocol VLAN
Private VLAN (Protected port)
GVRP
Link Aggregation: IEEE 802.3ad LACP and static trunk
Supports 2 groups of 2-port trunk
Spanning Tree Protocol: IEEE 802.1D Spanning Tree Protocol (STP)
IEEE 802.1w Rapid Spanning Tree Protocol (RSTP)
IEEE 802.1s Multiple Spanning Tree Protocol (MSTP)
STP BPDU Guard, BPDU Filtering and BPDU Forwarding
IGMP Snooping: IGMP (v2/v3) snooping
IGMP querier
Up to 256 multicast groups
MLD Snooping: MLD (v1/v2) snooping, up to 256 multicast groups
Access Control List: IPv4/IPv6 IP-based ACL/MAC-based ACL
QoS: 8 mapping IDs to 8 level priority queues
- Port number
- 802.1p priority
- 802.1Q VLAN tag
- DSCP field in IP packet
Traffic classification based, strict priority and WRR
Security: IEEE 802.1X port-based authentication
Built-in RADIUS client to cooperate with RADIUS server
RADIUS/TACACS+ user access authentication
IP-MAC port binding
MAC filtering
Static MAC address
DHCP Snooping and DHCP Option82
STP BPDU guard, BPDU filtering and BPDU forwarding
DoS attack prevention
ARP inspection
IP source guard


Management Functions
Basic Management Interfaces: Web browser; Telnet; SNMP v1, v2c
Secure Management Interfaces: SSHv2, TLS v1.2, SNMP v3
System Management: Firmware upgrade by HTTP/TFTP protocol through Ethernet network
Remote/Local Syslog
System log
LLDP protocol
SNTP
PLANET Smart Discovery Utility
PLANET UNI-NMS central management software
SNMP MIBs: RFC 1213 MIB-II
RFC 1215 Generic Traps
RFC 1493 Bridge MIB
RFC 2674 Bridge MIB Extensions
RFC 2737 Entity MIB (v2)
RFC 2819 RMON (1, 2, 3, 9)
RFC 2863 Interface Group MIB
RFC 3635 Ethernet-like MIB
RFC 3621 Power Ethernet MIB


Standards Conformance
Regulatory Compliance: FCC Part 15 Class A, CE, LVD
Standards Compliance: IEEE 802.3 10BASE-T
IEEE 802.3u 100BASE-TX/100BASE-FX
IEEE 802.3z Gigabit SX/LX
IEEE 802.3ab Gigabit 1000T
IEEE 802.3x flow control and back pressure
IEEE 802.3ad port trunk with LACP
IEEE 802.1D Spanning Tree Protocol
IEEE 802.1w Rapid Spanning Tree Protocol
IEEE 802.1s Multiple Spanning Tree Protocol
IEEE 802.1p Class of Service
IEEE 802.1Q VLAN tagging
IEEE 802.1x Port Authentication Network Control
IEEE 802.1ab LLDP
IEEE 802.3af Power over Ethernet
IEEE 802.3at Power over Ethernet Plus
IEEE 802.3bt Power over Ethernet Plus Plus
IEEE 802.3az Energy Efficient Ethernet (EEE)
RFC 768 UDP
RFC 793 TFTP
RFC 791 IP
RFC 792 ICMP
RFC 2068 HTTP
RFC 1112 IGMP v1
RFC 2236 IGMP v2
RFC 3376 IGMP v3
RFC 2710 MLD v1
RFC 3810 MLD v2


Environment
Operating Temperature: 0~40 degrees C (Fanless mode enabled)
0~50 degrees C (Default)
Storage Temperature: -20 ~ 70 degrees C
Humidity: 5 ~ 95% (non-condensing)