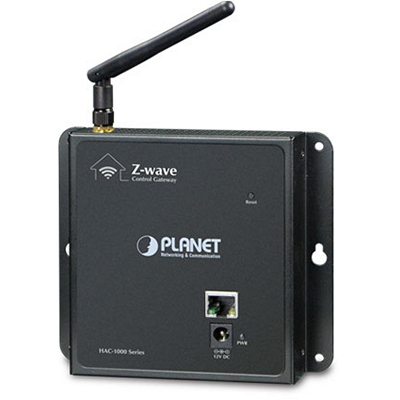 HAC-1000E
Z-wave Home Automation Control Gateway (Z-wave Frequency: 868.42MHz)
Home Automation and Smart Home Control
PLANET HAC-1000 is a Z-Wave Home Automation Control Gateway that controls all Z-Wave wireless devices regardless of brands as they are based on the Z-Wave technology. Since most users would like to control their devices via the internet, the HAC-1000 is required to turn your home into a smart and secure one where lighting control, window blinds, security monitoring, door locks, thermostats, emergency monitoring, energy management, visual reporting, and more can be managed from anywhere, whether you are at home or office, or somewhere on the road, with smart phones, tablets or other mobile devices.


Real-time Monitoring
IP cameras can be linked to PLANET HAC-1000 and Cloud Home app for remote monitoring. Users can keep an eye on their home on mobile phones over a secure connection to the Home Automation Control Gateway.


Lighting Control
Users can choose the most comfortable lighting brightness for the perfect atmosphere. They can also choose the right time to turn the light on for comfort, or to warn and prevent burglars from intruding the premises.


Personal Scene Mode
In the "Scene" mode you can set everything you want in every room of your home for any activity or anything in-between from morning to night. An unlimited number of scenes can be created and customized to your personal preferences.


Energy and Cost Saving on Every Room
You can also check the current energy consumption in your home within the configuration interface of the HAC-1000. Manage these energy-saving devices such as power meter switches, power switches and dimmer switches to help you reduce energy consumption and thus save expenses on utilities.


Important Alerts
Alerts like use of electricity, home alarms and more can be brought to your notice without delays by way of cloud hosting. From now on, you can have all these alerts no matter where you are, making your home a smart and secure one.


Applications
With PLANET HAC-1000 Z-Wave Home Automation Control Gateway, your home is securely protected. Together with an IP camera and PIR detector, the HAC-1000 detects a burglar intrusion and thus alerts the owner via smart phone where the burglary can be seen on the screen of his mobile device. You can control this innovative automation system from wherever you are, at home or abroad, using the touch screen of your iOS or Android phone, thus making your home a smart one.


Features and Benefits
Home Automation Configurations
Powerful home control and Z-Wave Plus™ certified product in a slim wall-mounted box
Energy and cost saving by automatically / manually turning off those devices not in use
Provides pre-defined scene modes such as wake up, sleep and more
Control lights based on time and occupancy
Control thermostats based on schedules and occupancy
Ensure entry doors are closed and locked remotely
Completely power down audio and video equipment, and other appliances at night
Real-time image monitoring of community public cameras
Remotely control your shades and blinds
24-hour emergency monitoring
Easy Installation & Management
IP30-rated housing
App and control pad alerts for any situation
Specifications
Hardware Platform
Wi-Fi: Gain: 1 x 1dBi antenna for Z-Wave
LED Indicators: PWR
Buttons: 1 x reset button
LAN Interface: 1 x 10/100Mbps Ethernet port
Enclosure: IP30 metal
Installation: Wall mount, magnetic wall mount and DIN-rail kit


Network and Configuration
Network Standard: IEEE 802.3 10BASE-T
IEEE 802.3u 100BASE-TX
Z-Wave Frequency: Europe: 868.42MHz
HA Functions: Sense Control
Door Lock Control
Sensor Trigger
Schedule Setting
Supports Mobile Phone Push Notification
Supports Device Location


General
Power Requirements: 12V DC, 1A
Operating Temperature: 0 ~ 45 degrees C
Operating Humidity: 10 ~ 90% (non-condensing)
Weight: 441g
Dimensions (W x D x H): 148 x 134 x 25 mm
Emission: CE, FCC


Le immagini e le caratteristiche dei prodotti presenti sul sito sono di proprietà di Planet Inc. E' espressamente vietata la riproduzione dei contenuti del sito in qualsiasi modo ed a qualsiasi scopo senza la preventiva autorizzazione scritta da parte di Lastella Trade o Planet Inc. Le immagini presenti sono a puro titolo esplicativo, in alcuni casi sono foto di gruppo e potrebbero subire variazioni senza preavviso, per le caratteristiche del prodotto fa fede la descrizione prodotto.