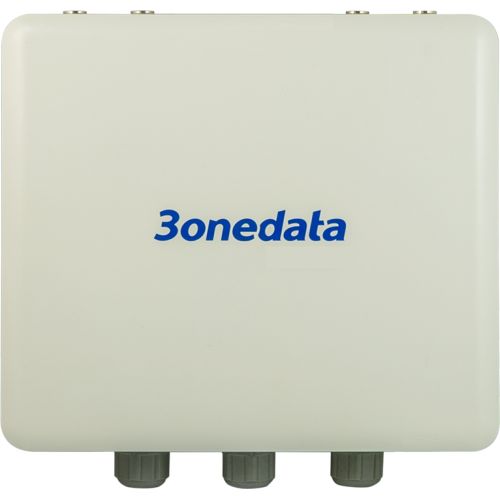 ICPE2600A
Industrail outdoor 5G CPE, Dual Brand 1200Mbps Wi/Fi,4 antenna WiFi, 4 antenna 5G ,3 x 1000M(Tx), 48VPoE Or 12-48VDC,Qualcomm Module
Introduction
lCPE2600 series is industrial 5G wireless router. Its PoE power supply conforms to lEEE802.3af/at protocol standard. This series has two products, provides Gigabit PoE WAN Gigabit LAN, 2.4G antenna interfaces, 5.8G antenna interfaces and 5G Sub-6G antenna interfaces. They also adopt wall mounting or pole mounting, which can meet the requirements of different application scenes. Network management supports multiple software functions, like 3G/4G/5G Cellular WAN, Ethernet WAN, ICMP Link Test, Link Backup, Dynamic Domain Name, Routing Table Setting, WLAN Setting, Port Forwarding, Port Redirection, DMZ Settings, UPnP Setting, VRRP, RIP, OSPF, Static DHCP, QoS etc. It also supports firewall functions, such as IP Filtering, MAC Filtering, URL Filtering and Keyword Filtering and VPN tunneling functions including GRE, lPSec, PPTP, L2TP. It can provide users with good experience with friendly design of network management system interface, simple and convenient operation.
Features and Benefits
Support high-speed wireless connection, 2.4GHz transmission speed could reach 3OOMbps, 5.8GHz could reach 867Mbps, 5G Sub-6G could reach 2Gbps
Supports dual-band 2><2MlMO and 4 dual-RF omnidirectional antennas; Support 5G Sub-6G 4><4MlMO and 4 omnidirectional antennas
Support dual SIM card redundancy backup and Cellular network. lt's embedded with 5G wireless communication modules
D Support PPPoE dialing, IP acquisition by DHCP, backup switch between static IP and 3G/4G/5G cellular networks to fit different scenes
Support network firewall, which can implement filtering and fon/varding of IP, MAC, URL, keyword, etc.
Support DHCP server, which can be used for distributing IP address with different strategies
Support DDNS function, user can access server through domain names
Support VPN encryption protocols like GRE, PPTP, L2TP and IPSEC, which can ensure the privacy and integrity of data and prevent replay attack
Support port forwarding, port redirection functions and so on, which can realize address translation
VRRP, RIP, OSPF could implement dynamic router configuration
QoS supports real-time traffic classification and priority setting
Support system log, ping test and route tracking, user can conduct network diagnosis and troubleshooting
Specifications
Standard & Protocol
IEEE 802.3 for 10Base-T
lEEE802.3u for 100Base-TX
IEEE 802.3ab for 1000Base-T
3GPP Rel-15 for 5G NR
3GPP Rel-14 for 4G LTX
3GPP Rel-18 for 3G WCDMA
lEEE802.1 1b/g/n/a/ac for WLAN
lEEE802.11i for wireless security
lEEE802.1 1r for fast roaming
lEEE802.3af/at for PoE/PoE+
Cellular Network
3G/4G/5G cellular network, network type 5G NR/LTE FDD/ LTE TDD/ WCDMA! TD-SCDMA/ HSPAI CDMAI EVDO
Network Settings
WAN Network, Wireless WiFi, PPPOE Dialing, Link Backup, Dynamic Domain Name, Routing Table, Wireless Client Filtering, Port Fon/varding , Port Redirection, DMZ Settings, UPnP Settings, Static DHCP, QoS, VRRP, RIP, OSPF
Firewall
IP Filtering, MAC Filtering, URL Filtering and Keyword Filtering
VPN Tunnel
GRE, PPTP Client/Server, L2TP Client/Server, lPSec
System Management
Time Settings, Access Settings, Timed Restart, Backup Recovery, Log Management, Firmware Upgrade
Troubleshooting
System Log, Ping Test and Route Tracking
WiFi Radio Frequency
802.11B/g/n: 2.412GHz~2.4835GHz
802.11Ac/n/a: 5.18GHz~5.825GHz
RF power output: 20dBm
Modulation methods: DBPSK, DQPSK, CCK, OFDM 16-QAM, 64-QAM
WiFi Receiving Sensitivity
802.11n_HT40 : -82dBm@MCSO, -64dBm@MCS7
802.11n_HT20 : -85dBm@MCSO, -67dBm@MCS7
802.11g/a : -91dBm@6Mbps, -72dBm@54Mbps
802.11b:-93dBm@1Mbps, -87dBm@11Mbps
802.11ac: -84dBm@MCSO, -59dBm@MCS9
WiFi Transmitting Power
802.11n_HT40 ; 20dBm@MCSO, 20dBm@MCS7
802.11n_HT20 ; 20dBm@MCSO, 20dBm@MCS7
802.11g/a:20dBm@6Mbps, 20dBm@54Mbps
802.11b:20dBm@1Mbps, 20dBm@11Mbps
802.11ac: 20dBm@MCSO, 20dBm@MCS9
Le immagini e le caratteristiche dei prodotti presenti sul sito sono di proprietà di 3ONEDATA Inc. E' espressamente vietata la riproduzione dei contenuti del sito in qualsiasi modo ed a qualsiasi scopo senza la preventiva autorizzazione scritta da parte di Lastella Trade o 3ONEDATA Inc. Le immagini presenti sono a puro titolo esplicativo, in alcuni casi sono foto di gruppo e potrebbero subire variazioni senza preavviso, per le caratteristiche del prodotto fa fede la descrizione prodotto.