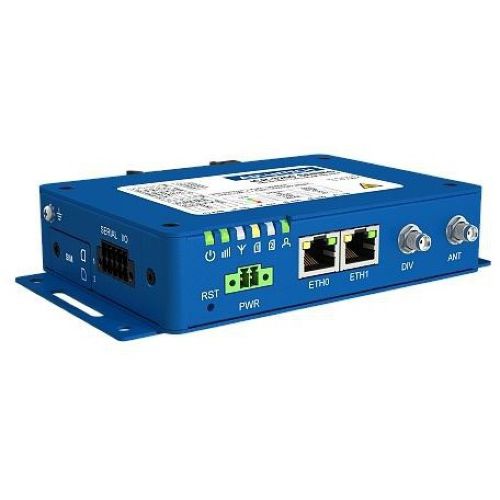 ICR-3231
Robust 4G Router & IoT Gateway EMEA cat4,2xETH,1xRS232,1xRS485,NOACC
Features
4G LTE Cat.4 VPN Gateway for Industrial IoT applications
Powerful CPU with 1.3 GB storage to host customer SW applications
2× SIM with cover, eSIM ready
2× Ethernet 10/100, 1x RS232, 1x RS485 and I/O
Optional Wi-Fi 802.11ac using MU-MIMO technology, Bluetooth v5.1 (class 1)
Optional GNSS receiver
Robust metal cover with DIN and Wall mount options
Operational temperature range from -40 °C to +75 °C
Backup real time clock
Sleep mode & Power ignition
Introduction
The ICR-3200 LTE gateway is the perfect way to connect IP or serial devices to a cellular
network. Industrial M2M and IoT applications include kiosks, industrial PCs, HMIs, traffic
controllers, meters, UPS systems, and much more.
With LTE Cat.4 upload speeds of up to 50 Mbps and download speeds of up to 150 Mbps,
the router provides ample bandwidth for high data demand applications such as CCTV or
public Wi-Fi hotspots.
In addition to its two independent or switched Ethernet ports, serial ports RS232 and
RS485, ICR-3200 has built-in digital I/O connectivity, backup real-time clock and sleep
mode support. The device has two SIM readers protected by metallic cover for carrier
failover redundancy. As an addition the router is ready to use internal eSIM.
Optional built-in GNSS chipset provides information about the accurate position of the
router. An optional built-in Wi-Fi and Bluetooth v5.1 (class 1) modules are also available.
WiFi with 802.11a,b,g,n,ac modes, and MO-MIMO support is appropriate for on-board Wi-Fi
transport applications.
The router supports VPN tunnel creation using various protocols to ensure safe
communications. The router provides diagnostic functions which include automatic
monitoring of the wireless and wired connections, automatic restart in case of connection
losses, and a hardware watchdog that monitors the router status.


SPECIFICATIONS
Network and Routing: DHCP Server, NAT/PAT, VRRP, Dynamic DNS client, DNS proxy, VLAN, QoS, DMVPN, NTP Client/ Server, IGMP, BGP, OSPF, RIP, SMTP, SMTPS, SNMP v1/ v2c/ v3, Backup Routers, PPP, PPPoE, SSL, Port Forwarding, Host Port Routing, Ethernet Bridging, Load Balancing, IPv6 Dual Stack
Security: HTTPS, SSH, VPN tunnels, SFTP, DMZ, Firewall (IP Filtering, MAC address filtering, Inbound and outbound Port filtering)
VPN Tunnelling: Open VPN client and server and P2P, L2TP, PPTP, GRE, EasyVPN, IPSec with IKEv1 and IKEv2
Configuration: Web server, SSH, Four configuration switchable profiles, Automatic configuration update from server, Backup configuration, Restore configuration
Firmware Management: Automatic firmware updates from the server, locally via LAN or remotely via WAN (HTTP, HTTPS), Over-the-Air cellular module firmware updates
Diagnostic: One CLICK report - current configuration / factory identification / system log / kernel log / reboot log / routing table, Remote diagnostics possible via SSH
Status: Network Status, DHCP Status, IPSec Status, Statistics history for last 60days
Log: System Log, Reboot Log, Kernel Log
Controlling and Diagnostic: SMS, SNMP v1/v2c/v3, Statuses
Event Engine: StartUp script & Up/Down script (Bash, Python), Digital Input, Network Parameters, Data Usage, Timer, Power, Device Temperature. Report Types: SMS, email, SNMP Trap
Industrial Protocols: Modbus RTU/TCP gateway, IEC 60870-5-101 to 104 gateway, DF1, DNP3
Applications Development: Open Linux, Python, BASH, C/C++, Node-RED
Le immagini e le caratteristiche dei prodotti presenti sul sito sono di proprietà di ADVANTECH Inc. E' espressamente vietata la riproduzione dei contenuti del sito in qualsiasi modo ed a qualsiasi scopo senza la preventiva autorizzazione scritta da parte di Lastella Trade o ADVANTECH Inc. Le immagini presenti sono a puro titolo esplicativo, in alcuni casi sono foto di gruppo e potrebbero subire variazioni senza preavviso, per le caratteristiche del prodotto fa fede la descrizione prodotto.