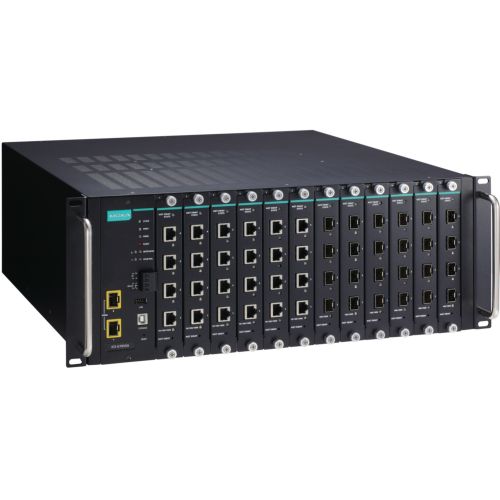 ICS-G7850A-2XG-HV-HV
Layer 3 Full Gigabit managed Ethernet switch with 12 slots for4-port 10/100/1000 BaseT(X) module or 4-port 100/1000BaseSFP slot module and 2 10GbE SPF+ slots, 2 isolated power supplies (85 to 264 VAC), -10 to 60°C operating temp.
Features and Benefits
Up to 48 Gigabit Ethernet ports plus 4 10G Ethernet ports
Up to 52 optical fiber connections (SFP slots)
Fanless, -10 to 60°C operating temperature range
Modular design for maximum flexibility and hassle-free future expansion
Hot swap interface and power modules for continuous operation
Turbo Ring and Turbo Chain (recovery time < 50 ms @ 250 switches), RSTP/STP, and MSTP for network redundancy
Isolated redundant power inputs with universal 110/220 VAC power supply range
Introduction
Process automation and transportation automation applications combine data, voice, and video, and consequently require high performance and high reliability. The ICS-G7848A/G7850A/G7852A series full Gigabit backbone switches' modular design makes network planning easy, and allows greater flexibility by letting you install up to 48 Gigabit Ethernet ports plus 4 10 Gigabit Ethernet ports. The ICS-G7848A/G7850A/G7852A series also supports Layer 3 routing functionality to facilitate the deployment of applications across networks, making them ideal for large scale industrial networks. The ICS-G7848A/G7850A/G7852A's full Gigabit capability increases bandwidth to provide high performance and the ability to quickly transfer large amounts of video, voice, and data across a network. The switches support the Turbo Ring, Turbo Chain, and RSTP/STP redundancy protocols, and are fanless and come with an isolated redundant power supply to increase system reliability and the availability of your network backbone.
Technology
Standards:
IEEE 802.3 for 10BaseT
IEEE 802.3u for 100BaseT(X) and 100BaseFX
IEEE 802.3ab for 1000BaseT(X)
IEEE 802.3z for 1000BaseSX/LX/LHX/ZX
IEEE 802.3ae for 10 Gigabit Ethernet
IEEE 802.3x for Flow Control
IEEE 802.1D-2004 for Spanning Tree Protocol
IEEE 802.1w for Rapid Spanning Tree Protocol
IEEE 802.1s for Multiple Spanning Tree Protocol
IEEE 802.1Q for VLAN Tagging
IEEE 802.1p for Class of Service
IEEE 802.1X for Authentication
IEEE 802.3ad for Port Trunk with LACP
Protocols: IGMPv1/v2, GMRP, GVRP, SNMPv1/v2c/v3, DHCP Server/Client, BootP, TFTP, SNTP, SMTP, RARP, RMON, HTTP, HTTPS, Telnet, Syslog, DHCP Option 66/67/82, SSH, LLDP, IEEE 1588 PTP V2, EtherNet/IP, Modbus/TCP, SNMP Inform, NTP Server/Client, IPv6 (ICS-G7700A series)
Layer 3 Switching: Static routing, RIP V1/V2, OSPF, DVMRP, PIM-DM, PIM-SM, PIM-SSM (ICS-G7800A series)
Layer 3 Switching Redundancy: VRRP (ICS-G7800A series)
MIB: MIB-II, Ethernet-like MIB, P-BRIDGE MIB, Q-BRIDGE MIB, Bridge MIB, RSTP MIB, RMON MIB Groups 1, 2, 3, 9
Flow Control: IEEE 802.3x flow control, back pressure flow control
Switch Properties
Priority Queues: 8
Max. Number of Available VLANs: 256
VLAN ID Range: VID 1 to 4094
IGMP Groups and Multicast Route: 1000
MAC Table Size: 16 K
Packet Buffer Size: 12 Mbit
DRAM Size: 128 MB
Flash Size: 16 MB
Jumbo Frame Size: 9.6 KB
Switching Fabric Capacity:
ICS-G7748A/G7848A: 96 Gbps
ICS-G7750A/G7850A: 136 Gbps
ICS-G7752A/G7852A: 176 Gbps
Forwarding Rate: Max. 130.95 Mpps (packets per second)
Interface
Gigabit Ethernet: 12 slots for 4-port interface modules, 10/100/1000BaseT(X) or 100/1000BaseSFP slots
10 Gigabit Ethernet: 2 or 4 10GbE SFP+ slots (ICS-G7750A/G7850A and ICS-G7752A/G7852A only)
Console Port: USB-serial console (Type B connector)
Storage Port: USB storage (Type A connector for ABC-02-USB)
LED Indicators: STATE, PWR1, PWR2, FAULT, MSTR/HEAD, CPLR/TAIL, 1/2/3/4 for 10GbE port (ICS-G7750A/G7850A and ICS-G7752A/G7852A only)
Alarm Contact: 1 relay output with current carrying capacity of 2 A @ 30 VDC
Digital Inputs:
1 input with the same ground, but electrically isolated from the electronics.• +13 to +30 V for state "1"
-30 to +1 V for state "0"
Max. input current: 8 mA
Power Requirements
Input Voltage: 110/220 VAC (85 to 264 VAC)
Input Current:
ICS-G7748A/G7848A: Max. 1.02/0.6 A @ 110/220 VAC
ICS-G7750A/G7850A: Max. 1.1/0.64 A @ 110/220 VAC
ICS-G7752A/G7852A: Max. 1.19/0.68 A @ 110/220 VAC
Overload Current Protection: Present
Reverse Polarity Protection: Present
Physical Characteristics
Housing: IP30 protection
Dimensions: 440 x 176 x 523.8 mm (17.32 x 6.93 x 20.62 in)
Weight: 12.9 kg
Installation: 19'' rack mounting
Environmental Limits
Operating Temperature: -10 to 60°C (14 to 140°F)
Storage Temperature: -40 to 85°C (-40 to 185°F)
Ambient Relative Humidity: 5 to 95% (non-condensing)
Standards and Certifications
Safety: UL 60950-1, EN 60950-1
EMI: FCC Part 15 Subpart B Class A, EN 55022 Class A
EMS:
EN 61000-4-2 (ESD) Level 3, EN 61000-4-3 (RS) Level 3,
EN 61000-4-4 (EFT) Level 3, EN 61000-4-5 (Surge) Level 3,
EN 61000-4-6 (CS) Level 3, EN 61000-4-8, EN 61000-4-11
Rail Traffic: EN 50121-4
Shock: IEC 60068-2-27
Freefall: IEC 60068-2-32
Vibration: IEC 60068-2-6
MTBF (mean time between failures)
Time:
ICS-G7748A/G7848A: 314,973 hrs
ICS-G7750A/G7850A: 282,329 hrs
ICS-G7752A/G7852A: 274,488 hrs
Database: Telcordia (Bellcore), GB
Warranty
Warranty Period: 5 years
Le immagini e le caratteristiche dei prodotti presenti sul sito sono di proprietà di MOXA Inc. E' espressamente vietata la riproduzione dei contenuti del sito in qualsiasi modo ed a qualsiasi scopo senza la preventiva autorizzazione scritta da parte di Lastella Trade o MOXA Inc. Le immagini presenti sono a puro titolo esplicativo, in alcuni casi sono foto di gruppo e potrebbero subire variazioni senza preavviso, per le caratteristiche del prodotto fa fede la descrizione prodotto.