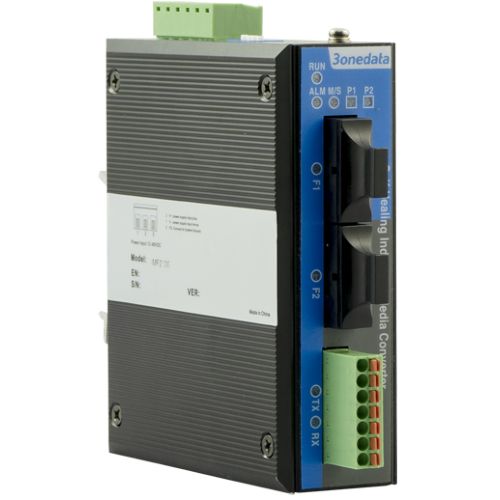 IMF2100-2F(M)-1DI(3IN1)-TB-2P(12-48VDC)
Din Rail fiber converter, RS 232/485/422 to 2 optic fiber, single-mode 20Km, Dual power 12-48VDC, SC/ST optional, -40~75°
Introduction
IMF2100 series are 1/2 fiber ports + 1 RS-232/485/422 serial to fiber MODEM. They convert RS-232/485/422 serial port signal to optical signal and provide users with RS-232/485/422 serial port to implement transparent end-to-end transmission. This series provide 1 or 2 fiber ports with ring network function, 1 RS-232/485/422 serial port and multiple optional power solutions like 85~265VAC, 110~370VDC or 12-48VDC (single/dual power supply). They adopt DIN-Rail mounting, which can meet the requirements of different scenes.
The DIP switch could implement functions like Master/Slave option, RS-485 terminal resistance enablement, relay alarm of power failure and fiber optics disconnection (notes: power supply alarm is only for dual power supply product), etc. when fiber optics disconnects or dual power supply fails, ALM indicator would be bright and send alert, at the same time the alarm device connecting to the relay would sent alert for quick trouble shooting on the scene. Hardware adopts fanless, low power consumption, wide temperature and voltage design and has passed rigorous industrial standard tests, which can suit for the industrial scene environment with harsh requirements for EMC. It can be widely used in various situations like industrial control, process control, traffic control and intelligent residential district, and particularly applicable to bank, electricity, departments and systems that have special requirements relating to electromagnetic interference environment.
Features
Support 1/2 fiber ports and 1 RS-232/485/422 serial port with isolation
Support 1 relay alarm output for power failure and disconnection of fiber optics Support multiple optional power solutions including 85~265VAC, 110~370VDC or 12-48VDC (single/dual power supply)
Specifications
Fiber Port
Interface quantity: 1 (support ring network)
Fiber port: multi-mode SC/FC/ST interface
Transmission distance: 2km
Transmission wavelength: 1310nm
Serial Port
Standard: EIA RS-232C, RS-485, RS-422
Serial port: 1 RS-232/485/422 serial port, can't be used simultaneously
RS-232 signal: RXD, TXD, GND
RS-485 signal: D+, D-, GND
RS-422 signal: T+, T-, GND, R+, R-
Baud rate: 300~115200bps
Data bit: 5bit, 6bit, 7bit, 8bit
Stop bit: 1bit, 1.5bit, 2bit
Check bit: None, Even, Odd, Space, Mark
Interface type: 7-pin 3.81mm pitch terminal block
Direction control: RS-485 adopts automatic data flow control technology
Load capacity: RS-485 supports 32-point polling environment (128-point could be customized)
RS-485 pull up/down resistor: 4.7kΩ
RS-485 terminal resistance: built-in 120Ω, could be controlled by DIP switch
Transmission distance: RS-232 serial port, 15m;
RS-485/422 serial port, 1200m
Le immagini e le caratteristiche dei prodotti presenti sul sito sono di proprietà di 3ONEDATA Inc. E' espressamente vietata la riproduzione dei contenuti del sito in qualsiasi modo ed a qualsiasi scopo senza la preventiva autorizzazione scritta da parte di Lastella Trade o 3ONEDATA Inc. Le immagini presenti sono a puro titolo esplicativo, in alcuni casi sono foto di gruppo e potrebbero subire variazioni senza preavviso, per le caratteristiche del prodotto fa fede la descrizione prodotto.