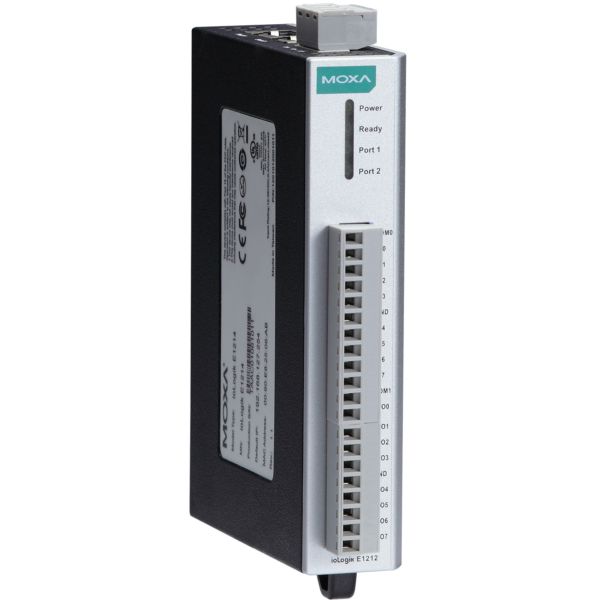 ioLogik E1210
Remote Ethernet I/O Industrial universal controller with 16 Digital Input Channels
Certificati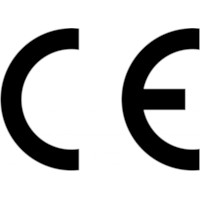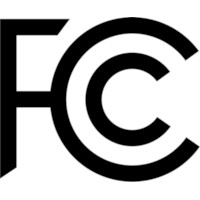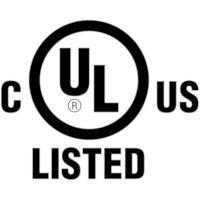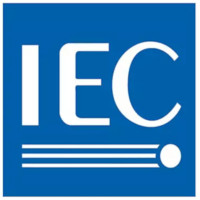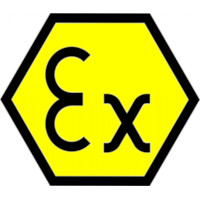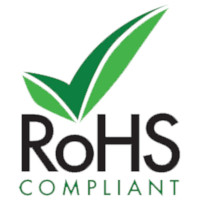 IoLogik E1210 Features and Benefits
Support Modbus/TCP Protocol
Active communication with patented Active OPC Server
2-port Ethernet switch for daisy-chain topologies
Easy mass deployment and configuration with ioSearch utility
Save time and wiring cost with peer-to-peer communication
User-defined Modbus/TCP addressing
implify I/O managment with MXIO library on either Windows or Linux platform
Supports SNMPv1/v2c
UL/cUL Class I Division 2, ATEX Zone 2 certification
Introduction
A new daisy-chained Ethernet I/O concept is now available. The ioLogik E1210 industrial Ethernet remote I/O has two embedded Ethernet switch ports that allow information to flow to another local Ethernet device or connect to the next ioLogik in the daisy-chain. Applications such as factory automation, security and surveillance systems, and tunnel monitoring, can make use of daisy-chained Ethernet for building multi-drop I/O networks over standard Ethernet cables. Many industrial automation users are familiar with the multi-drop configuration typically used in fieldbus applications. The daisy-chain function on the Ethernet remote I/O ioLogik E1210 not only increases the connection between machines and panels, but also lowers the cost of buying separate Ethernet switches, and at the same time reduces labor fees and cabling by a large percentage. For example, if a production facility contains 700 stations (20 points per station), the wiring cost reduction can reach 15% of the total implementation cost. In remote automation applications, the control room and sensors are often far removed, making wiring over long distances a constant challenge. With peer-to-peer networking, users may now map a pair of ioLogik E1200 series modules so that input values will be directly transferred to output channels, greatly simplifying the wiring process and reducing wiring costs. For Modbus devices that are controlled and detected by fixed addresses, users need to spend a vast amount of time researching and verifying the configurations. Users need to locate each device's networking details like I/O channels, or vendor-defined addresses to enable the initial or start address of a SCADA system or PLC. The ioLogik E1200, with user-definable Modbus/TCP addressing, offers greater flexibility, and setup is easy. Instead of worrying about individual devices, users simply configure the function and address map to fit their needs.
Specifications
Inputs and Outputs
Digital Inputs: 16 channels
Isolation: 3k VDC or 2k Vrms
Digital Input
Sensor Type: Wet Contact (NPN or PNP), Dry Contact
I/O Mode: DI or Event Counter
Dry Contact:
On: short to GND
Off: open
Wet Contact (DI to COM):
On: 10 to 30 VDC
Off: 0 to 3 VDC
Common Type: 8 points per COM
Counter Frequency: 250 Hz
Digital Filtering Time Interval: Software Configurable
Power Requirements
Power Consumption: 110 mA @ 24 VDC
MTBF (mean time between failures)
Time: 671,345 hrs
Database: Telcordia (Bellcore)
LAN
Ethernet: 2 switched 10/100 Mbps RJ45 ports
Protection: 1.5 kV magnetic isolation
Protocols: Modbus/TCP, TCP/IP, UDP, DHCP, BOOTP, HTTP
Power Requirements
Power Input: 24 VDC nominal, 12 to 36 VDC
Physical Characteristics
Wiring: I/O cable max. 14 AWG
Dimensions: 27.8 x 124 x 84 mm (1.09 x 4.88 x 3.31 in)
Weight: Under 200 g
Mounting: DIN rail or wall
Environmental Limits
Operating Temperature:
Standard Models: -10 to 60°C (14 to 140°F)
Storage Temperature: -40 to 85°C (-40 to 185°F)
Ambient Relative Humidity: 5 to 95% (non-condensing)
Altitude: Up to 2000 m
Standards and Certifications
Safety: UL 508
EMI: EN 55022; EN 61000-3-2; EN 61000-3-3;
FCC Part 15, Subpart B, Class A
EMS:
EN 55024, EN 61000-4-2, EN 61000-4-3,
EN 61000-4-4, EN 61000-4-5, EN 61000-4-6,
EN 61000-4-8, EN 61000-4-11
Shock: IEC 60068-2-27
Freefall: IEC 60068-2-32
Vibration: IEC 60068-2-6
Green Product: RoHS, CRoHS, WEEE
Hazardous Location: UL/cUL Class I Diision 2, ATEX Zone 2
Warranty
Warranty Period: 5 years
Note: Because of the limited lifetime of power relays, products that use this component are covered by a 2-year warranty.