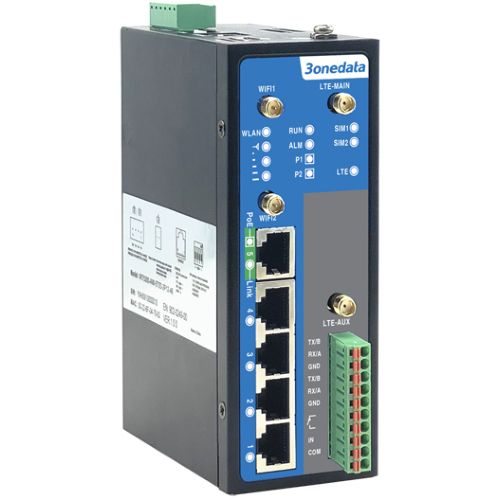 IRT5300-AW-5T2D-2P
Industrial-grade 4G Router
Introduction
IRT5300-AW-5T2D is industrial-grade 4G router. Its PoE power supply conformsto IEEE802.3af/at protocol standard. This product supports 5 100M copper ports (oneof themsupports PoE power receiving), 2 serial ports, 4 antenna interfaces and 2 SIMcardslots,etc. It adopts DIN-Rail mounting, which can meet the requirements of different application scenes. Network management supports multiple software functions, like Cellular WAN, Ethernet WAN, ICMP Link Test, DHCP Setting, Dynamic Domain Name, Routing TableSetting,WLAN Setting, Port Forwarding, Port Redirection, DMZ Setting, Serial Port Application and Setting, UPnP Setting, VRRP, RIP, OSPF and Static DHCP, etc. It also supports firewall
functions, such as IP Filtering, MAC Filtering, URL Filtering and Keyword Filtering, etc. and VPN tunneling functions like IPSec, PPTP, L2TP, etc. Network management could bring you great user experience though its friendly designed system interface and easy and convenient operation
Features and Benefits
Support dual SIM card redundancy backup and Cellular network. It's embedded with multiple 2G/3G/4G wireless communication modules
Support backup switch between PPPOE, DHCP, static IP and 4Gnetworks tofit different scenes
Support network firewall, which can implement filtering and forwarding of IP, MAC, URL, keyword, etc. DHCP, DHCP server could be used to distribute IP address with different policiesSupport DDNS function, user can access server through domain names
Support VPN encryption protocols like GRE, PPTP, L2TP and IPSEC, which can ensure the privacy and integrity of data and prevent replay attack
Support multiple serial port operating modes like RealCom, TCP Server, TCPClient, UDP Server, UDP Client, etc. Support NAT, which can implement conversion between public address and private address. Functions like port mapping and port redirection are also supported.
Specifications
Standard & Protocol
IEEE802.11b/g/n for WLAN
IEEE802.11i for wireless security
IEEE802.11r for fast roaming
IEEE802.3af/at for PoE
IEEE 802.3 for 10BaseT
IEEE 802.3u for 100BaseT(X)
Security
SSID Broadcast Switch, MAC Filtering, IP Filtering, URLFiltering, Keyword Filtering, WPA2-PASK and WEPSHARED Encryption, NAT, Port Mapping, Virtual Server,GRE, PPTP Client, PPTP Server, L2TP Client, L2TPServer and IPSEC VPN Encryption, DMZ
Reliability
Floating Route RIP, VRRP, Multi WAN Port andWire/Wireless Interface Backup, Link Online Test, Embedded Watchdog
Troubleshooting Ping, Traceroute, Port Loopback
WIFI Transmission Rate
802.11n: 6.5~300Mbps
802.11b: 11/5.5/2/1Mbps
802.11g: 54/48/36/24/18/12/9/6Mbps
WIFI RF
Channel: 2.412GHz~2.4835GHz
RF power output: 23dBm
Modulation scheme: DBPSK, DQPSK, CCK, OFDM, 16-QAM, 64-QAM
WIFI Receiving Sensitivity
802.11n_HT40: -82dBm@MCS0, -64dBm@MCS7
802.11n_HT20: -85dBm@MCS0, -67dBm@MCS7
802.11g: -91dBm@6Mbps, -72dBm@54Mbps
802.11b: -93dBm@1Mbps, -87dBm@11Mbps
WIFI Transmission Power
802.11n_HT40: 23dBm@MCS0, 20dBm@MCS7
802.11n_HT20: 23dBm@MCS0, 20dBm@MCS7
802.11g: 23dBm@6Mbps, 20dBm@54Mbps
802.11b: 23dBm@1Mbps, 23dBm@11Mbps
LTE Operating Frequency Band
TDD-LTE: Band38/39/40/41
FDD-LTE: Band 1/3/5/7/8/20
WCDMA: Band1/5/8
TD-SCDMA: B34/39
EVDO/CDMA1X: BC0
GSM: Band 3/8
Le immagini e le caratteristiche dei prodotti presenti sul sito sono di proprietà di 3ONEDATA Inc. E' espressamente vietata la riproduzione dei contenuti del sito in qualsiasi modo ed a qualsiasi scopo senza la preventiva autorizzazione scritta da parte di Lastella Trade o 3ONEDATA Inc. Le immagini presenti sono a puro titolo esplicativo, in alcuni casi sono foto di gruppo e potrebbero subire variazioni senza preavviso, per le caratteristiche del prodotto fa fede la descrizione prodotto.