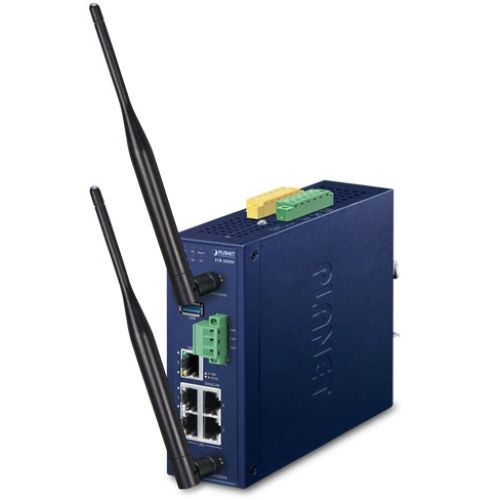 IVR-300W
Industrial Wi-Fi 6 802.11ax 1800Mbps Dual Band Wireless VPN Gateway with 5-Port 10/100/1000T (2.4GHz and 5GHz Dual Band concurrent, 2 DI/DO, 1 RS485, Dual DC 9~54V, -40~75 degrees C, SD-WAN automatically establishes a secure mesh VPN, Dual-WAN Failover an
Powerful Wi-Fi 6 Industrial VPN Security Solution
PLANET has launched the IVR-300W 802.11ax Wi-Fi VPN Security Gateway for demanding applications. It features five Ethernet ports (4 LANs and 1 WAN), IEEE 11ax Wi-Fi capability, serial port (RS485), and DI and DO interfaces. Incorporating SD-WAN function, it can greatly increase WAN optimization for multiple WAN links to be managed. Furthermore, its Dual-WAN Failover and Outbound Load Balance features can improve the network efficiency while the web-based interface provides friendly and user experience.
It's ideal for the harsh environment as it can operate stably at temperatures from -40 to 75 degrees C. Its compact IP30 metal case allows either DIN-rail or wall mounting for efficient use of cabinet space.
Applications
Ideal VPN Security Gateway
PLANET IVR-300W can work as a VPN security gateway in an industrial application for a company that has a factory and many different divisions. With IPSec/GRE/PPTP/L2TP/SSL VPN solutions, the IVR-300W installed at the headquarters provides branches, vendors, and mobile workers with secure data communication no matter how long the distance would be.
The IVR-300W connects dual WANs with up to two different ISPs. It creates a stable and qualified VPN connection for many important applications such as VoIP, video conferencing and data transmission.
Features
Highlights
Complies with IEEE 802.11ax and IEEE 802.11a/b/g/n/ac standards
Dual-WAN function
1 USB 3.0 port for system configuration backup and firmware upgrade
2 x DI/DO and 1 serial port (RS485) for Modbus applications
SSL VPN and robust hybrid VPN (IPSec/PPTP/L2TP over IPSec)
Stateful packet inspection (SPI) firewall and content filtering
Blocks DoS/DDOS attack, port range forwarding
High Availability, AP Controller, Captive Portal and RADIUS
Planet NMS controller system and CloudViewer app supported
-45 to 75 degrees C operating temperature; DIN-rail and fanless designs
Hardware Specifications
Copper Ports:
5 10/100/1000BASE-T RJ45 Ethernet ports including
3 LAN ports (Ports 1 to 3)
1 LAN/WAN port (Port 4)
1 WAN port (Port 5)
Serial Interface: 1 x 3-pin terminal block for RS485
USB Port: 1 USB 3.0 port
DI & DO Interfaces:
2 Digital Input (DI):
Level 0: -24V~2.1V (±0.1V)
Level 1: 2.1V~24V (±0.1V)
Input Load to 24V DC, 10mA max.
2 Digital Output (DO):
Open collector to 24V DC, 100mA max.
Connector:
Removable 6-pin terminal block for power input
Pin 1/2 for Power 1, Pin 3/4 for fault alarm, Pin 5/6 for Power 2
Reset Button:
< 5 sec: System reboot
> 5 sec: Factory default
Enclosure: IP30 metal case
Installation: DIN-rail, desktop, wall-mounting
LED Indicators:
System:
P1 (Green)
P2 (Green)
Alarm (Red)
I/O (Red)
Ethernet Interfaces (Ports 1-4 and WAN Port):
1000 LNK/ACT (Green)
10/100 LNK/ACT (Amber)
Wi-Fi:
2.4G (Green)
5G (Green)
Dimensions (W x D x H): 50 x 135 x 135 mm
Weight: 773g
Power Requirements – DC: 9~54V DC, 1.8A
Power Consumption:
Max. 3.8 watts/12.95 BTU (No Loading)
Max.15.6 watts/53.19 BTU (Full loading)