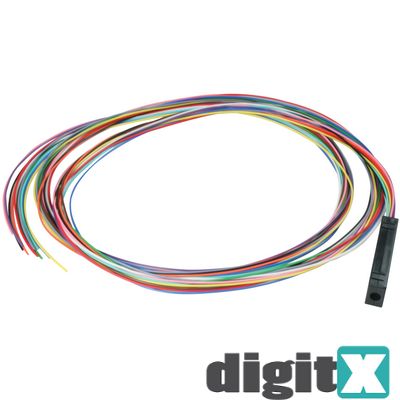 KFO12LT1
Fan Out Kit Loose Tube. 12 Fibre 1.2m
Il kit fan out con tubo buffer da interno è progettato per la terminazione di cavi loose tube da 6 a 12 fibre. Il kit fan out rappresenta una soluzione facile e compatta, fondamentale per coloro che necessitano di installare i connettori su campo e non richiede più attrezzature o spazio di quello necessario alla terminazione di cavi tight buffer.
Il fan out presenta una struttura da 900 µm, con codini di distinte colorazione per abbinarsi alle fibre da terminare. Il kit fan out è disponibile da 6 o 12 fibre con lunghezza di 1,2 m.
Indoor buffer tube fan-out kits are specifically designed for the termination of 6 and 12 fibre loose tube cables. These fan-out kits provide the ultimate solution for those users who wish to field-install connectors. The kits provide the most compact, easy-to-install fan-out solution which requires no additional hardware or space than that required for terminating tight-buffered cables.
The fan-out kit features a 900 micron fan-out assembly that is colour coded to match the fibres you are terminating. The fan-out assembly is available for 6 or 12 fibre units in a length of 1.2m.
Coloured fan-out tubing
Compact design
Bend radius protection
900µm tails
Internal/External application
Cost effective
Time saving on site
Makes loose tube fibre easier to work with
Le immagini e le caratteristiche dei prodotti presenti sul sito sono di proprietà di Fibrefab Inc. E' espressamente vietata la riproduzione dei contenuti del sito in qualsiasi modo ed a qualsiasi scopo senza la preventiva autorizzazione scritta da parte di Lastella Trade o Fibrefab Inc. Le immagini presenti sono a puro titolo esplicativo, in alcuni casi sono foto di gruppo e potrebbero subire variazioni senza preavviso, per le caratteristiche del prodotto fa fede la descrizione prodotto.