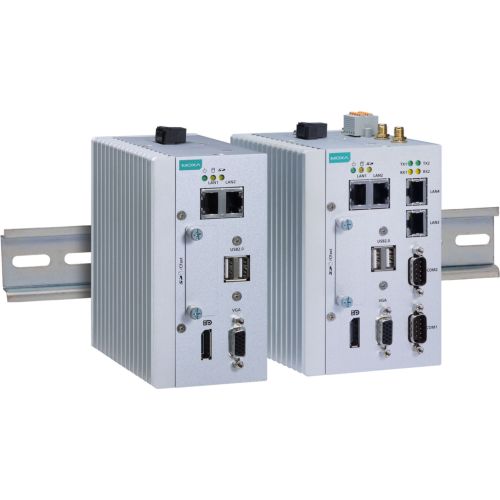 MC-1121-E4-T
x86 embedded computer with Intel Atom dual-core E3845 processor, 2 GB RAM, VGA, 2 USBs, 4 GigaLANs, 2 serial ports, 4 DIs, 4 DOs, 1 CFast socket, 1 SD slot, display port, 9 to 36 VDC power
Prodotti Correlati
Antenna, Cellular band on UMTS/LTE, Omni ...
1+ pezzi: € 19,58
Antenna, Cellular US band on UMTS/LTE, Omni ...
1+ pezzi: € 22,71
2.4/5.5GHz 2dBi dual-band antenna, ...
1+ pezzi: € 6,26
Features
Intel Atom Quad-core E3845 processor
Dual-storage (SD and CFast slots)
Dual-independent displays (VGA + display port)
Variety of interfaces: 2 serial ports, 4 Giga LAN, 4 DIs, 4 DOs, 2 USB2.0
Mini-PCIe sockets for WiFi, 3G, LTE, GPS
12 to 36 VDC, wide range isolated power
-40 to 70°C system operating temperature range
Moxa SmartRecovery utility to recover system from boot failure (W7E only)
Marine-grade and Zone 2 compliance
The Moxa MC-1100 series DIN-rail, fanless, x86 embedded computers are based on the Intel® Atom™ E3800 series processor, feature the most reliable I/O design to maximize connectivity, and support wireless modules (WiFi/3G/LTE), making them suitable for a diverse range of communication applications.
Powered by a wide operating temperature range (-40 to 70°C) and Safety/EMI/EMS compliances, the MC-1100 series is ideal for intelligent computing and communication solutions in critical environments, including marine communication, oil & gas field site monitoring, and transportation.
The MC-1100 series supports "Moxa Hardware Monitoring" for device I/O status monitoring and alerts, system temperature monitoring and alerts, and system power management. Monitoring system status closely makes it easier to recover from errors and provides the most reliable platform for your applications.
Specifications
Computer
CPU:
MC-1100-E4 Series: Intel® Atom™ processor E3845 (quad-core, 1M cache, 1.91 GHz)
MC-1100-E2 Series: Intel® Atom™ processor E3826 (dual-core, 1M cache, 1.46 GHz)
System Memory: 1 DDR3L SO-DIMM slot, 2 GB pre-installed; support 2 GB, 4 GB, and 8 GB.
USB: USB 2.0 hosts x 2, Type A connectors
Storage:
CFast: 1 CFast socket for OS storage; CFast supports 16 GB, 32 GB, 64 GB and 128 GB.
SD: 1 SD 3.0 (SDHC/SDXC) socket for storage expansion; SD supports 16 GB, 32 GB, 64 GB, and 128 GB.
Operating System: Supports Windows 7 Embedded 32/64 bits and Linux Debian 8
Other Peripherals
USB: 2 bootable USB 2.0 ports (type A)
Expansion Slots: 1 MiniPCIe socket; USB signal for wireless Wifi/3G/LTE modules
USIM Slots: 1
Display
Display Interface:
VGA interface x 1: 15-pin D-Sub connector (female), with resolution up to 1920 x 1200 pixels at 75 Hz
Display port interface x 1: Display port connector, with resolution up to 2560 x 1600 pixels at 60 Hz
Graphics Controller: Intel® HD Graphics 4000
Ethernet Interface
LAN: 4 auto-sensing 10/100/1000 Mbps ports (RJ45)
Magnetic Isolation Protection: 1.5 kV built in
Serial Interface
Serial Standards: 2 RS-232/422/485 ports, software-selectable (DB9 male)
Serial Communication Parameters
Data Bits: 5, 6, 7, 8
Stop Bits: 1, 1.5, 2
Parity: None, Even, Odd, Space, Mark
Flow Control: RTS/CTS, XON/XOFF, ADDC® (automatic data direction control) for RS-485
Baudrate: 50 bps to 115.2 kbps
Serial Signals
RS-232: TxD, RxD, DTR, DSR, RTS, CTS, DCD, GND
RS-422: TxD+, TxD-, RxD+, RxD-, GND
RS-485-4w: TxD+, TxD-, RxD+, RxD-, GND
RS-485-2w: Data+, Data-, GND
Digital Input
Input Channels: DI x 4
Input Voltage:
Logic 0: 0 to 0.8 V
Logic 1: 2.0 to 5.5 V
Over-Current Limit: -24 mA
Digital Output
Output Channels: DO x 4
Output Current: 24 mA
Output Voltage:
Logic 0: 0 to 0.55 V
Logic 1: 2.5 to 3.3 V
LEDs
System: Power
Storage: CFast, SD
LAN: 2 LEDs per port (100/1000 Mbps)
Serial: 2 LEDs per port (Tx and Rx)
Physical Characteristics
Housing: Aluminum, sheet metal
Weight:
MC-1111: 1.45 kg (3.20 lb)
MC-1121: 1.75 g (3.86 lb)
Dimensions:
MC-1111: 132 x 122 x 68 mm (5.20 x 4.81 x 2.68 in)
MC-1121: 132 x 122 x 87 mm (5.20 x 4.81 x 3.43 in)
Mounting: DIN rail, wall (optional)
Environmental Limits
Operating Temperature: -40 to 70°C (-40 to 158°F)
Storage Temperature: -45 to 75°C (-49 to 167°F)
Ambient Relative Humidity: 5 to 95% (non-condensing)
Anti-Vibration:
0.7 g @ DNV 2.4 (Class A), sine wave, 2-100 Hz, 1 Oct./min., 1.5 hr per axis
1 g @ DNV 2.4, random wave, 3-100 Hz, 2.5 hr per axis
Anti-Shock: 50g/11ms ±X, ±Y, ±Z, 3 shocks each axis w/ CFast, SD
Power Requirements
Input Voltage: 12/24 VDC typical (11.4 to 36 VDC tolerance, 2-pin terminal block)
Power Consumption: Less than 30 W
Standards and Certifications
Safety: UL 60950-1
Hazardous Environments: Class 1 Division 2*
EMC: EN 55032, EN 55024
EMI: CISPR 32, FCC Part 15B Class A
EMS:
IEC 61000-4-2 ESD: Contact: 6 kV; Air: 8 kV
IEC 61000-4-3 RS: 80 MHz to 1 GHz: 10 V/m
IEC 61000-4-4 EFT: Power: 2 kV; Signal: 1 kV
IEC 61000-4-5 Surge: Signal: 2 kV
IEC 61000-4-6 CS: 10 V
IEC 61000-4-8
Marine Standards: IEC 60945
Marine Type Approval: DNV 2.4
Green Product: RoHS, cRoHS, WEEE
Reliability
Automatic Reboot Trigger: Built-in watchdog timer (WDT),
configurable for resets following 1-255 second hang intervals; software programmable
Warranty
Warranty Period: 3 years
Le immagini e le caratteristiche dei prodotti presenti sul sito sono di proprietà di MOXA Inc. E' espressamente vietata la riproduzione dei contenuti del sito in qualsiasi modo ed a qualsiasi scopo senza la preventiva autorizzazione scritta da parte di Lastella Trade o MOXA Inc. Le immagini presenti sono a puro titolo esplicativo, in alcuni casi sono foto di gruppo e potrebbero subire variazioni senza preavviso, per le caratteristiche del prodotto fa fede la descrizione prodotto.