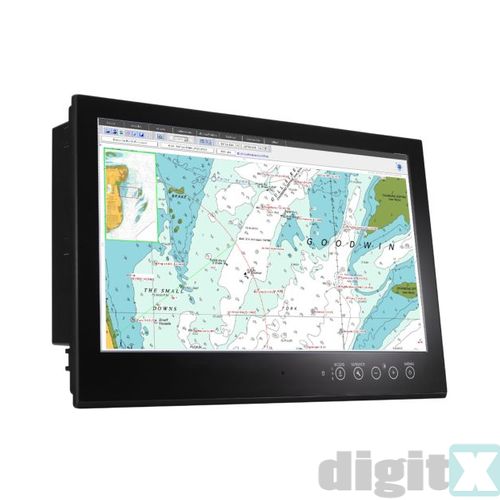 MPC-2240Z
24 inch fanless panel computer with Intel Celeron 1.4GHz CPU, NMEA 0183, SSD trays, AC&DC power, Projected capacitive touch screen, tape bonding
Features
24 inch with 16:9 wide screen and 1920x1080 Full HD Panel Computer
Color Calibrated for ECDIS compliant
Fanless system designed with FloTHERM®
SavvyTouch display controls
3rd Generation Intel® Core™ to Celeron® processor (Default: Celeron® 1047UE, 1.40 GHz with Intel® HD Graphics)
Built-in NMEA0183 and 3-in-1 software selectable RS-232/422/485 interfaces (DI/DO and LPT available on request)
Multi-power supplies (AC & DC)
Optical bonded and touch panel available on request
Introduction
Moxa's MPC-2240 series received the prestigious Red Dot Product Design Award for 2014. The MPC-2240 is a sleek, buttonless, 24 inch flat-glass panel computer designed for marine navigation applications and pre-calibrated for ECDIS use. Powered by a fanless Intel® Ivy Bridge Celeron® CPU (default: 2M Cache, 1.40 GHz) or a 3rd generation Core® i3 (or i7) CPU (on request), the MPC-2240 provides 4 GB system memory (expandable to 16 GB), allowing for fast graphics suitable for a wide variety of marine applications. The MPC-2240 was built with a modular design to help reduce deployment costs and overall time-to-market by allowing convenient and rapid integration into a wide variety of systems. Though it has no installed fans of any sort, the MPC-2240's careful thermal engineering gives this panel computer steady reliability when working through the heat extremes common in industrial marine environments, and the IP22 rated enclosure provides strong, durable protection against moisture, dust, and other environmental hazards. These computers are compliant with a variety of marine standards, including IEC 60945, DNV, and IACS E10, and may also be ordered with ECDIS IEC 61174 type approved model for use in bridge navigation systems. The MDC-2240 series are certified for use as an ECDIS display station. Carefully engineered to meet the strict challenges posed by ocean environments, the MDC-2240 series are distinct from other ECDIS-certified displays thanks to the inclusion of some innovative design features. The latest advancement offered by the MPC-2240 series are its SavvyTouch controls. The MPC-2240 SavvyTouch controls are equipped with a proximity switch that lights up the controls with a mere wave of the hand. This makes it possible for users to make adjustments to the display even in the absolute dark. At the same time, the SavvyTouch controls also provide a System Information button that will return a quick rundown of hardware health that will report on power, component, memory and video failures from the BIOS level. If the MPC-2240 fails to boot up for any reason, users can quickly discover what the problem is with a simple press of its Info button.
Computer
CPU: Intel® Core™ i7-3555LE, dual core 64-bit 2.5 GHz processor
OS: Windows 7, Windows XP SP3, Windows XP Embedded (must be installed by the user)
System Chipset: Intel® QM77 Express Chipset
System Memory: 16 GB capacity, with 4 GB pre-installed (2 slots total, with a 4 GB DDR3/DDR3L-1600 204 pin SO-DIMM SDRAM pre-installed in 1 slot)
Storage:
2 SATA III 6 Gbps ports for removeable storage tray
2 SATA II 3 Gbps ports (internal, for installing optional hard disks)
USB: USB 2.0 hosts x 6, USB 3.0 hosts x 2, Type A connectors
Other Peripherals
Audio: Line in x 1, Line out x 1, Microphone x 1
KB/MS: 2 PS/2 interfaces supporting standard PS/2 keyboard and mouse
PCI Slots: 2
PCIe x16 Slots: 1
LPT Port: 1
Display
Display Interface:
VGA Interface x 1: 15-pin D-Sub connector (female), with resolution up to 2048x1536 pixels with 32-bit color at 75 Hz
DVI-D Interface x 2: 29-pin DVI-D connectors (female), with resolution up to 1920 x1200 pixels with 32-bit color at
Graphics Controller: Onboard Intel® HD 4000 graphics
Ethernet Interface
LAN: 4 auto-sensing 10/100/1000 Mbps ports (RJ45)
Magnetic Isolation Protection: 1.5 kV built in
Serial Interface
Serial Standards:
2 RS-232/422/485 ports, software-selectable (DB9 male)
2 RS-232 ports (DB9)
8 NMEA 0183 terminals (NMEA 2000 available on request)
Serial Communication Parameters
Data Bits: 5, 6, 7, 8
Stop Bits: 1, 1.5, 2
Parity: None, Even, Odd, Space, Mark
Flow Control: RTS/CTS, XON/XOFF, ADDC® (automatic data direction control) for RS-485
Baudrate: 50 bps to 115.2 kbps
Serial Signals
RS-232: TxD, RxD, DTR, DSR, RTS, CTS, DCD, GND
RS-422: TxD+, TxD-, RxD+, RxD-, GND
RS-485-4w: TxD+, TxD-, RxD+, RxD-, GND
RS-485-2w: Data+, Data-, GND
Digital Input
Input Channels: 8 dry channels, with 4 grounds
Digital Input Levels for Dry Contacts:
Logic level 0: Close to GND
Logic level 1: Open
Connector Type: 6-pin Phoenix-compatible 3.81 mm screw terminal block x 2
Isolation: ESD protection to DNV specifications
Relay Output
Type: Form A (N.O.) power relay
Output Channels: 8 output channels
Contact Rating: 2 A, 30 VDC / 0.5 A, 125 VAC under resistor load
Initial Insulation Resistance: 1000 Mohm (min.) @ 500 VDC
Mechanical Endurance: 100,000,000 operations @ 2 A, 30 VDC resistive load
Electrical Endurance: 100,000 operations
Contact Resistance: Max. 50 Mohm @ 6 V, 0.1 A
Connector Type: 8-pin Phoenix-compatible 3.81 mm screw terminal blocks x 2
Isolation: Relay isolation; ESD protection to DNV specifications
LEDs
System: Storage, Power
LAN: 100M/Link x 4, 1000M/Link x 4 (on connector)
Physical Characteristics
Housing: Aluminum, sheet metal
Weight: 8 kg
Dimensions (with mounting ears): 320 x 240 x 160 mm (12.6 x 13.39 x 6.3 in)
Mounting: Wall
Environmental Limits
Operating Temperature: -40 to 70°C (-40 to 158°F)
Storage Temperature: -50 to 80°C (-58 to 176°F)
Ambient Relative Humidity: 5 to 95% (non-condensing)
Anti-Vibration:
0.7 g @ DNV 2.4 (Class A), sine wave, 2-100 Hz, 1 Oct./min., 1.5 hr per axis
1 g @ DNV 2.4, random wave, 3-100 Hz, 2.5 hr per axis
2.1 g @ DNV 2.4 (Class C), sine wave, 2-50 Hz, 1 Oct./min., 1.5 hr per axis
Power Requirements
Input Voltage:
DC: 24 VDC (with tolerance from 18 to 32 VDC, 2-pin terminal block)
AC: 100 to 240 VAC
Power Consumption: Less than 100 W, 2.5 A @ 24 VDC
NMEA Interface
Serial Standards: NMEA 0183v2 (NMEA 2000 available on request)
Base Serial Standard:
NMEA 0183: RS-422
NMEA 2000: CAN bus (available on request)
Optical Isolation Protection: 3 kV
Voltage Level: -6 V to +6 V (maximal differential level)
Baudrate: 4800 bps
Data Bits: 8
Stop Bits: 1, 1.5, 2
Parity: None
Handshake: None
Standards and Certifications
Safety: UL/cUL, CCC
EMC: EN 55022 Class B, EN 55024-4-2, EN 55024-4-3, EN 55024-4-4, FCC Part 15 Subpart B Class A
Marine Standards: IEC 60945 4th, IEC 61162, IEC 61174 (Pending)
Marine Type Approvals: DNV 2.4, ABS (Pending)
Green Product: RoHS, cRoHS, WEEE
Reliability
Automatic Reboot Trigger: Built-in watchdog timer (WDT), configurable for resets following 1-255 second hang intervals; software programmable
Warranty
Warranty Period: 3 years
Le immagini e le caratteristiche dei prodotti presenti sul sito sono di proprietà di MOXA Inc. E' espressamente vietata la riproduzione dei contenuti del sito in qualsiasi modo ed a qualsiasi scopo senza la preventiva autorizzazione scritta da parte di Lastella Trade o MOXA Inc. Le immagini presenti sono a puro titolo esplicativo, in alcuni casi sono foto di gruppo e potrebbero subire variazioni senza preavviso, per le caratteristiche del prodotto fa fede la descrizione prodotto.