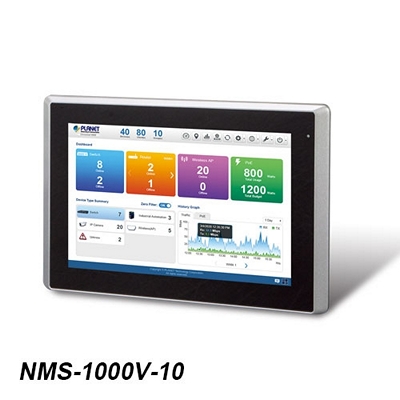 NMS-1000V-10
Universal Network Management Controller with 10" LCD Touch Screen
Universal Network Management Controller with LCD Touch Screen
PLANET's NMS-1000V Network Management controller can monitor all kinds of deployed network devices, such as managed switches, media converters, routers, smart APs, VoIP phones, IP cameras, etc., compliant with the SNMP Protocol, ONVIF Protocol and PLANET Smart Discovery utility. It thus enables the administrator to centrally manage a network of up to 1024 nodes from a central office, greatly boosting network and power management efficiency. Through the intuitive touch panel, any network exception messages can be displayed in real time to greatly improve the work efficiency of network management personnel. With its user authentication management, the NMS-1000V enhances data transmission security in the modern factory automation systems.


Watch Over Network within Minutes
The domain information web page presents a managed devices list and topology view, providing the at-a-glance and efficient summary of your management network. It lets you have a valuable information on the current wired and wireless network statuses via data-driven graphical charts. The topology viewer and event reports enable you to visualize the system usage and node status in real time so as to address whatever issue they may have.


Applications
Economical Central Network Management Solution for SMBs
PLANET NMS-1000V helps service providers and IT managers control all PLANET network devices at the same time and enables administrator to effectively manage a local network of up to 1024 managed nodes simultaneously without having to purchase any license and hardware-based controller, and pay an expensive annual subscription fee.
The administrator can automatically discover and configure device profiles, batch provisioning/firmware upgrade, and built-in SAPC (Smart AP Control) that customize Wi-Fi planning against floor maps, and monitor all managed APs through a single Web-based interface. It allows operating across different platforms through virtualization software, which helps SMBs save costs on the need to configure the wireless APs one by one if done manually.


Features and Benefits
Industrial-grade Physical Hardware
2x10/100/1000BASE-T Gigabit Ethernet RJ45 ports
2xUSB 3.0 ports for configuration backup and restoration
1xaudio line out (reserve)
1xHDMI interface
2xDB-9 COM1,COM2 (reserve)
1x3-pin DC power input terminal
1x2-pin connector for power on/off button (reserve)
VESA (100 x 100) panel mount
Specifications
Platform
Form Factor: Panel Mount, VESA 100 x 100


Physical Specifications
I/O Interface:
2 10/100/1000BASE-T Gigabit Ethernet RJ45 ports
2 USB 3.0 ports (They cannot be used at the same time.)
1 Audio Line Out (reserve)
1 HDMI interface
2 DB-9 COM1,COM2 (reserve)
1 3-pin DC power input terminal
1 2-pin connector for power on/off button (reserve)
Storage: 2.5" 32G SATA3 HDD
Touch LCD Size: 10.1" TFT-LCD
Touch Type: Resistive Touch Window
Projected Capacitive Touch
Display Resolution: 1280 x 800
Display Luminance(cd/m²): 350
Display Viewangle(H°/V°): 160(H)/160(V)
Display Contrast: 800:1
Display Backlight lifetime(hrs): 40,000 hrs
Light Transmission (%): Resistive Touch Window: over 80%
Projected Capacitive Touch: over 90%
Dimensions (W x D x H): 285 x 49 x 189 mm
Weight: 2 kg
Enclosure: Aluminum Die-casting Chassis
Power Requirements: DC IN 9~36V
60W adapter 12V 5A with terminal block
AC 100~240V, 2.0A, 60~50Hz.


Environment & Certification
IP rating: IP66 Compliant Front Bezel
Temperature: Operating: 0 ~ 50 degrees C
Storage: -30 ~ 70 degrees C
Humidity: 10 ~ 90% relative humidity (non-condensing)
MTBF (Hours): 100


Network Management
Number of Managed Devices: 1,02
Number of RADIUS Client Devices: 1,02
Number of RADIUS User Accounts: 20
Auto Discovery: Supports PLANET devices
Dashboard: Providing the at-a-glance view of system, device summary, traffic, PoE network status
Device List: Allows creation and maintenance of device profiles
Topology View: Provides visual topology view of connected PLANET devices
Status Monitoring: Real-time online/offline devices
Event and Syslog Report: Real-time system event and syslog server supported
Event Alarm Define: Allows event alarm item option
SMTP Alarm: E-mail alert to the administrator via the SMTP server
Popup Alert Message Window: Touch screen exclusive alert message window
SSID/RF Profile: Allows creation and maintenance of multiple wireless profiles
Cluster Management: Allows AP grouping for bulk provisioning and batch upgrading
Bulk AP Provisioning: Supports bulk AP provisioning with user-defined profiles
Bulk AP Firmware Upgrade: Supports bulk AP firmware upgrade
Coverage Heat Map: Enables real signal coverage of managed AP reflecting on the uploaded zone maps
Graphical Statistics: Real-time and historical visibility of wireless traffic flow
Backup/Restoration: Provides system and profile backup/restoration
SSIDs-to-VLANs Mapping: Allows to configure SSIDs-to-VLANs mapping in supported APs
RADIUS Authentication: RADIUS server is integrated for client authentication in a large-scale enterprise network
User Account Management: Supports on-demand account creation per user-defined access policy


Network Services
Network: DDNS: Supports PLANET DDNS/Easy DDNS
DHCP: Built-in DHCP Server for auto IP assignment to APs
Management: Console; Telnet; SSL; Web browser (Chrome is recommended); SNMP v1, v2c, v3
Discovery: Supports SNMP, ONVIF and PLANET Smart Discovery
Maintenance: Backup: System backup and restore to local or USB HDD
Reboot: Provides system reboot manually or automatically per power schedule
Diagnostic: Provides IPv4/IPv6 ping and trace route


Standards Conformance
Regulatory Compliance: CE, FCC
Standards Compliance: IEEE 802.3 10BASE-T
IEEE 802.3u 100BASE-TX
IEEE 802.3ab Gigabit 1000BASE-T


Le immagini e le caratteristiche dei prodotti presenti sul sito sono di proprietà di Planet Inc. E' espressamente vietata la riproduzione dei contenuti del sito in qualsiasi modo ed a qualsiasi scopo senza la preventiva autorizzazione scritta da parte di Lastella Trade o Planet Inc. Le immagini presenti sono a puro titolo esplicativo, in alcuni casi sono foto di gruppo e potrebbero subire variazioni senza preavviso, per le caratteristiche del prodotto fa fede la descrizione prodotto.