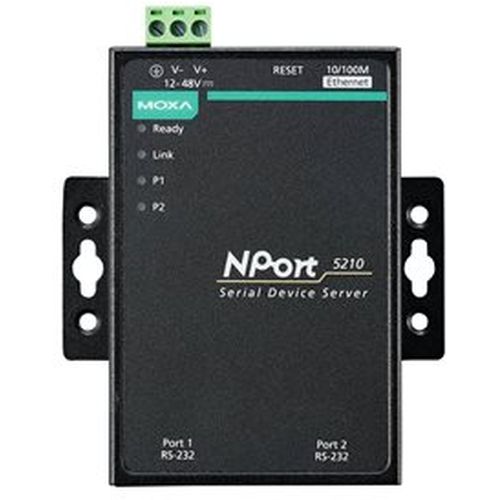 NPort 5210 w/ adapter
2 port device server, 10/100 Ethernet, RS-232, RJ45 8 pin with adapter (Con alimentatore)
Prodotti Correlati
150 cm 8-pin RJ45 to female DB25 RS-232 ...
1+ pezzi: € 6,12
150 cm 8-pin RJ45 to female DB9 RS-232 (DCE) ...
1+ pezzi: € 9,95
150 cm 8-pin RJ45 to male DB25 RS-232 (DTE) ...
1+ pezzi: € 6,12
150 cm 8-pin RJ45 to male DB9 RS-232 (DCE) ...
1+ pezzi: € 9,95
DIN Rail Mounting Kit 35mm, for DE-311/211, ...
1+ pezzi: € 3,50
Features and Benefits
Compact design for easy installation
Socket modes: TCP server/TCP client/UDP
Easy-to-use Windows utility for configuring multiple device servers
Supports 10/100M Ethernet
Patented ADDC® (Automatic Data Direction Control) for 2-wire and 4-wire RS-485
SNMP MIB-II for network management
Introduction
NPort 5200 device servers can operate in TCP Server, TCP Client, or UDP operation mode, ensuring compatibility with software based on a standard network API (Winsock, BSD Sockets). With the Real COM/TTY drivers that are provided with each NPort, software designed for communication with COM/TTY ports can be instantly and seamlessly integrated into a TCP/IP network. This is a excellent " no fuss" way to preserve your software investment and enjoy the benefits of networking your serial devices. By specifying the NPort 5200's IP address and port number, a network sockets API can obtain access to the attached serial device over the network, from any host computer that supports TCP/IP. For legacy Windows or Linux software that is COM or TTY-based, Moxa's COM/TTY drivers provide a seamless way of operating over the network.
Ethernet Interface
Number of Ports: 1
Speed: 10/100 Mbps, auto MDI/MDIX
Connector: 8-pin RJ45
Magnetic Isolation Protection: 1.5 kV built-in
Serial Interface
Number of Ports: 2
Serial Standards:
NPort 5210: RS-232
NPort 5230: 1 RS-232 port, 1 RS-422/485 port
NPort 5232/5232I: RS-422/485
Connector:
NPort 5210: RJ45 (8 pins)
NPort 5230/5232/5232I: Terminal Block (5 contacts per port)
Serial Line Protection: 2 kV isolation protection (NPort 5232I/5232I-T)
RS-485 Data Direction Control: ADDC® (automatic data direction control)
Serial Communication Parameters
Data Bits: 5, 6, 7, 8
Stop Bits: 1, 1.5, 2
Parity: None, Even, Odd, Space, Mark
Flow Control: RTS/CTS (RS-232 only), DTR/DSR (NPort 5210 only), XON/XOFF
Baudrate: 110 bps to 230.4 kbps
Serial Signals
RS-232: NPort 5210: TxD, RxD, RTS, CTS, DTR, DSR, DCD, GND
NPort 5230:
TxD, RxD, RTS, CTS, GND
RS-422: Tx+, Tx-, Rx+, Rx-, GND
RS-485-4w: Tx+, Tx-, Rx+, Rx-, GND
RS-485-2w: Data+, Data-, GND
Software
Network Protocols: ICMP, IPv4, TCP, UDP, DHCP, BOOTP, Telnet, DNS, SNMP V1, HTTP, SMTP, SNTP
Configuration Options: Web Console, Serial Console (NPort 5210/5230 only), Telnet Console, Windows Utility
Windows Real COM Drivers: Windows 95/98/ME/NT/2000, Windows XP/2003/Vista/2008/7/8/8.1 (x86/x64), Windows 2008 R2/2012/2012 R2 (x64), Windows Embedded CE 5.0/6.0, Windows XP Embedded
Fixed TTY Drivers: SCO Unix, SCO OpenServer, UnixWare 7, QNX 4.25, QNX 6, Solaris 10, FreeBSD, AIX 5.x, HP-UX 11i, Mac OS X
Linux Real TTY Drivers: Linux 2.4.x, 2.6.x, 3.x
Physical Characteristics
Housing: Metal
Weight:
NPort 5210: 340 g
NPort 5230/5232: 360 g
NPort 5232I: 380 g
Dimensions:
NPort 5210/5230/5232:
Without ears: 67 x 100.4 x 22 mm (2.64 x 3.95 x 0.87 in)
With ears: 90 x 100.4 x 22 mm (3.54 x 3.95 x 0.87 in)
NPort 5232I:
Without ears: 67 x 100.4 x 35 mm (2.64 x 3.95 x 1.37 in)
With ears: 90 x 100.4 x 35 mm (3.54 x 3.
Environmental Limits
Operating Temperature:
Standard Models: 0 to 55°C (32 to 131°F)
Wide Temp. Models: -40 to 75°C (-40 to 167°F)
Storage Temperature: -40 to 75°C (-40 to 167°F)
Ambient Relative Humidity: 5 to 95% (non-condensing)
Altitude: Up to 2000 m
Power Requirements
Input Voltage: 12 to 48 VDC
Power Consumption:
NPort 5210: 325 mA @ 12 V, 190 mA @ 24 V
NPort 5230: 325 mA @ 12 V, 190 mA @ 24 V
NPort 5232: 280 mA @ 12 V, 150 mA @ 24 V
NPort 5232I: 365 mA @ 12 V, 200 mA @ 24 V
Standards and Certifications
Safety: UL 60950-1, EN 60950-1
EMC: CE, FCC
EMI: EN 55022 Class A, FCC Part 15 Subpart B Class A
EMS:
EN 61000-4-2 ESD: contact 4 kV; air 8 kV
EN 61000-4-3 RS: 3 V/m (80 MHz to 1 GHz)
EN 61000-4-4 EFT: Power 1 kV; Signal 0.5 kV
EN 61000-4-5 Surge: AC 1 kV
EN 61000-4-6 CS: 3 V
EN 61000-4-8
EN 61000-4-11
Marine: DNV
Medical (NPort 5210 only): EN 60601-1-2 Class B, EN 55011
Reliability
Alert Tools: Built-in buzzer and RTC (real-time clock)
Automatic Reboot Trigger: Built-in WDT (watchdog timer)
MTBF (mean time between failures):
NPort 5210: 134,850 hrs
NPort 5230: 106,955 hrs
NPort 5232: 102,344 hrs
NPort 5232I: 87,083 hrs
Warranty
Warranty Period: 5 years
Le immagini e le caratteristiche dei prodotti presenti sul sito sono di proprietà di MOXA Inc. E' espressamente vietata la riproduzione dei contenuti del sito in qualsiasi modo ed a qualsiasi scopo senza la preventiva autorizzazione scritta da parte di Lastella Trade o MOXA Inc. Le immagini presenti sono a puro titolo esplicativo, in alcuni casi sono foto di gruppo e potrebbero subire variazioni senza preavviso, per le caratteristiche del prodotto fa fede la descrizione prodotto.