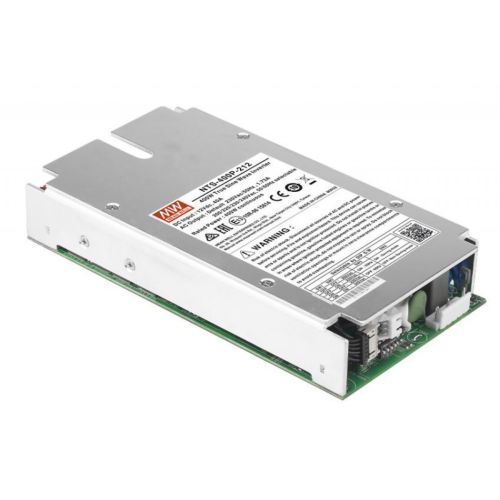 NTS-400P-224
DC/AC Inverter - True Sine Wave 400W Input 24Vdc Output 200/220/230/240Vac 20A L186xW100.5xH32mm
Features
Compact size and light weight
True sine wave output (THD<3%)
High surge power up to 800W
250W convection, 400W forced air
AC output voltage and frequency selectable by DIP S.W
No load disspation <1.5W max. at standby saving mode
-20°C ~ +70°C wide operating temperature
Power ON-OFF remote control
Front panel indicator for operation status
Protections:
Input: Reverse polarity/ DC low alarm / DC low shutdown / Over voltage
Output: Short circuit / Overload / Over temp.
Battery over discharge protection(Low voltage disconnect)
Suitable for lead-acid or li-ion batteries
Support Tx/ Rx for monitoring power inverter status
Conformal coating
3 years warranty
Applications
Mobile device
Home and office appliance
Power tools
Portable equipment
Vehicle
Yacht
Off-grid solar power system
Wireless network
Telecom or datacom system
Description
NTS-400P is a 400W highly reliable built-in type off-grid true sine wave DC-AC power inverter. Its key features include: digital design with MCU control, streamlined control circuitry that quickly responds to environmental changes and improves reliability, compact size, light weight, 800W peak power, adjustable AC output voltage and frequency, -20~+70°C wide operating temperature range, built-in remote ON/OFF control, low no-load power consumption (energy saving mode < 1.5W max.), complete protection features, and etc. Combined with batteries, the NTS-400P is suitable for use in residential, commercial, marine, automobile, and remote areas with no access to utility power, and the output can be used to power fans, TV, radio, phone charger, PC/laptop, lighting, outdoor camping equipment, marine AC power, and etc.


Specifications
AC OUTPUT
RATED POWER(Continuous): 400W
OVER RATED POWER(3 Min.): 460W
PEAK POWER(10 Sec.): 600W
SURGE POWER(30 Cycles): 800W
AC VOLTAGE:
Default setting set at 230VAC
200 / 220 / 230 / 24OVac selectable by DIP S.W
FREQUENCY:
Default setting set at 50Hz±0.1Hz
50/60Hz selectable by DIP S.W
WAVEFORM: True sine wave (THD<3%)
AC REGULATION: ±3.0% at rated input voltage


DC INPUT
DC VOLTAGE: 24V
VOLTAGE RANGE (Typ.): 20 ~ 33Vdc
DC CURRENT (Typ.): 20A
No LOAD DISSPATION (Typ.):
NON-SAVING MODE: 10w
SAVING MODE: Default disable, ≤1.2W ~ 1.5W by models @ auto detec AC outp ut load ≤10W will be changed to saving mode
1.3W
OFF MODE CURRENT DRAW: ≤1mA
EFFICIENCY:(Typ.): 93%
BATTERY TYPES: Lead Acid or li-ion


Le immagini e le caratteristiche dei prodotti presenti sul sito sono di proprietà di Mean Well Inc. E' espressamente vietata la riproduzione dei contenuti del sito in qualsiasi modo ed a qualsiasi scopo senza la preventiva autorizzazione scritta da parte di Lastella Trade o Mean Well Inc. Le immagini presenti sono a puro titolo esplicativo, in alcuni casi sono foto di gruppo e potrebbero subire variazioni senza preavviso, per le caratteristiche del prodotto fa fede la descrizione prodotto.