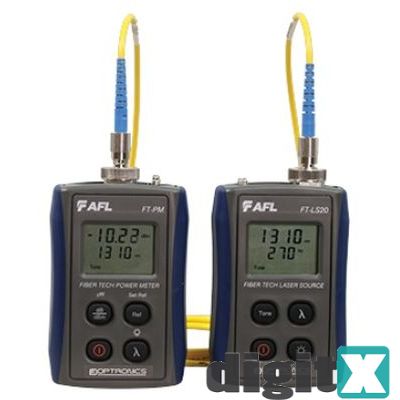 OP-FT-PM3
FiberTech FT-PM3 Optical Power Meter
Features
Palm-sized, rugged, lightweight
Large LCD with back light
Power measurements in dBm or μW
Insertion loss measurements in dB
270, 330, 1000, 2000 Hz tone detection
Long battery life with 2 x AA alkaline
Battery gauge and automatic power-off function
N.I.S.T traceable, CE and RoHS compliant
Introduction
The FiberTech FT-PM3 is a basic Optical Power Metre designed for use in performing insertion loss measurements in single-mode and multimode optical networks. The FT-PM3 is a general-purpose metre with an input range of +6 dBM to -50 dBm and is calibrated at 850, 1300, 1310, 1490, 1550 and 1625 nm. Models can detect CW and 270, 330, 1000 or 2000 Hz tones. FT-PM3 Optical Power Metre is factory equipped with an integral 2.5 mm universal adapter and an FC thread-on adapter. Additional FC, SC and ST connector adaptors are available. FiberTech Optical Power Meters are designed for ease of use. Each is equipped with a large, easy-to-read LCD, which shows the input power level, the remaining battery capacity, and the status of the automatic power-off function. A user-selectable Backlight enables the FT-PM3 to be used in dimly-lit spaces. FiberTech Optical Power Metres will operate for approximately 300 hours from a pair of ordinary AA alkaline batteries. An automatic power-down circuit optimizes battery life by shutting off after 5 minutes of operation. When paired with a Optical Light Source (such as the FiberTech FT-LS20, Contractor cSS1-SM or CSS1-MM, OLS1, OLS2, OLS4 or OLS7), FiberTech Optical Power Metres provide installers, technicians, and field engineers with accurate, stable measurements of optical power levels and insertion loss characteristics. In addition, the tone detection capabilities also support optical fibre identification tasks when used with an appropriate light source. The FT-PM3 is fully N.I.S.T. traceable and complys with CE and ROHS requirements.
Optical Specifications
Calibrated Wavelengths: 850, 1300, 1310, 1490, 1550 1625 nm
Detector Type: InGaAs
Measurement Range: +6 to -70 dBm
Tone Detect Range:
+6 to -50 dBm
+6 to -45 dBm for 850 nm
Accuracy: ±0.5 % (±0.2 dB)
Resolution: 0.01 dB
Measurement units: dB, dBm, μW
Tones Detected: 270, 330, 1000, 2000 Hz
General
Connector Interface: Threaded adapter base mount with integrated 2.5 mm Universal accepts FC, SC, and ST threaded connector adapters
Power: 2 x AA batteries
Battery Life: >300 hours
Operating Temperature: -10 ºC to +50 ºC, 90 % RH (non-condensing)
Storage Temperature: -30 ºC to 60 ºC, 90 % RH (non-condensing)
Size: 114 x 64 x 32 mm (4.5 x 2.5 x 1.3 in)
Weight: 180 g (0.4 lb)
Le immagini e le caratteristiche dei prodotti presenti sul sito sono di proprietà di FIBREFAB Inc. E' espressamente vietata la riproduzione dei contenuti del sito in qualsiasi modo ed a qualsiasi scopo senza la preventiva autorizzazione scritta da parte di Lastella Trade o FIBREFAB Inc. Le immagini presenti sono a puro titolo esplicativo, in alcuni casi sono foto di gruppo e potrebbero subire variazioni senza preavviso, per le caratteristiche del prodotto fa fede la descrizione prodotto.