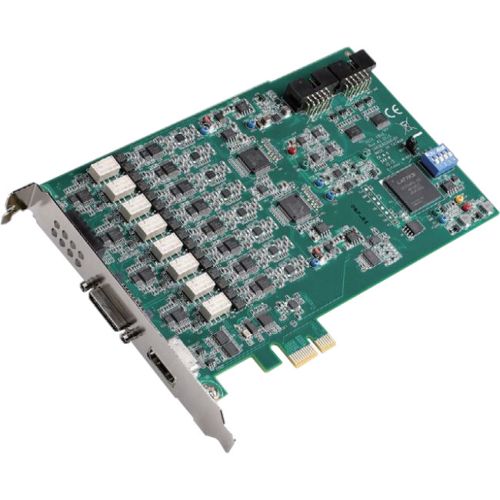 PCIE-1803-AE
8-ch, 24-bit, 128 kS/s Dynamic Signal Acquisition PCI Express Card
Features
8 simultaneously sampled analog inputs, up to 128 kS/s
24-bit resolution ADCs with -102 dB total harmonic distortion plus noise (THD+N)
Wide input range of ±1 ~ 10 V
Built-in anti-aliasing filter
Low power consumption
Software-selectable AC/DC coupling
Full automatic calibration
Multiple card synchronization
Built-in software readable open-short indicator
Introduction
PCIE-1803 is a 24-bit, high-accuracy data acquisition PCI Express module specifically designed for sound and vibration-related applications. This module features built-in 2 mA
excitation currents for IEPE sensors, such as accelerometers and microphones.


Specifications
Analog Input
Channels: 8 (simultaneous sampling differential or 50 Ω pseudo-differential)
Resolution: 24 bits (delta sigma)
Max. Sampling Rate: 1kS/s to 128 kS/s (with resolution ≤ 1.09 mS/s)
Input Coupling: AC/DC, selectable per channel
AC Cut-Off Frequency: 0.796 Hz (-3 dB)
Trigger Modes: Start, Delayed Start, Stop, Delayed Stop
Input Range: ±1, ±2, ±5, ±10 V
Offset Error: < ±1 mV
Gain Error: < ±0.02 %
Total Harmonic Distortion (THD): -113dB
Total Harmonic Distortion Plus Noise (THD+N): -102dB
Dynamic Range: 102dB
IEPE Excitation: 2mA
Data Transfer: Direct memory access (DMA)
Multi-Card Support: For synchronizing more than 8 analog input channels
Sensor fault detection: Open/short/normal LED indicator for each channel, SW readable


Digital Input/Output
DI Channels: 1 (interrupt)
DO Channels: 2


General
Bus Type: PCI Express x1
I/O Connectors:
36-pin mini SCSI (for analog input)
HDMI (for clock, trigger, and DI/Os)
Dimensions (L x H): 168 x 100 mm (6.6" x 3.9")
Operating Temperature: 0 ~ 70 °C (32 ~ 158 °F)
Storage Temperature: -40 ~ 80 °C (-40 ~ 176 °F)
Storage Humidity: 5 ~ 95 % RH, non-condensing
Power Consumption:
+3.3 V @ 300 mA typ./350 mA max.
+12 V @ 200 mA typ./230 mA max
Le immagini e le caratteristiche dei prodotti presenti sul sito sono di proprietà di ADVANTECH Inc. E' espressamente vietata la riproduzione dei contenuti del sito in qualsiasi modo ed a qualsiasi scopo senza la preventiva autorizzazione scritta da parte di Lastella Trade o ADVANTECH Inc. Le immagini presenti sono a puro titolo esplicativo, in alcuni casi sono foto di gruppo e potrebbero subire variazioni senza preavviso, per le caratteristiche del prodotto fa fede la descrizione prodotto.