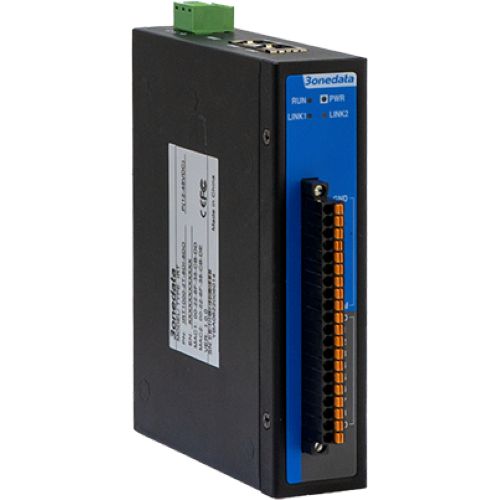 RIO1000-2T-8IO(DI)-8IO(DO)-TB-P
DIN Rail Mounting, 8-I/O Port Industrial I/O Server. Support 8 DI ports, 2 DO ports and 2 10/100Base-T(X) self-adaptive Ethernet interfaces. Support Modbus TCP protocol and can manage DI channel, DO channel and device system information through Modbu
Overview
RIO1000-2T-8IO(DI)-8IO(DO)-TB-P (12~48VDC) is an industrial I/O server specially designed for I/O devices to collect and control data, which can convert the collected I/O data into Modbus TCP protocol. This product supports 8 DI, 8 DO and 2 100M Ethernet copper ports. It adopts DIN-Rail mounting to meet the requirements of different application scenes.
The I/O server supports a variety of network protocols, such as Modbus TCP, TCP, IP, UDP, TELNET, ARP, ICMP, HTTP, HTTPS, SNMP, SSH, SMTP, SNTP, DNS and DHCP protocols; It has perfect management functions and supports access control, network diagnosis, rapid configuration, online upgrade, etc; Support DI, Counter, DO, Pulse Output and other working modes; Support Modbus TCP master (Client) device access; Support TELNET, WEB, SSH and other access methods. Network management system could bring you great user experience through its friendly interface design and easy and convenient operation.
RESET button can instantly restore factory defaults. Hardware adopts fanless, low power consumption, wide temperature and voltage design and has passed rigorous industrial standard tests, which can suit for the industrial scene environment with harsh requirements for EMC. It can be widely used in PLC control and management, Building Automation System, Health Care Automation System, measuring instrument and environmental forces monitoring system.
Features
Support 8 DI ports, 2 DO ports and 2 10/100Base-T(X) self-adaptive Ethernet interfaces
Support Modbus TCP protocol and can manage DI channel, DO channel and device system information through Modbus TCP Master
Support customized Modbus TCP slave register address to facilitate the upgrading of industrial field system
Support working modes such as DI, Counter, DO and Pulse Output
Support network modes such as redundant mode, switching mode and dual IP mode to meet the needs of various network environments
Support 12~48VDC power supply input
Support -40~75℃ wide operating temperature range
Specifications
Ethernet port
Standard: 10Base-T, 100Base-TX
Protocol: Modbus TCP, TCP, IP, UDP, TELNET, ARP, ICMP, HTTP, HTTPS, SNMP, SSH, SMTP, SNTP, DNS and DHCP
Rate: 10/100M Automatic Flow Control, MDI/MDI-X Autotunning
Interface quantity: 2
Interface form: RJ45
Duplex mode: Full/Half Duplex Mode Self-adaption
Network mode: single IP mode (redundant mode/switching mode) and dual IP mode
Working mode: Modbus TCP Slave (Server), support function codes 01, 02, 03, 04, 05, 06, 15 and 16, and support up to 10 master connections
Isolation protection: 1.5kVDC
DI Digital Input
Interface quantity: 8
Interface form: 20-PIN 3.81mm pitch terminal blocks (DI channel occupies 10 pins)
Digital filtering: software configuration (1-65535ms)
Counter frequency: ≤1kHz
Working mode: DI or counter
Output type: Dry contact (ON: GND short circuit; off: open circuit)
Wet contact Source(NPN) (ON: 0~3VDC; OFF: 10~30VDC)
Wet contact Sink (PNP) (ON: 10~30VDC: OFF: 0~3VDC)
DO Digital Output
Interface quantity: 8
Interface form: 20-PIN 3.81mm pitch terminal blocks (DO channel occupies 10 pins)
Pulse frequency: ≤ 500Hz
Working mode: DO or pulse output
Rated current: 200mA/Channel
Output type: Sink (PNP)
Overcurrent protection: 650mA/Channel
Overvoltage protection: 45VDC