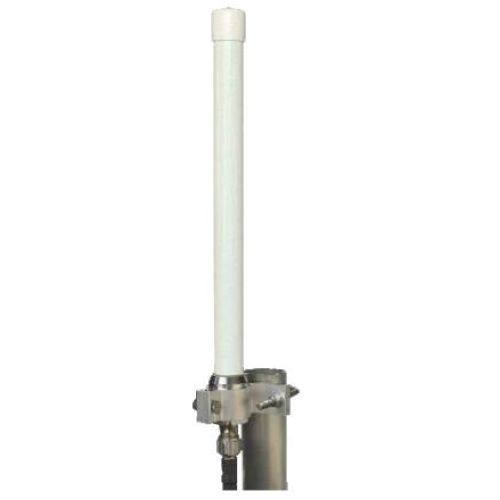 SCO-3.3-7
Colinear Dipole Array antenna, 360
Description
Base station antenna working on 3.3-3.8 GHZ conceived for LTE and WiMax systems. The radiant element is made of PTFE PCB to guarantee high power and low losses and it is protected by a fiberglass tube ended with N-female connection. It's supplied with an aluminium bracket for an easy installation on the mast.


Specifications
Electrical Data
Type: Collinear Dipole Array
Frequency Range: 3300-3800 MHZ LTE and Wi-Max systems
Impedance: 50 Ω
Polarization: Linear Vertical
Max Gain: 7 dBi
3 dB Beamwidth Vertical: 17° @ 3550 MHZ
3 dB Beamwidth Horizontal: 360° omnidirectional
Downtilt: 0°
SWR in Bandwidth: ≤ 1.5
Max Power: 10 watts (CW) @ 30° C
Grounding Protection: All metal parts are DC-grounded, the inner conductor Shows a DC-short
Connector type: N-female, gold plated central pin


Mechanical Data
Housing Materials: Aluminium, Stainless Steel, Chromed Brass
Radome Material: White Fiberglass
Wind Load / Resistance: 21 N @150 Km/h/ 200 Km/h
Wind Surface: 0.02 m2
Height (approx): 325 mm
Weight (approx): 350 gr
Operating Temperature: -40° C to 80° C
Le immagini e le caratteristiche dei prodotti presenti sul sito sono di proprietà di sirio antenne Inc. E' espressamente vietata la riproduzione dei contenuti del sito in qualsiasi modo ed a qualsiasi scopo senza la preventiva autorizzazione scritta da parte di Lastella Trade o sirio antenne Inc. Le immagini presenti sono a puro titolo esplicativo, in alcuni casi sono foto di gruppo e potrebbero subire variazioni senza preavviso, per le caratteristiche del prodotto fa fede la descrizione prodotto.