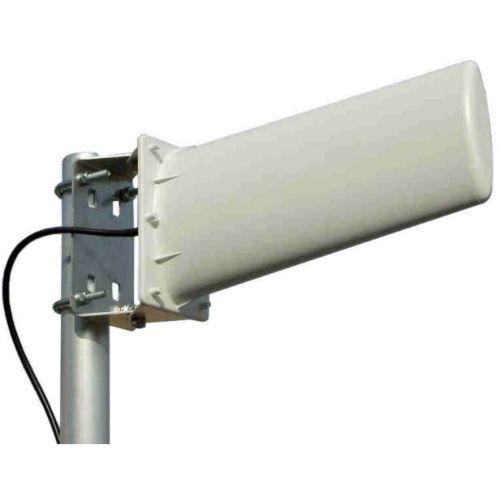 SPH-1.5
High-gain and extremly wide band directional antenna, 1.5 - 6 Ghz Frequency Range
Description
High-gain and extremely wide band directional base station antenna suitable for all sistem between 1.5 and 6 GHZ ( i.e.: GSM 1.8 GHz, DCS 1.9 GHz, DECT, UMTS, WLAN 2.4GHz, WLAN 5GHZ, WiMAX 2.5GHz and WiMAX 3.5GHz systems). The radiant element is made of PTFE PCB to guarantee high power and low losses. The radiator is protected bya UV-stabilized radome to get the best performance for long periods of time. lt's supplied with an adjustable aluminium bracket that allows the best installation flexibility.


Specifications
Electrical Data
Type: Wide Band PCB Antenna
Frequency Range @ SWR ≤ 1.8: 1.5 - 6 GHz
Impedance: 50 Ω
Polarization: Linear Vertical
Max Gain: l7 dBi (see diagram)
3 dB Beamwidth Vertical: See diagrams
3 dB Beamwidth Horizontal: See diagrams
Front to back ratio: ≥ 20 dB
Radiation angle deg.: 0°
Max Power @ 30° C:
15 Watts (CW) from 1.5 to 4GHz
1O Watts (CW) from 4 to 6 GHZ
Grounding Protection: All metal parts are DC-grounded, the inner conductor is coupled capacitively
Connector type: SMA-female


Mechanical Data
Housing Materials: Aluminium, Stainless Steel. white ABS UV stabilized, PCB
Radome Material: White ABS UV Stabilized
Wind Load / Resistance: 61 N @150 Km/h/ l8O Km/h
Wind Surface: 0.04 m2
Dimensions (approx): 345x 135x73 mm
Turning radius (approx.): 310 mm
Weight (approx): 450 gr
Operating Temperature: -40° C to 80° C
Le immagini e le caratteristiche dei prodotti presenti sul sito sono di proprietà di sirio antenne Inc. E' espressamente vietata la riproduzione dei contenuti del sito in qualsiasi modo ed a qualsiasi scopo senza la preventiva autorizzazione scritta da parte di Lastella Trade o sirio antenne Inc. Le immagini presenti sono a puro titolo esplicativo, in alcuni casi sono foto di gruppo e potrebbero subire variazioni senza preavviso, per le caratteristiche del prodotto fa fede la descrizione prodotto.