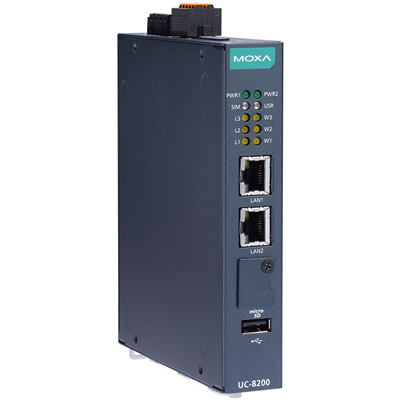 UC-8210-T-LX-S
Arm-based wireless-enabled DIN-rail industrial computer with wide operating temperature, dual core 1GHz CPU, 2GB RAM, 2 serial ports, 2 Ethernet ports, TPM, and Linux pre-installed
Features and Benefits
Armv7 Cortex-A7 dual-core 1 GHz
Moxa Industrial Linux with 10-year superior long-term support
2 auto-sensing 10/100/1000 Mbps Ethernet ports
Integrated LTE Cat. 4 module with US/EU/APAC band support
Dual-SIM slots
Integrated isolation of the DI and CAN interfaces and the antenna ports for insulation protection against external electrical interference
1 CAN port supports CAN 2.0A/B
microSD socket for storage expansion
Programmable LEDs and a programmable button for easy installation and maintenance
-40 to 85°C wide temperature range and -40 to 70°C with LTE enabled
Introduction
The UC-8200 computing platform is designed for embedded data acquisition applications. The computer comes with dual RS-232/422/485 serial ports, dual 10/100/1000 Mbps Ethernet ports, and one CAN port as well as dual Mini PCIe socket to support Wi-Fi/cellular modules. These versatile capabilities let users efficiently adapt the UC-8200 to a variety of complex communications solutions.

The UC-8200 is built around a Cortex-A7 dual core processor that has been optimized for use in energy monitoring systems, but is widely applicable to a variety of industrial solutions. With flexible interfacing options, this tiny embedded computer is a reliable and secure gateway for data acquisition and processing at field sites as well as a useful communications platform for many other large-scale deployments.

Wide temperature LTE-enabled models are available for extended temperature applications. All units are thoroughly tested in a testing chamber, guaranteeing that the LTE-enabled computing platforms are suitable for wide-temperature applications.
Specifications
Computer
CPU: Armv7 Cortex-A7 dual-core 1 GHz
DRAM: 2 GB DDR3L
Storage Pre-installed: 8 GB eMMC
Pre-installed OS: Moxa Industrial Linux (Debian 9, Kernel 4.4)
Expansion Slots: MicroSD (SD 3.0) socket x 1
Computer Interface
TPM: TPM v2.0
Ethernet Ports: Auto-sensing 10/100/1000 Mbps ports (RJ45 connector) x 2
Serial Ports: RS-232/422/485 ports x 2, software selectable (DB9 male)
CAN Ports: CAN 2.0 A/B x 1 (DB9 male)
Digital Input: DIs x 4
Digital Output: DOs x 4
USB 2.0: USB 2.0 hosts x 1, type-A connectors
Buttons: Programmable button
Ethernet Interface
Magnetic Isolation Protection: 1.5 kV (built-in)
Serial Interface
Console Port: 1 x 4-pin header to DB9 console port
Data Bits: 5, 6, 7, 8
Parity: None, Even, Odd, Space, Mark
Stop Bits: 1, 1.5, 2
Serial Signals
RS-232: TxD, RxD, RTS, CTS, DTR, DSR, DCD, GND
RS-422: Tx+, Tx-, Rx+, Rx-, GND
RS-485-2w: Data+, Data-, GND
RS-485-4w: Tx+, Tx-, Rx+, Rx-, GND
CAN Interface
No. of Ports: 1
Connector: DB9 male
Baudrate: 10 to 1000 kbps
Industrial Protocols: CAN 2.0A, CAN 2.0B
Isolation: 2 kV (built-in)
Signals: CAN_H, CAN_L, CAN_GND, CAN_SHLD, CAN_V+, GND
Digital Inputs
Connector: Screw-fastened Euroblock terminal
Dry Contact:
Off: open
On: short to GND

Isolation: 3K VDC
Sensor Type:
Wet contact (NPN)
Dry contact

Wet Contact (DI to COM):
On: 10 to 30 VDC
Off: 0 to 3 VDC


Digital Outputs
Connector: Screw-fastened Euroblock terminal
Current Rating: 200 mA per channel
I/O Type: Sink
Voltage: 24 VDC nominal, open collector to 30 VDC
Cellular Interface
Cellular Standards: LTE CAT-4
GPS Interface
Receiver Types:
72-channel u-blox M8 engine
GPS/GLONASS/Galileo

Accuracy:
Position: 2.5 m CEP
SBAS: 2.0 m CEP

Acquisition:
Aided starts: 3 sec
Cold starts: 26 sec

Sensitivity:
Cold starts: -148 dBm
Tracking: -164 dBm

Time Pulse: 0.25 Hz to 10 MHz
LED Indicators
System: Power x 2
Programmable x 1
SIM card indicator x 1
Wireless Signal Strength: Cellular/Wi-Fi x 6
Power Parameters
No. of Power Inputs: Redundant dual inputs
Input Voltage: 12 to 48 VDC
Power Consumption: 12 W
Input Current: 1 A @ 12 VDC
Reliability
Alert Tools: External RTC (real-time clock)
Automatic Reboot Trigger: External WDT (watchdog timer)
Physical Characteristics
Dimensions: 141.5 x 120 x 27 mm (5.7 x 4.72 x 1.06 in)
Housing: SECC
Metal
Installation: DIN-rail mounting, Wall mounting (with optional kit)
IP Rating: IP30
Weight: 560 g (1.23 lb)
Environmental Limits
Ambient Relative Humidity: 5 to 95% (non-condensing)
Operating Temperature: -40 to 85°C (-40 to 185°F)
Storage Temperature (package included): -40 to 85°C (-40 to 185°F)
Shock: IEC 60068-2-27
Vibration: 2 Grms @ IEC 60068-2-64, random wave, 5-500 Hz, 1 hr per axis (without USB devices attached)
Standards and Certifications
Safety: UL 62368-1, EN 62368-1
EMC: EN 55032/35, EN 61000-6-2/-6-4
EMI: CISPR 32, FCC Part 15B Class A
EMS:
IEC 61000-4-2 ESD: Contact: 4 kV; Air: 8 kV
IEC 61000-4-3 RS: 80 MHz to 1 GHz: 10 V/m
IEC 61000-4-4 EFT: Power: 2 kV; Signal: 1 kV
IEC 61000-4-6 CS: 10 V
IEC 61000-4-8 PFMF
IEC 61000-4-5 Surge: Power: 0.5 kV; Signal: 1 kV

Hazardous Locations: Class I Division 2, ATEX, IECEx
Green Product: RoHS, CRoHS, WEEE
MTBF
Time: 708,581 hrs
Standards: Telcordia (Bellcore) Standard TR/SR
Warranty
Warranty Period: 5 years



Le immagini e le caratteristiche dei prodotti presenti sul sito sono di proprietà di MOXA Inc. E' espressamente vietata la riproduzione dei contenuti del sito in qualsiasi modo ed a qualsiasi scopo senza la preventiva autorizzazione scritta da parte di Lastella Trade o MOXA Inc. Le immagini presenti sono a puro titolo esplicativo, in alcuni casi sono foto di gruppo e potrebbero subire variazioni senza preavviso, per le caratteristiche del prodotto fa fede la descrizione prodotto.