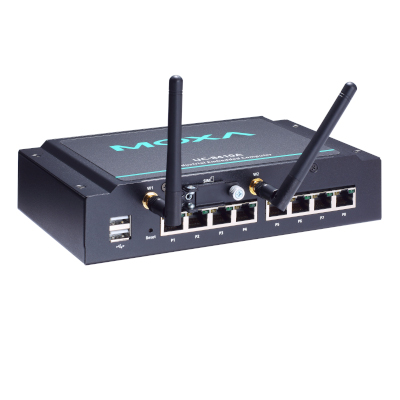 UC-8410A-LX
RISC dual-core embedded computer with 8 serial ports, 3 LANs, 4 DIOs, USB, mSATA, and Wireless-and-Security Enabled
Features and Benefits
• NXP LS1021A Cortex-A7 1.2 GHz dual-core processor
• 8 GB eMMC with OS preinstalled
• 1 GB DDR3 SDRAM
• 8 x RS-232/422/485 serial ports
• 3 x 10/100/1000 Mbps Ethernet ports
• 1 x mini-PCIe socket for wireless expansion
• -40 to 75°C system operating temperature
• Ready-to-run Debian 8
Introduction

The UC-8410A Series embedded computers support a rich collection
of communication interfaces, including 8 RS-232/422/485 serial ports,
3 Ethernet ports, 1 PCIe mini slot for a wireless module, 4 digital input
channels, 4 digital output channels, 1 mSATA slot, and 2 USB 2.0
hosts.
The UC-8410A computer uses the NXP Cortex-A7 dual-core 1 GHz
CPU. This powerful computing engine supports several useful
communications functions, without generating too much heat.
The built-in 4 GB eMMC and 1 GB DDR3 SDRAM give you enough
memory to run your application software, and the SD slot and mSATA
socket provides the flexibility of adding additional data storage.
The UC-8410A comes with a variety of communication interaces,
including serial ports, Ethernet ports, wireless communication slot, and
digital input/output channels, making them ideal as communication
platforms for industrial applications that require network and device
communications.
The UC-8410A Series comes with Linux Debian 8 preinstalled to
provide an open software operating system for software program
development. This makes the UC-8410A computer an optimal solution
for use with industrial applications, but at minimal cost and effort. In
addition to the standard model, a -40 to 75°C wide-temperature model
is also available for harsh industrial environments.
Hardware Specifications
Computer
CPU: Armv7 Cortex-A7 dual-core 1.2 GHz
USB: USB 2.0 hosts x 2, Type A connector
DRAM: 1 GB DDR3 SDRAM onboard
Storage
Main Storage: 8 GB eMMC with OS preinstalled
Storage Expansion: 1 SD card slot, 1 mSATA slot
Other Peripherals (does not apply to "-NW" models)
Expansion Slot: 1 Mini-PCIe socket w/ USB + PCIe signal
USIM: 1 USIM slot
Wireless SMA Interface: 2 SMA connectors
Ethernet Interface
LAN: Auto-sensing 10/100/1000 Mbps ports (RJ45) x 3
Magnetic Isolation Protection: 1.5 kV built-in
Serial Interface
Serial Standards: RS-232/422/485 software-selectable ports (8-pin
RJ45) x 8
Console Port: RS-232 (TxD, RxD, GND), 4-pin header output (115200,
n, 8, 1)
Serial Communication Parameters
Data Bits: 5, 6, 7, 8
Stop Bits: 1, 1.5, 2
Parity: None, Even, Odd, Space, Mark
Flow Control: RTS/CTS, XON/XOFF, ADDC® (automatic data direction
control) for RS-485
Baudrate: 50 bps to 115.2 kbps (supports nonstandard baudrates; see
user's manual for details)
Serial Signals
RS-232: TxD, RxD, DTR, DSR, RTS, CTS, DCD, GND
RS-422: TxD+, TxD-, RxD+, RxD-, GND
RS-485-4w: TxD+, TxD-, RxD+, RxD-, GND
RS-485-2w: Data+, Data-, GND
Digital Input
Input Channels: DI x 4
Input Voltage: 0 to 30 VDC
Digital Input Levels for Dry Contacts:
• Logic level 0: Close to GND
• Logic level 1: Open
Digital Input Levels for Wet Contacts:
• Logic level 0: +10 to +30 V (COM to DI)
• Logic level 1: +3 V max.
Connector Type: 10-pin screw terminal block (4 points, COM, GND)
Isolation: 3 kV optical isolation
Digital Output
Output Channels: 4, sink type
Output Current: Max. 200 mA per channel
On-State Voltage: 24 VDC nominal, open-drain to 30 V
Connector Type: 10-pin screw terminal block (4 points, GND)
Isolation: 3 kV optical isolation
LEDs
System: Power, Ready, Storage, Diagnostic, Wireless signal strength
LAN: 100M/Link/Act x 3, 1000M/Link/Act x 3 (on connector)
Serial: TxD x 8, RxD x 8 (on connector)
Reset Button: Supports "Reset to Factory Default and System
diagnostics"
Physical Characteristics
Housing: SECC sheet metal (1 mm)
Weight: 1000 g (2.21 lb)
Dimensions: 200 x 120 x 48.6 mm (7.87 x 4.72 x 1.91 in)
Mounting: Wall
Environmental Limits
Operating Temperature:
Standard Models: -10 to 60°C (14 to 140°F)
Wide Temp. Models: -40 to 75°C (-40 to 167°F)
Storage Temperature:
Standard Models: -20 to 75°C (-4 to 167°F)
Wide Temp. Models: -40 to 85°C (-40 to 185°F)
Ambient Relative Humidity: 5 to 95% (non-condensing)
Anti-Vibration: 2 Grms @ IEC-68-2-34, random wave, 5-500 Hz, 1 hr
per axis
Anti-Shock: 20 g @ IEC-68-2-27, half sine wave, 11 ms
Power Requirements
Input Voltage: 12 to 48 VDC (3-pin terminal block, V+, V-, SG)
Input Current: 790 mA @ 24 VDC
Power Consumption: 19 W
Standards and Certifications
Safety: UL 60950-1
EMC:
EN 55032/24
EMI: CISPR 32, FCC Part 15B Class A
EMS: IEC 61000-4-2 ESD: Contact 4 kV; Air 8 kV
IEC 61000-4-3 RS: 3 V/m (80 MHz to 1 GHz)
IEC 61000-4-4 EFT: Power 0.5 kV; Signal 0.5 kV
IEC 61000-4-5 Surge: Power 0.5 kV; Signal 1 kV
IEC 61000-4-6 CS: 3 V
IEC 61000-4-8
Reliability
Alert Tools: Built-in buzzer and RTC (real-time clock)
Automatic Reboot Trigger: Built-in WDT (watchdog timer)
Warranty
Warranty Period: 5 years


Software Specifications
Linux
OS: Debian 8 (preinstalled on eMMC)
Web Server (Apache): Allows you to create and manage websites;
supports PHP and XML
Terminal Server (SSH): SSH allows remote login to a secure
encrypted console from any connected network
Kernel:
GNU/Linux 3.12
System Shell: DASH, BASH
Text Editor: vim, nano
File System: Ext2, Ext3, Ext4
Internet Protocol Suite: TCP, UDP, IPv4, IPv6, SNMPv2, ICMP, ARP,
HTTP, CHAP, PAP, DHCP, NTP, NFS, SSH, PPP, SFTP, RSYNC, SSL
Programming Language Support: PHP, Perl, Python
Internet Security: OpenVPN, iptables
Cryptographic Hardware Accelerators: AES, SHA, OpenSSL
Self Diagnosis: Check status of system and hardware component via
software method

Linux Board Support Packages (BSP): GCC C/C++ cross development
tool chain
Bootloader/ Kernel/ filesystem
Cellular Networking: Allows UNIX machines to connect to the
Internpppd for an Internet connection.
Connect talcomm MSM Interface: Glib-based library for talking to
WWAN modems and devices that speak the Qualcomm MSM Interface
(QMI) protocol.
Watchdog: Features a hardware function to trigger system reset in a
user-specified time interval (Linux standard provided)
Application Development Software:
• Moxa API Library (Watchdog timer, Moxa serial I/O control, Moxa DI/
DO API)
• GNU C/C++ cross-compiler
• GNU C library
• GDB source-level debugging server
Software Protection: Encryption tool for user executable files (based
on patented Moxa technology)
Le immagini e le caratteristiche dei prodotti presenti sul sito sono di proprietà di MOXA Inc. E' espressamente vietata la riproduzione dei contenuti del sito in qualsiasi modo ed a qualsiasi scopo senza la preventiva autorizzazione scritta da parte di Lastella Trade o MOXA Inc. Le immagini presenti sono a puro titolo esplicativo, in alcuni casi sono foto di gruppo e potrebbero subire variazioni senza preavviso, per le caratteristiche del prodotto fa fede la descrizione prodotto.