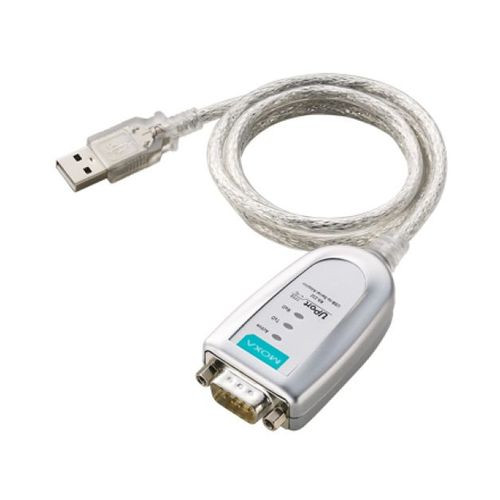 Uport 1110
USB to serial converter from USB to RS232, DB9 male Connector, 0 to 55°C Operating Temperature
Features and Benefits
Compatible with USB 2.0
12 Mbps USB data rate
921.6 kbps maximum baudrate for super fast data transmission
Drivers provided for Windows, WinCE, and Linux
Mini DB9 female to terminal block adaptor for easy wiring
LEDs for indicating USB and TxD/RxD activity
15 kV ESD protection for all serial ports
USB 2.0 compatibility
RS-232
Stability and reliability
Cost-effective
Plug-and-play
Easy to use
Introduction
The UPort® 1100 series USB-to-serial converters are the perfect accessory for laptop computers that do not have a serial port, and are essential for engineers who need to connect different serial devices in the field or separate interface converters for devices without a standard COM port or DB9 connector. The UPort® 1110 converts from USB to RS-232, All products are compatible with new and legacy serial devices, and can be used with mobile, instrumentation, and point-of-sale applications. The most basic video surveillance setup consists of a single camera connected directly to a monitor and recording device. However, many businesses require video surveillance on a larger scale requiring a dedicated management system. Existing management systems often lack device-port versatility, making converters a necessity when connecting different devices. Management systems needing USB-to-serial converters for serial devices such as card readers, modems, video cameras, and sensors, now have a simple solution. Moxa UPort 1110 converter provides plug-and-play serial device connectivity without having to install new adapter boards, which usually requires opening of computer/server chassis. Also, a unique driver allows the UPort® 1110/1150 to retain COM port numbers when they have been unplugged and then reconnected again, even into a new USB port.
USB Interface
Compliance: USB 1.0/1.1 compliant, USB 2.0 compatible
Connector: USB type A
Speed: 12 Mbps (Full-Speed USB)
Serial Interface
Number of Ports: 1
Serial Standards: RS-232
Connector: DB9 male
Serial Line Protection
ESD Protection: 15 kV embedded
Performance
Baudrate: 50 bps to 921.6 kbps
Serial Communication Parameters
Data Bits: 5, 6, 7, 8
Stop Bits: 1, 1.5, 2
Parity: None, Even, Odd, Space, Mark
Flow Control: RTS/CTS, XON/XOFF
FIFO: 64 bytes
Serial Signals
RS-232: TxD, RxD, RTS, CTS, DTR, DSR, DCD, GND
Operating Systems
Windows Real COM Drivers: Windows 95/98/ME/NT/2000, Windows XP/2003/Vista/2008/7/8/8.1 (x86/x64), Windows 2012 (x64), Windows Embedded CE 5.0/6.0
Android Driver
Linux Real TTY Drivers: Linux 2.4.x, 2.6.x, 3.x
Physical Characteristics
Housing: ABS + PC
Weight: Product only: 65 g (0.14 lb)
Packaged: 200 g (0.44 lb)
Dimensions: 38.4 x 60 x 20 mm (1.51 x 2.36 x 0.79 in)
Environmental Limits
Operating Temperature: 0 to 55°C (32 to 131°F)
Storage Temperature: -20 to 70°C (-4 to 158°F)
Ambient Relative Humidity: 5 to 95% (non-condensing)
Altitude: Up to 2000 m
Standards and Certifications
EMC: CE, FCC
EMI: EN 55022 Class B, EN 61000-3-2, EN 61000-3-3, FCC Part 15 Subpart B Class B
EMS: EN 55024, IEC 61000-4-2, IEC 61000-4-3, IEC 61000-4-4, IEC 61000-4-5, IEC-61000-4-6, IEC 61000-4-8, IEC-61000-4-11
Green Product: RoHS, CRoHS, WEEE
Power Requirements
Power Consumption: 30 mA @ 5 VDC
MTBF (mean time between failures)
Time: 1,949,025 hrs
Database: Telcordia (Bellcore), GB
Warranty
Warranty Period: 5 years
Le immagini e le caratteristiche dei prodotti presenti sul sito sono di proprietà di MOXA Inc. E' espressamente vietata la riproduzione dei contenuti del sito in qualsiasi modo ed a qualsiasi scopo senza la preventiva autorizzazione scritta da parte di Lastella Trade o MOXA Inc. Le immagini presenti sono a puro titolo esplicativo, in alcuni casi sono foto di gruppo e potrebbero subire variazioni senza preavviso, per le caratteristiche del prodotto fa fede la descrizione prodotto.